How to Choose Joy in Every Season of Life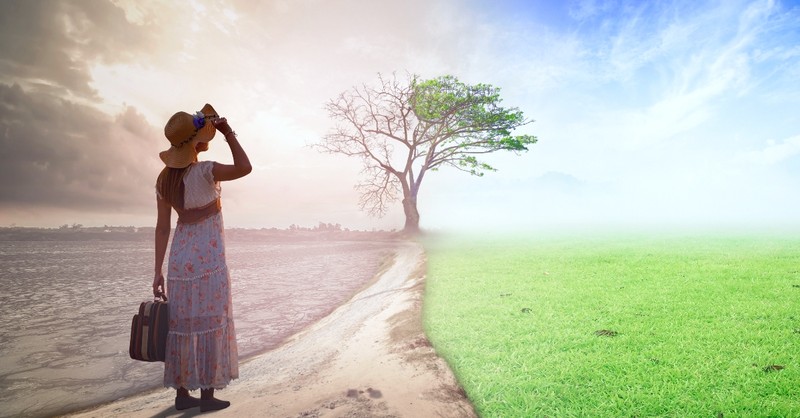 Something I often hear as a mom of three young daughters is, "Oh, it's just a season." This is true. So very true.
Those chubby feet that won't fit into shoes, saying "callapitter" instead of caterpillar, late-night nightmares that need immediate attention, asking me to scratch her back a little longer, painting 30 fingernails and 30 toenails, parenting one who is crying because she doesn't want her dinner while the other is crying because she wants everyone's dinner, answering questions about the cross and why Jesus had to die—all of this is a season.
Sometimes it makes me want time to slow down—and other times, it makes me want to skip a few chapters to a time when my schedule isn't dependent on everyone else's activities, emotions, or needs. How do we handle the well-meaning onlookers who repeat this phrase to us? Good Christian women know that we can't default to an approach that involves eye-rolling or a snarky attitude, but you don't know my kids. So how do we handle these seasons in a Godly way?
Cherish Your Seasons of Joy
There are several places we can land when in a season of joy. Maybe you are the one who panics that the joyfulness won't last long. Thinking about when your particular season will end or what is lurking around the next corner is like those conspiracy theorists who keep all their goods hidden underground—they know doomsday is coming, so they will surely be ready.
But consider Jesus. He knew what was being served in His cup, yet He rejoiced, marveled, and was present. He had the darkest day ever coming His way, yet He had His mind set on the eternal—and so must we. We are conditioned to perpetually be in planning mode - what is next, what to get ready, and what to expect. The next season is what's advertised and sold to—not the current one. While some of that is beneficial and practical, it causes us to lose our present time and maybe even not seize moments right before us.
Likewise, we are called to be content when there is plenty and abounding provision. Some may have to work more at that than being content with suffering. We will suffer for Christ's name, but God has also blessed us with an abundance of good things to delight in. We don't have to deny joy to follow Christ fully—the suffering will come on its own. There is a definite balance between dying to the self and enjoying God's good gifts. The key to keeping it in the middle of the road is daily reading and meditating on God's Word—it will always orient our thoughts upward rather than inward.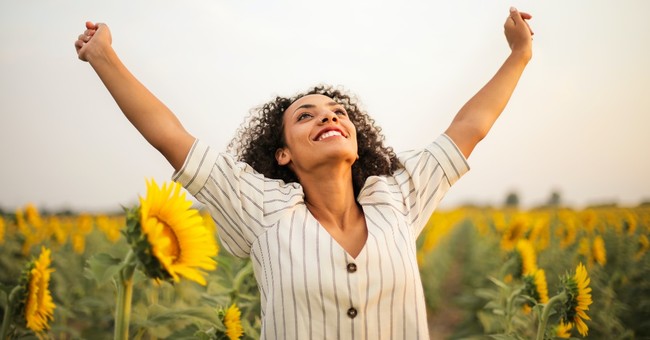 Photo credit: ©Pexels/Andrea Piacquadio
An example of this is in Jeremiah 29, where God tells the Israelites to build houses, plant gardens, take husbands/wives, and bear children while in exile—this world is our exile because we are not home yet. We are to do the same and find joy and contentment in such things.
Maybe you neglect the Word of God when the wind is at your back. Deuteronomy 8:11–18 warns Israel not to forget God when they are satisfied and full. The Lord gave Israel good gifts and blessings, but God knew their stubbornness and propensity towards forgetfulness. This is a warning for us, too—especially in the West in the twenty-first century. We are a richly blessed people, rarely lacking in any authentic needs. We can quickly live in a place of congratulating our hard work and dedication, only giving thanks to the Lord when something seemingly supernatural happens—like a front row parking spot at a busy grocery store.
Our times of joy should cause us to practice giving thanks. We should catch those moments of our kids' laughter, caught-up chores, perfect weather, fresh bread with a nice rise, a good wine pairing, and friends around a campfire. Make your own list of joyous moments that are good gifts from the Lord.
During the times of joy, we must also remain steadfast in the Word to be fully set in truth for when a season of suffering does come so that we aren't scrambling to grasp a shred of truth to keep from drowning.
Cherish Your Seasons of Suffering
I do, in fact, say "cherish" very lightly here because I know the kinds of suffering women have endured and are currently enduring. You may not be to the point of cherishing your suffering or taking joy in it. That by no means comes quickly for everyone.
A Godly Titus 2 woman (older, seasoned, a veteran…) named Linda Cardwell taught me this several years ago. I was overwhelmed about some family situations, wasn't sleeping, had health issues, and then landed a gnarly case of shingles. She texted me to ask about it, and with my most chipper phrasing and emojis, I said I was counting it joy! She responded that it didn't have to be time to consider that joy. That God wants me to cry out to Him what my heart is really saying: I don't need this right now; I am not strong enough for this; deliver me out of this. I remember weeping after that text. I was trying to be so strong so that Christ looked good in me—how arrogant. God used her to bring about the freedom and peace I desperately needed.
The great Puritan Jeremiah Burroughs says, "A gentle spirit is not opposed to making in an orderly manner our moan and complaint to God, and to our friends. Though a Christian ought to be quiet under God's correcting hand, he may without any breach of Christian contentment complain to God…he may communicate his sad condition to his Christian friends, showing them how God has dealt with him, and how heavy the affliction is upon him, that they may speak a word in season to his weary soul."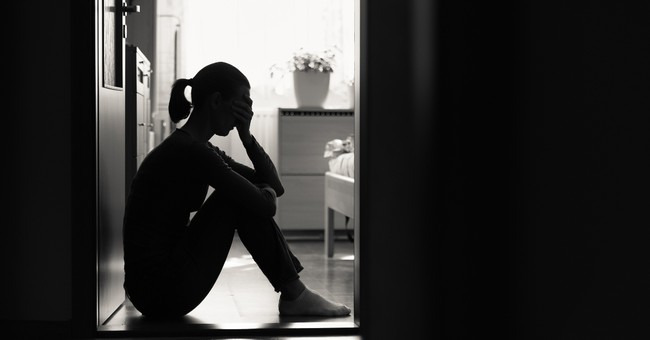 Photo credit: ©iStock/Getty Images Plus/kieferpix
So maybe the cherishing comes in knowing that God is not going to waste your suffering. In Job 36:15, it says, "He delivers the afflicted by their affliction and opens their ear by adversity." We are delivered by our afflictions, and God uses them to open our ears to new wonders. And we have to take that seriously when we consider the source of that counsel from the Lord—Job. We know he sat in mourning for seven days before speaking or even reacting directly to the situation.
Yikes. If you're anything like me, you try to bounce out of suffering the second you find yourself in it. You don't naturally want to see what life-correcting path it may take. So, what do you do when you are afflicted? Do you sin in it by writhing in discontentment? Or do you choose to suffer rightly by acknowledging it is not pointless? Do you compare your situation to others?
We often fuss over our suffering because we have a high view of ourselves and what we deserve. Think back to Jesus—did he deserve anything he was served? No—and yet no deceit was found in his mouth (1 Peter 2:22). If we are to have the same mind as Jesus, we must deny ourselves the attitude of entitlement before all the deceit comes from our mouths.
Deny Your Self
One way for man to learn contentment is to deny the self.
We become discontent when we feel like we are being cheated out of something we should have stock in. This could be a better car, a bigger house, more money, a more understanding spouse, a child who is better at sports or music, a higher paying job, more meaningful relationships, people asking you to be more involved with an activity, people inviting you places. Discontentment can be found in anything and everything we think we are owed, yet we find lacking.
This means we are full of self-love. If we are full of self-love, then we want what we think we deserve; we draw excessive attention to our afflictions and sufferings; we complain when 'life isn't fair; we are in a miserable mood until we get what we want; we hold fast to our 'rights' and comforts. The problem here is that none of these are contentment. These all take place on our terms and in conditions we choose. The problem is that we are not in control of such things. There is no free submission to God's disposal. Just like the potter and the clay from Jeremiah 18—never, in the history of existence, has the clay turned to the potter and bellowed that it would rather be a terracotta salad plate than a ceramic water pitcher. So—how can someone tell if they are full of self-love?
Once again, Jeremiah Burroughs describes a self-assessment we can take. He sets it up like this: "You know how when you strike something soft it makes no noise, but if you strike a hard thing it makes a noise; so with the hearts of men who are full of themselves, and hardened with self-love, if they receive a stroke they make a noise, but a self-denying Christian yields to God's hand, and makes no noise."
The next time you feel discontented, be reminded you are not owed any worldly comforts.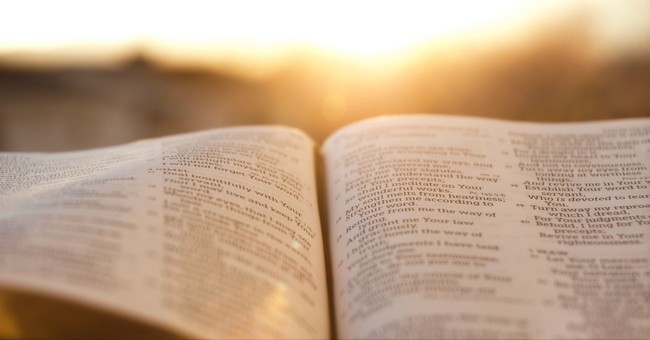 Photo credit: ©iStock/Getty Images Plus/Sergio Yoneda
Scripture Is Always in Season
Answered prayers of healing are joyful. A sharp change in weather is joyful. Nailing a recipe on the first go is joyful. Having grateful children who need less and less parent prompting is joyful. The first day of a holiday vacation is joyful. A choir of children is joyful. Restoration and redemption and rest are all joyful.
And yet, dealing with your self-image as a high school girl or as an adult is hard. Being bullied or rejected, or left all alone is hard. Caring for an aging grandparent or parent is hard. Watching your child struggle with something so easy for others is hard. Feeling like you are the only one not invited is hard. Reckoning that you have such and such degree and yet you are doing nothing with it is hard. Feeling like nobody pursues your friendship is hard. Walking with 12 men for three years and having one of them hand you over to your death is hard. Watching people—the same people you came to redeem—spit on you and divide your clothes and ultimately kill you is hard.
We are all in seasons. I think we primarily focus on the fact that it's a season when it is difficult. We remember or are gently reminded that it is a season so that we know it will eventually end. Its ending may be a few months, years, or not until death or the glorification of Christ. But the truth is that this life is temporary. Our marriage may be in a joyful season, yet our parenting may be one of suffering. It may be simple to deny the self at work, but you have nothing but complaints when you are at home.
The bottom line is that all good things come from the Father (1 Chronicles 16:11–12). We are simply unable to muster them on our own, no matter what our season is. We must first be full of the things of God—think the fruits of the Spirit on this one—before we can adequately orient our hearts in every season.
Practically speaking, God's Word is always appropriate and timely for us to dine on. We may fast from physical food, but fasting from spiritual food will always prove disastrous. Scripture instructs us on how to be joyful properly. It quiets us when we are in affliction. It keeps us soft, so we do not reverberate the loud whack once struck. Especially when we read the words of the gospels and how Jesus handled humanity—He knew what was in the heart of man (John 2:24), making Him a sympathetic High Priest (Hebrews 4:14–16) who continues to make intercession for us in every season (Romans 8:34).
Photo Credit: ©iStock/Getty Images Plus/Boonyachoat
Kate Stevens is a worshiper, wife, and mom, and with the help of the Lord, that is her hierarchy of work. Beyond this, she works with the youth and children at her church and edits as a freelancer. She enjoys reading, writing, running, cooking, and practicing thinking pure and lovely things.
After being unsure if they ever wanted children, the Lord eventually blessed Kate and her husband Clint after nearly three years of waiting. They welcomed their first daughter in 2011, another daughter in 2013, and yet another daughter in 2016. Kate considers this her most time-consuming, emotion-full, sanctifying, not always pretty but trusting in the Lord's plan, and blessed work. Stuck in a house with four females, her husband Clint consistently reminds Kate of her identity and union in Christ.
You can read more of Kate's work here.
LISTEN: Being Complete in Jesus (Understanding Matthew 5:21-48)
Hearing Jesus is a devotional journey through the gospels, where we explore the teachings of Jesus chapter by chapter. If you're seeking to live a life that reflects God's, this podcast is for you.
The views and opinions expressed in this podcast are those of the speakers and do not necessarily reflect the views or positions of Salem Web Network and Salem Media Group.
WATCH: 10 Sins Christians Downplay (and Why They're So Destructive)
Stock Footage & Music Courtesy of Soundstripe.com Thumbnail by Getty Images