How to Follow Wherever Jesus Leads You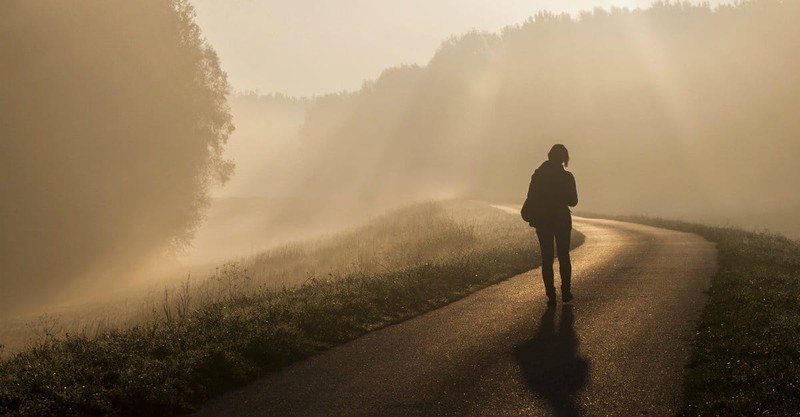 Editor's Note: This article summarizes the practical applications of Greg Sidders' recent book, The Invitation: The Not-So-Simple Truth About Following Jesus, (Revell Books, 2011).
Jesus invites you to follow Him, and that can seem simple at first. But once the initial excitement of beginning a relationship with Jesus wears off, you're confronted with actually changing your life to follow Him.
Those changes may be so radical that you can become overwhelmed and decide to go your own way instead of following where Jesus wants to lead you. But if you decide that you want what Jesus offers more than what you must leave behind to get it, you'll be able to follow Him to the best life you can live.
Here's how you can follow Jesus wherever He leads you:
Keep leaping. You can build up more trust in Jesus' ability to lead you by taking leaps of faith whenever He calls you to and seeing how He changes your life for the better along the way. Choosing to obey Jesus when doing so is hard can turn your bondage to sin into freedom and your doubt into certainty. When you choose to live within the confines of Jesus' commands, you can enjoy life as God designed it to be lived.
Don't stop at faith alone. While it's faith in Jesus that saves you, Jesus wants you to have more than just faith. He intends for you to grow beyond simply believing in Him to putting your beliefs into practice by obeying Him. Obedience to Jesus shows that you really do have faith in Jesus. While you can't be perfect, you should try to obey Jesus whenever you can.
Devote yourself to Jesus before all others. Jesus must be your first love and your top priority in life for you to become the person God wants you to become. Whenever the people you love – like your family and friends – object to something that Jesus is calling you to do, you need to follow Jesus anyway. Do you love Jesus enough to choose to follow Him even when someone you love doesn't support you? Does your love for Jesus surpass your love for everyone else? If not, reform your daily habits so that you're truly making Jesus your top priority and fueling your love for Him each day, such as by spending lots of time with Him in prayer.
Carry a cross while you walk with Jesus. Just as Jesus made the ultimate sacrifice by dying on the cross to save you, following Him sometimes requires you to follow His example of making sacrifices. You need to carry your own cross by denying yourself comfort and even safety when necessary to follow where Jesus leads. Staying loyal to Jesus may cost your reputation, a relationship with someone you love, your job, or even your life – but no matter what the cost, it's worth it, because Jesus paid it all to make eternal life possible for you.
Realize that playing it safe is actually dangerous. Ask God to help you overcome the temptation to play it safe when the cost of your allegiance to Jesus is high by retreating from Him, because the cost of abandoning Jesus is much higher. If you walk away from Jesus when you encounter opposition to your faith, you can't become the person you were created to become.
Serve Jesus well by faithfully using the money that He has entrusted to you. Use your financial resources to support Jesus' messengers (such as missionaries), help meet poor people's needs, and create spiritual receptivity by generously caring for non-Christians in crisis and letting them experience Jesus' love flowing through you into their lives.
Build credibility with non-Christians by loving your fellow Christians. The best way to reach outsiders is to love insiders, since people who don't yet have relationships with Jesus will be drawn to Him when they see His love in action between you and other Christians who represent Him. So ask God to empower you to resolve conflicts with your fellow believers in peaceful, loving ways so the non-Christians who are watching you will see the unity that Jesus wants His followers to show the world.
Serve people with hands-on love. Following Jesus means being willing to serve in whatever ways God leads you to serve. Make sure that you're not just talking about loving people; aim to actually help meet the needs you encounter among people whenever you sense Jesus calling you to take action.
Help populate heaven. An important part of following Jesus is obeying His command to point other people toward Him. You don't need to be an extrovert or have a special gift for evangelism to answer that call. All you have to do is stay connected to Jesus every day and ask Him to guide you as you share your faith with others through relationships. Ask the Holy Spirit to give you the wisdom to know how best to share your faith with each person in each situation, so you'll be presenting the Gospel message in ways that come naturally to you and relate well to each person you're trying to reach.
Stay plugged into the power source. Have confidence that Jesus will help you do whatever He calls you to do as you follow where He leads. Rely on Jesus to empower in every situation you encounter in life. Plug into Jesus through stubborn endurance (refusing to quit during disillusionment or despair), utter dependence (constantly relying on Jesus' power to flow through you to help you grow spiritually and lead other people to Him), and simple obedience (doing what Jesus calls you to do, even when it's difficult).
Remember the power of one. Even though you're just one person, you can truly change the world for the better when you follow Jesus. Your efforts doing what Jesus calls you to do will multiply, because when you reach one person, that person can then reach others, who then can reach others until huge numbers of people's lives are transformed by God's love at work – and all of that will matter for eternity.
Adapted from The Invitation: The Not-So-Simple Truth About Following Jesus, copyright 2011 by Greg Sidders. Published by Revell Books, a division of Baker Publishing Group, Grand Rapids, Mich., www.revellbooks.com.
Greg Sidders, a former journalist, is the senior pastor of White Pine Community Church in Maine. He and his wife, Robin, have three sons. This is his first book. You can visit his website at: http://www.gregsidders.com/.
Whitney Hopler is a freelance writer and editor who serves as both a Crosswalk.com contributing writer and the editor of About.com's site on angels and miracles (http://angels.about.com/). Whitney also blogs about writing and editing on her website: http://whitneyhopler.naiwe.com/. You can contact Whitney at: angels.guide@about.comto send in a true story of an angelic encounter or a miraculous experience.
Publication date: July 14, 2011