Morning Blessings to Inspire Faith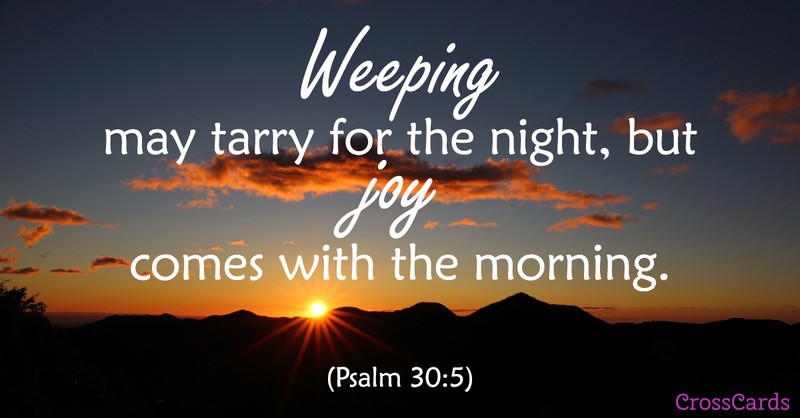 "The steadfast love of the Lord never ceases; his mercies never come to an end; they are new every morning; great is your faithfulness." (Lamentations 3:22-23)
What is a Morning Blessing?
Jesus called us to share the gospel with all of mankind, and especially those we love dear like our family and friends. A morning blessing is a beautiful way to remind others of the "good news" that Jesus loves us all! Morning blessings can be a Bible verse to share the Word of God or a Christian eCard to inspire their faith! We can also send prayers as a blessing to others, either praying for them ourselves or sharing a prayer that suits their needs.
Morning blessings are a way to love our neighbor as ourselves, as Jesus taught is the second greatest commandment. Our love for God and His blessings calls us to share His holy gospel to others, that they may be saved and redeemed from sin.
Browse of collection of scriptures, images, and prayers to share with others as a morning blessing!
Scriptures for Morning Blessings
Share these beautiful Bible verses as morning blessings with those you love! Share with them God's love for everyone, calling us to repentance and communion with Him in eternal life.
Psalm 90:14 ~ "Satisfy us in the morning with your steadfast love, that we may rejoice and be glad all our days."
Psalm 29:11 ~ "The Lord gives strength to his people; the Lord blesses his people with peace."
Isaiah 26:3 ~ "You keep him in perfect peace whose mind is stayed on you, because he trusts in you."
Philippians 4:7 ~ "And the peace of God, which surpasses all understanding, will guard your hearts and your minds in Christ Jesus."
John 14:27 ~ "Peace I leave with you; my peace I give to you. Not as the world gives do I give to you. Let not your hearts be troubled, neither let them be afraid."
Romans 5:1-2 ~ "Therefore, since we have been justified by faith, we have peace with God through our Lord Jesus Christ. Through him we have also obtained access by faith into this grace in which we stand, and we rejoice in hope of the glory of God."
Ephesians 2:14 ~ "For he himself is our peace, who has made us both one and has broken down in his flesh the dividing wall of hostility."
2 Thessalonians 3:16 ~ "Now may the Lord of peace himself give you peace at all times in every way. The Lord be with you all."
Numbers 6:24-26 ~ "The Lord bless you and keep you; the Lord make his face to shine upon you and be gracious to you; the Lord lift up his countenance upon you and give you peace."
Psalm 16:11 ~ "You make known to me the path of life; in your presence there is fullness of joy; at your right hand are pleasures forevermore."
Read more Morning Bible verses from Christianity.com
Images to Share for Morning Blessings
Share these images as morning blessings via text, social media, or email to bless your loved ones with a heartfelt reminder of God's love!
Click the images below to share from CrossCards.com.
This is the day the Lord has made; We will rejoice and be glad in it. - Psalm 118:24
A Morning Prayer - Oh God, enlighten my mind with truth; inflame my heart with love; inspire my will with courage; enrich my life with service. Amen
Good Morning: His compassions never fail, They are new every morning; great is your faithfulness. - Lamentations 3:22-23
Lord, give me the strength I need to face the day and wash all my fears away. Amen.
My voice you shall hear in the morning, O Lord; In the morning, I will direct it to you and I will look up.
Browse the full collection of Christian Morning eCards at CrossCards.com
Prayers for Morning Blessings
Here are some short prayers to pray for your family and friends as a morning blessing or to send them! "Therefore, confess your sins to one another and pray for one another, that you may be healed. The prayer of a righteous person has great power as it is working." (James 5:16)
Your Will Be Done
Lord, Jesus, today is Your day, and I want Your will to be done. So, whatever happens, hold my hand and let's face it together. Amen. - Back to the Bible
A Morning Prayer
Almighty God, you fill all things with your presence. In your great love, keep us near you this day. Grant that in all our ways and doings we may remember that you see us, and may always have grace to know and perceive what things you would have us do, and give us strength to do the same; through Jesus Christ our Lord. Amen.
Thanksgiving for the Morning
O God, the God of spirits and of all flesh, you are beyond compare, and stand in need of nothing. You have given the sun rule over the day, and the moon and the stars rule over the night, look down on us with gracious eyes, and receive our morning thanksgiving, and have mercy on us.
We have not "spread out our hands to a strange God;" for there is not among us any new God but you the eternal God. You are without end. You have given us our being through Christ, and given us our well-being through him. Through him also give us eternal life; with him be glory, and honor, and worship to you and to the Holy Spirit forever. Amen.
A Morning Blessing
O God, you are faithful and true, you "have mercy on thousands and ten thousands of those who love you," you love the humble and protect of the needy who lack all things, for all things are subject to you.
Look down on this your people, who bow their heads to you, and bless them with spiritual blessing. "Keep them as the apple of your eye," preserve them in piety and righteousness, and give them eternal life in Christ Jesus your beloved Son, with him be glory, honor, and worship to you and to the Holy Spirit, now and always, and forever and ever. Amen.
Fill Me With the Spirit Today
Dear Lord, as we rise to meet each new day, please let us be filled with Your spirit. Wherever we go, let us spread love, joy, peace, goodness, and faithfulness. Let us desire to become more like you and to worship you in all we do. Help us desire these things so much more than the sin that entices us. Thank you for always going before us. In Jesus' Name, Amen. - Dr. Charles Stanley
Find additional morning prayers for daily blessings and inspiration.
Christian Quotes for Blessings in the Morning
"Each day that God gives us is holy and a precious gift from him. We should enjoy it fully. Joy is powerful." ~ Joyce Meyer
"Only God is truly great. The rest of us should be content to simply fulfill the duties with which He has blessed us." ~ Mark J Musser
"Stand in awe of Him, and be grateful for each and every thing that God has blessed you with." ~ Robert Woeger
"If you are reviled for the name of Christ, you are blessed, because the Spirit of glory and of God rests on you." ~ Mary DeMuth
"As believers, we also are blessed with the grace that equips us for divine service." ~ John MacArthur Jr.
"The difference between the blessed person and the ungodly person is that the blessed person walks according to the course of heaven and not according to the course of this world." ~ R.C. Sproul
Read more blessed quotes about God's grace.
Crosswalk.com, an online Christian living magazine, is brought to you by a group of writers, editors, and content producers seeking to provide applicable, educational, and entertaining content to followers of Jesus Christ regardless of where they are in their respective spiritual journeys. We believe that the Christian faith isn't just for Sunday mornings in church; our faith informs every issue we face every day of the week. We want to provide content to people who are seeking to determine what living Christianity day-to-day means in their own lives.