What Is 'Spiritual Attack' and How Should I Pray When it Threatens Me?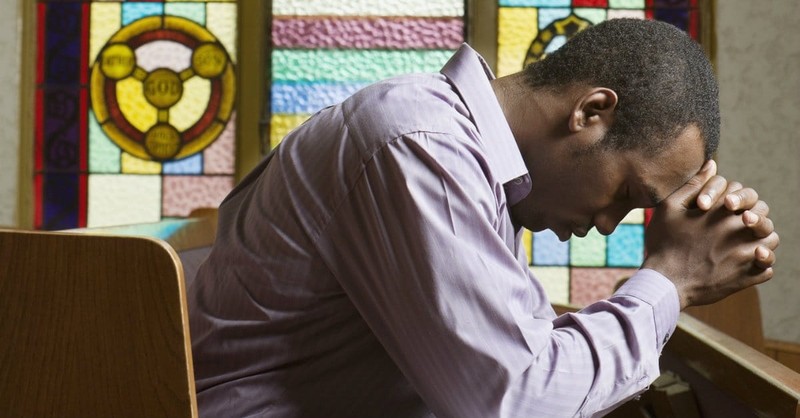 Spiritual attack is my least favorite part of our Christian journey.
My heart aches as I watch and pray over loved ones in the sifter. My perspective blurs, punch drunk, when it's my turn.
Seasons of spiritual attack, no matter how long or short, knock the wind out of you. While they can be some of our darkest days on this earth, Scripture has much encouragement for us about these times.
Where are spiritual attacks detailed in the Bible?
The Book of Job offers a detailed account of a spiritual attack. Yet, Job himself didn't have complete clarity on his circumstances while he was going through them. He wasn't sure whose finger was on the trigger when his world was blasted.
Today, we may even chalk up Job's physical ailments to stress over losing his children and wealth (rather than a spiritual attack).
Without the pieces of the story Scripture fills in, we might not attribute his wife turning on him to the moment when Satan was allowed to touch Job. Satan used his wife, who is one with Job, to add to his sorrows.
All the trials, from his wife's words to the loss of his children, were part of this spiritual attack. His friends couldn't see it, he couldn't see it. And so we are wise to be careful when we assess our own lives or the lives of our loved ones.
Sometimes spiritual attack isn't totally obvious.
Almost every book in the Bible details the struggle of God's people with His enemies. Many Bible scholars believe Job is the oldest book in the Bible and if it is, then the very first piece of Scripture reveals the spiritual battle around us.
The concept of spiritual attack is significant throughout the Bible.
Creation begins in the shadow of the menacing serpent who succeeds in dividing the first couple from God's Garden and presence. Then, their first child was divided from both God and his family.
Moses, Joshua, the Judges all detail spiritual battles. David's psalms are battle prayers. Nehemiah built a wall while enemies raged all around.
Young Esther was thrust in the midst of a battle for the lives of her people that could have cost her head. Shadrach, Meshach, Abednego, and Daniel are all battle tales. Paul's epistles warn of attacks from within and without while recording his battle scars.
There's not a saint before you, beside you, or after you that hasn't felt the same heat you do. We each might experience shades of fire that are unique to us, but the heat is the same.
Beloved, do not be surprised at the fiery ordeal among you, which comes upon you for your testing, as though some strange thing were happening to you; but to the degree that you share the sufferings of Christ, keep on rejoicing, so that also at the revelation of His glory you may rejoice with exultation. If you are reviled for the name of Christ, you are blessed, because the Spirit of glory and of God rests on you. – 1 Peter 4:12-14
…Be on the alert. Your adversary, the devil, prowls around like a roaring lion, seeking someone to devour. But resist him, firm in your faith, knowing that the same experiences of suffering are being accomplished by your brethren who are in the world. – 1 Peter 5:8-9
As we consider our fellow brothers and sisters who are in the heat of battle, we must also remember that even Jesus experienced spiritual attack.
Are all difficulties 'spiritual attacks?'
On the flip side of the argument, sometimes people are so quick to ascribe everything to spiritual attack that it seems the enemy gets more credit that he ought. We live in a fallen world with plenty of sin to spread around without one ounce of effort from the enemy of our souls.
Yet, we can also see from interesting passages like 1 Chronicles 21 and 2 Samuel 24 (when David takes a census of Israel), that both God and the enemy are always at work. God pursuing our good and His glory (Romans 8:28) and Satan laboring to make everything a distraction, temptation, or other means of destruction in our lives (John 10:10).
A favorite passage of mine describes the enemy's defeat.  
And they overcame him by the blood of the Lamb, and by the word of their testimony; and they loved not their lives unto the death. Revelation 12:11 NKJV
So if you are in a car accident, it could be a blatant spiritual attack, like Job. It could also be part of the hazards of living in this fallen world. But we can know for sure, the enemy is hovering to get a bad word out of us over it.
In a spiritual attack, the enemy is after your testimony.
He can't change the blood of the lamb smeared on the doorpost of your heart. But your testimony is in process. It was Job's testimony he was after. And it's yours too.
So when you are in an accident and you still praise God, your testimony overcomes the enemy, whether or not the incident was in and of itself an attack.
Can I prevent being vulnerable to spiritual attack?
Somehow, I absorbed a huge lie in my Christian upbringing. The lie is: If you are really right with God, everything in your life will line up and be easy.
Sure, we can make things harder on ourselves than necessary. And we ought to understand the Lord's direction as something that smooths the road before us rather than it being a big old, party-pooper, speed bump to our plans. So there's a grain of truth to that perspective.
But if even Jesus (and nearly every follower of His) was poor, beat up, and rejected, I'm not thinking we are all that wise to pin our vision of victorious Christianity on wealth, comfort, ease, or popularity.
If even Jesus was spiritually attacked, there's no way we are ever going to get so spiritually mature that we aren't vulnerable to attack.
So don't be shocked when the arrows whistle past your ear. It simply means you are in good company with all the rest of God's children. And God is with us. He is in our midst like Shadrach, Meshach and Abednego in the fire. He is the power in the stones you hurl in faith toward your Goliaths. He is there when you can sense His presence and when the heat of battle is so oppressive that the battle is all your senses can take in.
A prayer of thanks for God's presence during spiritual attack:
Thank You, Lord that I am not alone in these spiritual battles. Open my eyes to my brothers and sisters in Christ who are in the heat of battle as well. Help me to remember I am not alone, even when all I can feel is the raging battle. Thank You that You are with me!
What does the Bible say about surviving spiritual attack?
Our Lord has supplied each of us the battle attire and ability to be victorious. Don't ever bend to the lie that maybe this battle is just too hard for you. Here's what the Bible has to say about your ability to withstand and overcome:
Finally, be strong in the Lord and in the strength of His might. Put on the full armor of God, so that you will be able to stand firm against the schemes of the devil. For our struggle is not against flesh and blood, but against the rulers, against the powers, against the world forces of this darkness, against the spiritual forces of wickedness in the heavenly places. – Ephesians 6:10-12
No temptation has overtaken you but such as is common to man; and God is faithful, who will not allow you to be tempted beyond what you are able, but with the temptation will provide the way of escape also, so that you will be able to endure it. – 1 Corinthians 10:13
Blessed be the Lord, my rock,Who trains my hands for war,
And my fingers for battle;
My lovingkindness and my fortress,
My stronghold and my deliverer,
My shield and He in whom I take refuge.
– Psalm 144:1-2
And my God will supply all your needs according to His riches in glory in Christ Jesus. – Philippians 4:19
When I have been in the heat of battle, the temptation to give into "I can't" has been huge. Whatever your "can't" is, the Lord's word says you can!
You CAN stay faithful in the marriage God has given you.
You CAN serve Him in that ministry.
You CAN parent your children through whatever your family is going through right now.
You CAN trust Him for your provision.
You CAN put down the addiction. For one more minute. For one more hour. For one more day. God has you! Your needs have been provided. Even if all you feel right now is your lack. You have been equipped for this.
A prayer to trust that you can survive a spiritual attack:
Lord, I commit my temptations over (fill in the blank) to You. Open my eyes to see the ways You have provided for me and equipped me for this particular battle. Teach me to put on the full armor of God and to see the escape you have provided for me. Thank you for giving me Your strength for this battle.
The Bible says all you have to do is stand.
Throughout my walk with the Lord I've heard all kinds of explanations for spiritual victory. Storming the gates of hell sort of words. Taking ground. While I know there is spiritual victory of this nature, I am relieved to see biblical spiritual victory is simply defined as just standing where we were given to stand! Isn't that so good?
God might set your feet some place new, like when the Israelites were sent into the Promised Land. But over and over, the command is simply to STAND!
You don't have to climb spiritual Everest to be victorious. Just everyday standing with the light of your testimony is the essence of spiritual victory. It doesn't have to be the parting of the Red Sea every day. It might be the obedient trudging around Jericho until eventually the walls miraculously fall. There is spiritual victory in small, but significant moments.
So stand where you've been given!
God accomplishes the victory over spiritual attack.
The other beautiful piece of our victory is that God is the One who accomplishes it! We stand and watch. When you are battle weary, remember that God is the One who will see this through to the end!
But Moses said to the people, "Do not fear! Stand by and see the salvation of the Lord which He will accomplish for you today; for the Egyptians whom you have seen today, you will never see them again forever. The Lord will fight for you while you keep silent." – Exodus 14:13-14
I will cry to God Most High, To God who accomplishes all things for me. – Psalm 57:2
Now to Him who is able to keep you from stumbling, and to make you stand in the presence of His glory blameless with great joy. – Jude 1:24
Epaphras, who is one of your number, a bondslave of Jesus Christ, sends you his greetings, always laboring earnestly for you in his prayers, that you may stand perfect and fully assured in all the will of God. – Colossians 4:12
Therefore, take up the full armor of God, so that you will be able to resist in the evil day, and having done everything, to stand firm. – Ephesians 6:13
A prayer for courage to stand in spiritual attack and thank God for the victory:
Lord, thank You that in the times when the battle feels overwhelmingly intense, You have given me the simple instructions to stand. I don't have to contrive battle plans or do anything harder than faithfully stand. Thank You for making me to stand. Thank You for the way You accomplish all things for me. Thank You for the victory You are working now.
Ultimate victory over spiritual attack is assured in Scripture.
When those times of spiritual attack last a long time, we can begin to wonder if victory is possible. It is. And for the Christian, it is assured. Even if a skirmish is lost, we know the end of the battle is victorious for our Lord.
Take heart, the end of the story will make all this worth it!
Yet in all these things we are more than conquerors through Him who loved us. – Romans 8:37
For momentary, light affliction is producing for us an eternal weight of glory far beyond all comparison. – 2 Corinthians 4:17
What, then, shall we say in response to these things? If God is for us, who can be against us? He who did not spare his own Son, but gave him up for us all—how will he not also, along with him, graciously give us all things? Who will bring any charge against those whom God has chosen? It is God who justifies. Who then is the one who condemns? No one. Christ Jesus who died—more than that, who was raised to life—is at the right hand of God and is also interceding for us. Who shall separate us from the love of Christ? Shall trouble or hardship or persecution or famine or nakedness or danger or sword? As it is written: "For your sake we face death all day long; we are considered as sheep to be slaughtered." No, in all these things we are more than conquerors through him who loved us. – Romans 8:31-37
A prayer to claim God's promise in the midst of spiritual attack:
Lord, remind me of Your promise that nothing can separate me from You. Help me see victory through Your eyes and to see my troubles as momentary. When my faith is wobbly, steady me with the assurance of Your promises.
Follow Jesus' example to gather friends close in prayer through spiritual attack.
Spiritual attack is inevitable and hard for all of us. In the midst of your times of trial and temptation, remember Jesus' example:
Then Jesus went with his disciples to a place called Gethsemane, and he said to them, "Sit here while I go over there and pray." He took Peter and the two sons of Zebedee along with him, and he began to be sorrowful and troubled. Then he said to them, "My soul is overwhelmed with sorrow to the point of death. Stay here and keep watch with me." – Matthew 26:36-38
Gather your friends to pray with and for you. Jesus' friends were worn, but He left us this example of asking for prayer. If our even our Lord asked for prayer to help Him stand victorious, we ought to as well.
---
April Motl is a pastor's wife, homeschool mom, and women's ministry director. When she's not waist deep in the joys and jobs of motherhood, being a wife, and serving at church, she writes and teaches for women. You can find more encouraging resources from April here and here.
Photo Credit: ©GettyImages/HillStreetStudios