What Can You Do When Your Plans Fall Apart?
Whitney Hopler

Crosswalk.com Contributing Writer

2021

12 May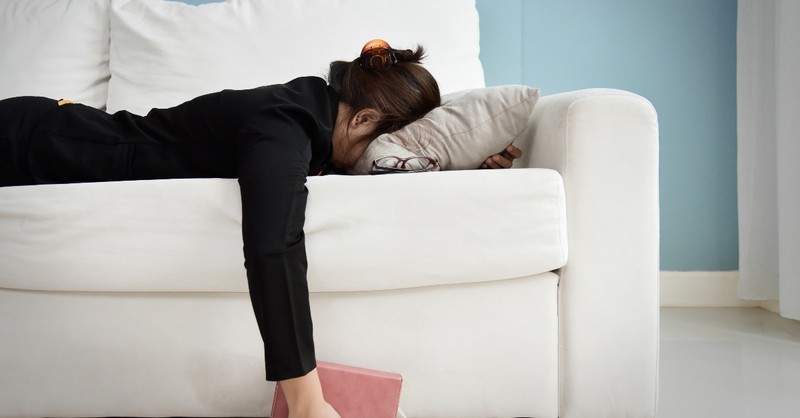 Editor's Note: The following is a report on the practical applications of Debbie Taylor William's new book, The Plan A Woman in a Plan B World, (Leafwood Publishers).
Women like to plan the way they hope their lives will turn out, and such plans often include enjoying good health, a fulfilling career, an exciting marriage, loving children, loyal friends, and abundant finances. That's "Plan A." The problem is, this is a "Plan B" world, where life rarely goes according to plan and unexpected circumstances abound.
Sometimes your plans will go awry because of sin; other times, your plans must change because they conflict with God's plans for your life. Either way, you can plan on one thing: Even your best plans will fall apart sometimes. When they do, however, you don't have to live in defeat. You can make choices in the middle of "Plan B" circumstances that will help you experience God's "Plan A" for your life. Here's how:
Trade earthly expectations for heavenly hope. Ask God to make you aware of the unrealistic expectations you have. Realize that expecting more from any person or situation than is reasonable will only lead you to become disappointed. Expect to encounter disappointment as a normal part of life in a fallen world that's filled with imperfect people. But take your disappointments to God, praying for wisdom about how you can best handle situations and relationships. Keep in mind that, while others will sometimes let you down, God will always offer you real and lasting hope.
Trade illusive imagination for refreshing reality. When you imagine ways you'd like your life to be, but what you imagine isn't grounded in biblical truth, your imagination becomes dangerous because it pulls you into wrong thinking that leads you to destructive decisions. So examine your thoughts in light of God's truths. Stop wasting time and energy on thoughts that aren't worthwhile. Instead, ask God to show you what He has imagined and planned for your life, and think about that so you can respond to His calling for you.
Trade doomsday discouragement for delighting in your destiny. No matter how difficult your current circumstances are, God is with you in the midst of them and will use what you're going through to accomplish something good if you trust Him to lead you through it. Realize that doomsday thinking will lead to despair and undermine God's destiny for you. Choose instead to invest in others in ways that will outlive you; that's where you'll find significance.
Trade fear of the future for faith in the Father. Clear your mind of fear about the future by reminding yourself of God's promise to always be with you, helping you, in any circumstances. Read His promises in the Bible often, surround yourself with friends who encourage you to grow in faith, and pray regularly to keep the lines of communication between God and you open and learn to recognize His voice speaking to you.
Trade being bound by bitterness to being freed by forgiveness. If you hold onto bitterness, it will poison your soul and cause you to miss out on God's plan for your life. Choose to forgive people who hurt you, with God's help. Let your gratitude for how much God has forgiven you for motivate you to obey His call to forgive.
Trade woeful devastation for wise discernment. When you're facing devastating circumstances, God is there with you, available to guide you through them. Pray for the wisdom you need to navigate your circumstances.
Trade shaken faith for a firm foundation. Don't fall apart when something shakes your faith. Instead, seize the opportunity to grow closer to God and discover more of His plans for you.
Trade a fixation on the past with a focus on Jesus. Rather than fixating on the past, learn from it by confessing your mistakes and repenting of them so you can move on in freedom. Going forward, keep your focus on Jesus and the purposes He wants you to fulfill.
Trade living in the flesh with walking by the Spirit. Every day, give yourself a spiritual checkup to see whether you're making decisions according to your selfish nature or by the power of the Holy Spirit at work within you. Ask God to help you repent of ways you've been trying to lead your own life. Pray for the Holy Spirit's guidance moment by moment, and trust that guidance when making your decisions.
Talk with friends. Engage in meaningful conversations about spiritual topics regularly with your friends, and encourage each other to draw closer to God together as you go through the various difficult circumstances in your lives.
Develop a sense of humor. Learn to laugh every day, appreciating the humor that's around you even when you're dealing with challenging circumstances. Use humor to relieve stress and remind you that you still have a lot for which to be grateful to God.
Experience joy. Stop wasting time and energy trying to make yourself happy. Repent of following your own plans and start pursuing God's plans for your life. In the process, you'll experience joy from God that will last through any circumstances.
---
Adapted from The Plan A Woman in a Plan B World: What to do When Life doesn't Go According to Plan, copyright 2010 by Debbie Taylor Williams. Published by Leafwood Publishers, Abilene, Tx., www.leafwoodpublishers.com.
Debbie Taylor Williams the founder of Hill Country Ministries with a mission is to spread God's Word and love, is a national Christian speaker and author. She has written and produced numerous books and video-driven Bible studies, including If God Is in Control, Why Am I a Basket Case? (New Hope, 2009); Pray with Purpose, Live with Passion (Howard, 2005); and Prayers of My Heart (Howard, 2005). In addition, she has been published in P31 Woman magazine and is a religion columnist for the Kerrville Daily Times. Debbie is currently taking her conference, P.R.A.Y. with Passion, across the United States. She makes her home in Houston, Texas.
Photo credit: © Getty Images/eggeeggjiew