When You Feel Like God Has Abandoned You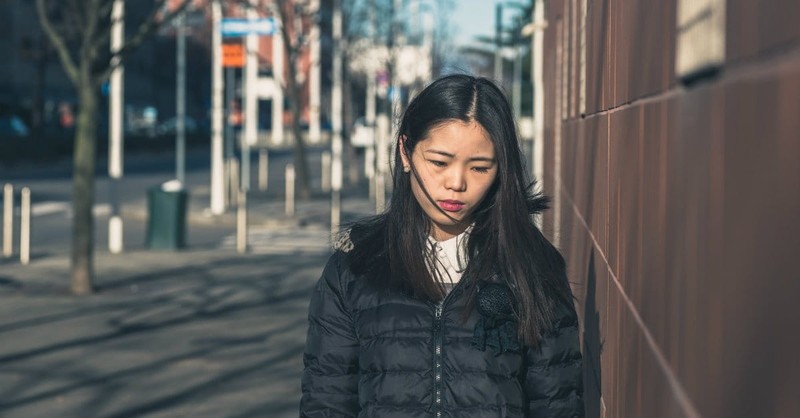 If you've lived long enough, maybe you've noticed that one thing is true. 
Life doesn't always make sense. 
Hard times come. 
Unexpected loss can send us reeling. 
And sometimes, though you know God loves you, there's a troubling feeling of distance that you just can't ignore.
Often in the deepest struggles of life, we find ourselves in a place that feels dark. Lonely. Desolate. We look for answers and find none that make sense. We pray for God to change our situation, but the waiting seems long. Intense. We can't understand what He's doing and wonder if He even cares. We begin to doubt his way is best. We feel forgotten. Abandoned. Left to fend for ourselves in a world of mess and worry. 
But no matter how we "feel," or what lies the deceiver throws our way, God's word reminds us of what's true. Life may look bleak in uncertain times, God may seem distant when the answers don't come quickly. But the Truth is, He's still there, with us. And He has a plan, for He'll never abandon us.
If you're struggling now, or have found yourself there in recent days, you're not alone. Even those who have journeyed closely with God through long years, heroes of the faith, have wrestled with the same doubts and feelings. The Bible is filled with stories of courageous men and women who encountered seemingly insurmountable obstacles, finding themselves in dark places, who felt all alone in the midst of it all.  We can learn from their stories – still relevant for today – powerful reminders that He cares. 
4 Powerful Truths that Bring Hope When You Feel Like God Has Forgotten You:
God's ways are often different than ours, but He is with us.  David was a man after God's own heart, and he was also a man on the run. God had anointed him as king, yet he found himself hiding out in caves, fearing for his life, for days on end, as he was chased by a crazed King Saul. Throughout the book of Psalm, we can hear David's honest struggle, "How long, O Lord? Will you forget me forever? How long will you hide your face from me? How long must I wrestle with my thoughts and every day have sorrow in my heart? How long will my enemy triumph over me?" Ps. 13:1-2
The truth is, David had done nothing wrong for Saul to chase him and try to kill him. David's heart was to follow and honor God. Yet he still wrestled with feeling forgotten, and struggled to find purpose in God's ways. Sometimes we can be so hard on ourselves for struggling in tough situations. Maybe we think we can't really be honest with God, or bother him, or that we should be able to tough it out, and handle whatever difficult things come our way. Yet God is never impatient or angry with David's questions and longings. Nor is he with us. We see His hope instilled through verse after verse in the Psalm, through David's prayers, powerful reminders to a man on the run, and to our lives today, that God is surely with us.
"Even though I walk through the valley of the shadow of death, I will fear no evil, for you are with me; your rod and your staff, they comfort me." Ps. 23:4
God's timing is often different than ours, but He is faithful. Abraham and Sarah knew this more than anyone. They walked a journey that appeared God had surely forgotten them. God called Abram out of his country to a new land, at the youthful age of 75. He promised to make him into a "great nation," he promised to "bless him." Abram took his wife Sarai and they followed after God, by faith, in obedience. And yet the blessing didn't come quickly, it took some years. Long years. God's timing seemed off, it didn't make sense. But often the greatest blessings come through much testing and prayer. And God's reminder came to Abram, reminding him of his promise yet to be, assuring him that he had not forgotten, that he would not abandon them, "Do not be afraid, Abram, I am your shield, your very great reward." Gen. 15:1
And through some twists and turns, across valleys and struggles, over years of questions and doubt, God, in His mercy, changed their names and their lives. Abraham and Sarah welcomed their child of promise into the world at just the right moment, destined by God. He was 100. She was 90. Perfect timing. 
"Faithful is he who calls you, and he also will bring it to pass." 1 Thess. 5:24
When it seems like evil is winning, God has the final say.  Sometimes in our struggle, we look around us and the dark side seems to be ahead.  Like we can never win. We feel like we're stumbling while we watch evil advance. Yet Joseph's life is the perfect reminder that things are not always what they seem. While he sat in a pit, deserted by his brothers, and later sat in prison, forgotten by all who knew him, God was working a miraculous plan. It was just a matter of time before it was revealed, but it produced the godly refining and character of a man who could move forward in forgiveness, and could wisely and faithfully lead a nation.
Joseph's well-known words remind us that evil never has the final say over our lives, for God is able to turn it around for good. 
"You intended to harm me, but God intended it for good to accomplish what is now being done, the saving of many lives." Gen. 50:20
No matter how dark the struggle, God is able to bring power and victory through it all.  Jesus, our Savior, hung dying on the cross.  Willing to endure great pain and suffering on our behalf, the darkness of the world fell upon his shoulders.  Following in obedience to the Father to be the very sacrifice for our sins, He felt the depth of separation from God. And in his greatest moment of anguish, we read these words, quoted from Ps. 22:1, which David had spoken years before, "My God, my God, why have you forsaken me?" Matt. 27:45  
This was not a cry of questioning God, but rather a glimpse into the anguish of soul he carried in bearing the sins of us all. Jesus our perfect example, pressed in to His Father, in that time of great darkness. He cried out to Him for help and relief, he knew where to go to find strength for all that he endured.  
And God's power broke through. Jesus was buried but he didn't stay there. He conquered death through the power of the Resurrection, and He paved the way for us to walk free. 
God is able. To bring great victory to the darkest of times, for he has conquered the very darkness of death and separation.
"But thanks be to God! He gives us the victory through our Lord Jesus Christ." 1 Cor. 15:57
Days later, as Jesus appeared to his disciples, he gave this final reminder to all. Parting words that he knew, he lived, that he reminds us of today, which still hold all power and hope, "And surely I am with you always, to the very end of the age." Matt. 28:20
We are never forgotten. The God who sees all, knows all, and holds all purpose and timing in His hand, is the God who fights for you and me. He gives victory and power. Peace and hope. Strength and wisdom. And He is with us. 
Always.
Grace.
Debbie McDaniel is a writer, pastor's wife, mom to three amazing kids (and a lot of pets). Join her each morning on Fresh Day Ahead's facebook page, DebbieWebbMcDaniel, for daily encouragement in living strong, free, hope-filled lives. Find her also at Twitter.
Publication date: October 30, 2015