Will You Dare to Be Hopeful When Life Seems Hopeless?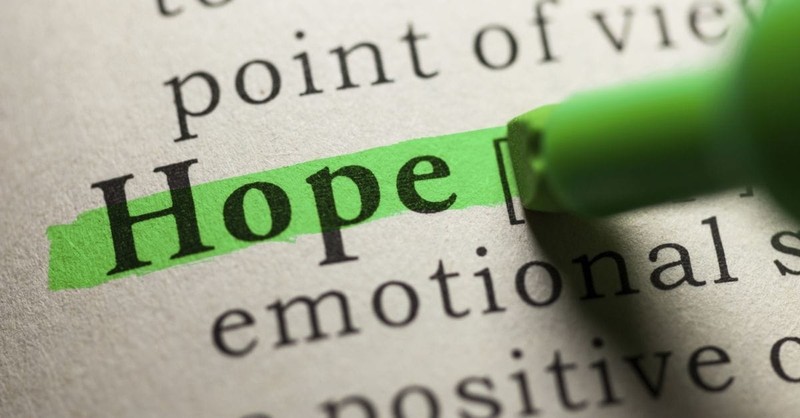 After a good friend moved to Thailand for a few years and I had a baby, our lives pulled us in separate directions and we lost touch with each other. I thought about Pam often, but never made the effort to stay connected with her, since I didn't know when we could realistically get together again. My regret over my neglect of our friendship grew over the years, so one day I decided to try to contact her, only to discover that her old email was no longer valid. She wasn't on social media, and even trying to track down forwarding addresses and phone numbers for her didn't work. It seemed hopeless that I could ever see Pam again. But I prayed that somehow God would bring us back into each other's lives if he wanted us to reconnect.
Then one Sunday at my church, as I was picking up a communion wafer, I glanced over to the other side of the table and found that I was looking into Pam's face! It turned out that Pam had moved back into the local area, looked around for a new church to attend, and felt strongly compelled to visit this particular church – not knowing that I had been a member there for years. God surprised us by bringing us back into each other's lives.
No matter how hopeless a situation may seem, it's always worth staying hopeful, because God has the power to change circumstances dramatically at any time.
The same power that fueled history's most dramatically hopeful event – Jesus Christ's resurrection on the first Easter – is still at work today whenever God decides to bring new life to seemingly dead situations in our lives. 1 Peter 1:3 declares: "Praise be to the God and Father of our Lord Jesus Christ! In his great mercy he has given us new birth into a living hope through the resurrection of Jesus Christ from the dead" – and it's because of that living hope that we can stay hopeful in situations that seem hopeless.
Here are 5 ways to stay hopeful in situations that seem hopeless:
1. Look beyond a hopeless situation to your hopeful God.
Your circumstances may be so dire that they seem hopeless. But there's always a possibility that God will choose to intervene – and whenever he does, he fulfills hope in any situation. No circumstances are beyond the reach of God's hope, as the Bible story of Jesus Christ raising Lazarus from the dead shows. When Jesus heard that his friend Lazarus was sick, he intentionally waited until Lazarus had died to travel to Lazarus' home – in order to show that there are no limits to the power of what God can do when people place their hope in him. Rather than just healing Lazarus of an illness, Jesus went to the extreme of bringing him back from the dead to demonstrate his limitless power.
What "dead" situation are you facing right now? Maybe you're dealing with a chronic illness, a long season of unemployment, a broken relationship, or a bad habit that you've tried yet failed to change. No matter how hopeless the situation seems, choose to believe that God can still change it if he chooses to do so. In Luke 18:27, Jesus declares: "What is impossible with man is possible with God."
2. Keep knocking on God's door through prayer.
I spent 23 long years praying for someone I loved dearly – my mom – to come to faith in Christ. After years of not seeing any spiritual interest from Mom despite all my efforts to talk with her about faith, I became so discouraged that I nearly gave up. But Mom herself had taught me to never give up on any effort that I thought was important. And I remembered Jesus' words from Matthew 7:7-9: "Ask and it will be given to you; seek and you will find; knock and the door will be opened to you. For everyone who asks receives; the one who seeks finds; and to the one who knocks, the door will be opened."
After I started talking to God about Mom more than I talked to Mom about God – after I focused on prayer – I started to see Mom seek God more. Eventually, Mom did become a believer, despite having told me for years that expecting her to believe was hopeless.
3. Surround yourself with faithful, encouraging people.
The scariest seemingly hopeless situation in my life happened when my husband Russ reached the end stage of kidney disease and nearly died. As I watched Russ' health decline to a dangerous point while we tried to find the lifesaving kidney he needed, I felt so hopeless that I started to plan for life as a single mom after being widowed. But during that desperate time, I had the blessing of relationships with many fellow believers who prayed for us, encouraged us, and spread the word about the need. Just in time, a wonderful guy from our church donated a kidney through a successful transplant operation. Russ and I experienced the love within the body of Christ literally, as one person gave a part of his own body to save my husband's life, and many people supported us all throughout the crisis.
4. Remember what God has done for you in the past.
While you're waiting to see hope fulfilled in a difficult situation, it helps to recall past situations in which God came through with the hope you needed. This helped me get through a difficult time after a professional project that I loved working on abruptly ended. The corporation I produced the project for was sold, and I was told that there was no hope that the project would be active again. But I couldn't shake the sense that God had more work for me to do on it someday. So I kept hoping and praying that someday God would activate it once more if he did in fact want me to resume working on it sometime in the future. I knew that God could do so easily, since he had brought several incredible career opportunities my way in the past. Remembering what God had done before in my life helped me stay hopeful about what God may do for me in the future, at the right time. Remembering some key answered prayers from your own past can give you a fresh dose of hope right now about something on which you're still waiting for God's answer.
5. Expect surprises.
One December day, I got a surprise Christmas present: the work project that seemed as if it was hopelessly gone was in fact being revived, and the company recruited me to come back to work on it. God has some surprises in store for you, as well, since he is always at work redeeming hopeless situations with hope. Trusting God to surprise you with hope in the midst of a situation that seems hopeless will lead you to blessings of joy and peace. As Romans 15:13 says, "May the God of hope fill you with all joy and peace as you trust in him, so that you may overflow with hope by the power of the Holy Spirit."
Invite God to do whatever he wants to do in your life, and look forward to some amazing surprises!
Whitney Hopler, who has served as a Crosswalk.com contributing writer for many years, produces a site about angels and miracles for About.com. She is author of the young adult inspirational novel Dream Factory (which is set during Hollywood's golden age) and writes about the power of thoughts on her "Renewing Your Mind" blog.
Publication date: March 24, 2015