What Strength Really Looks Like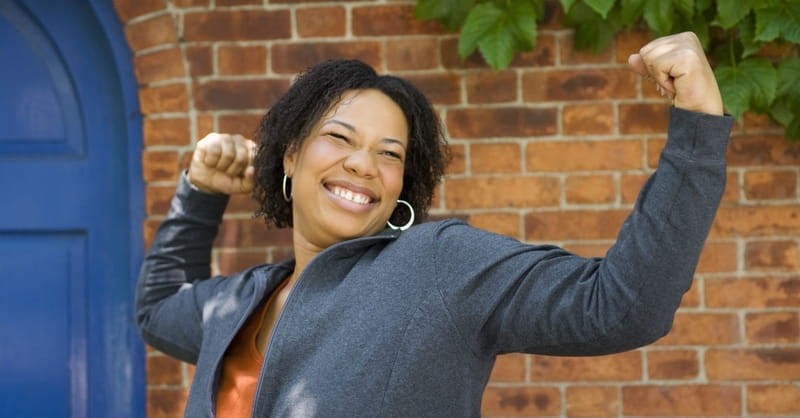 by Charlotte Van Werven, Apprentice in Editorial for Jesus' Economy
What does a strong person look like? 
When I say "strong person," my imagination creates a picture of someone standing tall and confident. I see him as he holds his head high, his chin pointed toward the sky. He keeps his hands on his hips, ready to conquer. He makes himself larger in the shadow of the vast world. The sky illuminates behind him as the mountains shrink in his presence. Nothing can slow him down, and nothing can stop him. He is a strong person.
When we think of strength, we each—in our own way—summon images like these. We imagine a person with enough willpower to do anything they believe in. We imagine a hero.
We associate strength with power and power is associated with heroic actions.
This makes me feel smaller. It makes me feel like I can never measure up to the strength and dignity of a hero. I will never be that big. I will never be that important. I will never make big changes in the world. I am the person who might make little ripples—coursing love and peace into the lives of the people directly around me. I tell myself that I will never be able to turn my ripples into waves, and that the world will never know I was here.
But I have to stop myself before I get carried away. I don't know exactly what God's plan is for my life. I don't know whether he will or won't turn my ripples into waves. 
God might call me to only make small ripples and do little things. But if this is what happens, it won't make me weak. 
It is Not Our Impact that Makes Us Strong
A strong person is made by their ability to let go of themselves, turn their lives over to God, and let him be the guide. A strong person is one who humbles themselves before the throne of God, and admits that they cannot do it on their own. The only thing we can really do on our own is to fall short of the glory of God.
But once we commit our lives to God, he can do anything through us (Philippians 4:13). He can use us to do something big and heroic, like he used Deborah as she led the Israelites. He can also use us to do the little things.
Giving Our Life to Serve God in Little Ways
It's in the "little things" that we find Priscilla. She isn't very well known in the Bible, but she displayed true heroism. For Jesus, Priscilla did the small things to make the big things happen. Married to a man named Aquila, Priscilla and her husband traveled with Saint Paul, as he ministered to others. Her support of Paul made his ministry possible. And Paul's ministry, which must have also felt like Priscilla's own (as it was), made way for the gospel to reach a large portion of the world.
Aquila and Priscilla are only mentioned six times in the Bible and each mention is brief. They are mentioned as being friends with Paul, and working together before they left to minister with him.
"After this Paul left Athens and went to Corinth. And he found a Jew named Aquila, a native of Pontus, recently come from Italy with his wife Priscilla, because Claudius had commanded all the Jews to leave Rome. And he went to see them, and because he was of the same trade, he stayed with them and worked, for they were tentmakers by trade." (>Acts 18:1–3 ESV).
When Paul mentions Priscilla and Aquila, it's always with adoration:
"Greet Priscilla and Aquila, my fellow workers in Christ Jesus, who risked their necks for my life, to whom not only I give thanks but all the churches of the Gentiles give thanks as well (>Romans 16:3–4 ESV).
What makes this mention even more impressive is the fact that Priscilla was a woman—in the first century AD's patriarchal culture, Priscilla was in ministry each step along the way. Never are the husband and wife mentioned apart from one another. As Aquila and Paul worked to share the truth, Priscilla was there, too. She worked with her husband as a tentmaker before they left, and she worked with him as a disciple after. She lived the life God called her to live, and it became one of ministry and encouragement. In Acts, Luke tells us:
"Now a Jew named Apollos, a native of Alexandria, came to Ephesus. He was an eloquent man, competent in the scriptures. He had been instructed in the way of the Lord. And being fervent in spirit, he spoke and taught accurately the things concerning Jesus, though he knew only the baptism of John. He began to speak boldly in the synagogue, but when Priscilla and Aquila heard him, they took him and explained to him the way of God more accurately" (>Acts 18:24–26 ESV).
They took him and explained to him—together, Priscilla and Aquila work for the gospel. Priscilla may not be the most influential disciple, but she was critical to God's work in the world. In addition, Paul's gratitude for Priscilla's gifts, efforts, and fellowship suggests that Priscilla likely empowered many others—as that was a core belief of Paul's.
Heroic in the Small Things—for Jesus
Priscilla was a strong person. She was a hero. She humbled herself before God and accepted his plans for her life. She loved people and invested in them. It appears that Priscilla never gave up—even to the point of risking her own life for Jesus' ministry.  
We can all be leaders and empower other people. This isn't something chosen for a few of God's elect. It comes with listening to him and means a change in our lives.
God's call means different things for different people. For Deborah, it meant becoming a judge and leading the Israelites into an important battle. For Priscilla, it meant that she dropped everything to travel with her husband and Paul to proclaim the hope of salvation.
Disciples Work Together
Paul never worked alone, and neither did Jesus. They both had supporters who helped them in their work—and made the ministry their own. Priscilla; Mary Magdalene; Mary, mother of Jesus; Mary of Bethany all contributed to the gospel through what seemed like little deeds. But they each accomplished something much larger as they spread the gospel. It's as a team that God's people work.
"Two are better than one, because they have a good reward for their toil. For if they fall, one will lift up his fellow. But woe to him who is alone when he falls and has not another to lift him up!" (>Ecclesiastes 4:9–10 ESV).
Real Strength
Priscilla's actions suggest that strength is really about boundless faith, humility, and obedience to God.
Now, when I think of strength I see someone kneeling before the cross, infinitely small in the presence of a God so great. There are tears streaming down the person's face as they accept an everlasting love. They leave their past behind and look to their future with God as they say, "Here I am, send me" (Isaiah 6:8).
---
Charlotte Van Werven writes for Jesus' Economy, a non-profit dedicated to creating jobs and churches in  the developing world. Jesus' Economy provides an online fair trade shop and is working to Renew  Bihar, India.