A Financial Plan Will Help You Meet Your Goals
Whitney Hopler

Live It Editor

2001

19 Sep

COMMENTS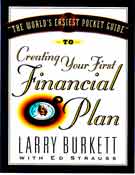 You're probably looking forward to meeting various goals in your life, and God may have led you to set them. It's wonderful to have a vision to fulfill those dreams, but in order to do so, you're also going to need money.
Creating a financial plan will enable you to figure out how much money you're going to need, and how long it will likely take you to obtain it. Knowing these specifics will go a long way toward helping you achieve your life's goals.
Here are some ways you can create and implement a financial plan:
Pray specifically about each of your goals, and ask God to help you discern whether or not they align with His will for your life. Understand that He knows what's best, and be willing to sacrifice goals that don't align with His will, while embracing new goals to which He leads you. Know that God will provide the means for you to accomplish goals He leads you to pursue.

Write a mission statement that briefly but specifically describes your goals. This will help you focus on them.

Consider all the different aspects of your current financial situation. Take inventory of your monthly earnings and expenditures, your debts, your savings, your giving, and more.

Develop a monthly budget. Take out money for charitable giving and taxes off the top. Then assign percentages to each category that reflect the amount of your income that you should ideally use for that particular category. For example, up to about 30 percent of your income should go toward housing costs (including mortgage, utilities, personal property taxes, maintenance, etc.), about 17 percent toward food and about 15 percent toward auto costs (including payments, insurance, gas, etc.).

After you've developed your ideal budget, write a second one that reflects how you're actually spending your money right now. Notice how your actual budget differs from your ideal one, and reassign funds in between categories to make the necessary adjustments.

Ask God to help you change your lifestyle to implement the budget changes that you need to begin implementing. Trust God to meet all your needs for security. Don't give in to the temptation to spend money for instant gratification; wait until you have the cash available to purchase the item or service you're considering.

If you're in debt and paring down your lifestyle still isn't enough to get you out, consider ways that you might increase your income. Think and pray about taking on a second job, getting a raise, or increasing your marketability or value to your current company by taking courses to enhance your knowledge and skills.

Organize your financial records, assigning a safe and accessible place to each different type of record, such as bills, investment reports, bank statements and tax receipts.

Take time on a regular basis to check your progress as you implement your financial plan. Modify your plan as necessary when your life changes unexpectedly, but keep your goals in mind and strive continually toward them.

Adapted from The World's Easiest Pocket Guide to Creating Your First Financial Plan, copyright 2001 by Larry Burkett with Ed Strauss. Published by Moody Press, Chicago, Ill., www.moody.edu, 1-800-678-6928.
Larry Burkett, chairman of the board for Crown Financial Ministries, hosts two daily radio programs and has written more than 40 books.
What are some of the goals you hope to accomplish in your life, and how have you been working hard to save and earn the money necessary to accomplish them? Visit Live It's forum to respond, or read what others have to say. Just click on the link below.