Facing the Fears of Another 'Great Depression' Stock Market
Austin Pryor

Sound Mind Investing

2010

9 Sep

COMMENTS

Investors continue to ride an emotional rollercoaster. Every week brings a mix of encouraging and discouraging news. The market rallies and falters. Expectations for economic recovery vary widely. The "experts" appear conflicted and confused.
This experience is unsettling and, for many investors, raises a pressing question: Should they continue on their present course, or make a change and flee to safety?
To help you put those options in a historical context, let me tell you a little bit about investor experiences during the bear market of The Great Depression. If we're anxious, it's likely due to the fear of a repeat of that terrible time.
After a decline that began in late 1929 and lasted almost three years, the market began to rally. By the end of 1936, a little more than seven years after the market drop began, buy-and-hold investors were finally back where they started (see black dots in charts below).
Chart A shows the value path of a portfolio consisting of 50% large-company stocks and 50% smaller-company stocks during this period.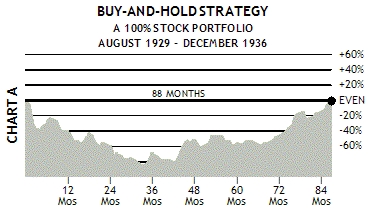 Chart B shows the portfolio experience of an investor who continued investing new money in stocks throughout the bear market via a monthly dollar-cost-averaging strategy (the example assumes a $1,000 starting value for the portfolio and ongoing investments of $10 per month). Due to regularly acquiring shares at very depressed prices for several years, every new $1 invested would have grown to be worth more than $2.50 by the end of 1936.
As a consequence, this investor was back to breakeven on all monies invested 14 months sooner (i.e., by October 1935). Furthermore, by the end of 1936, the portfolio was worth 72% more than all the monies invested. Even during a market as terrible as the one during The Great Depression, it paid to continue making regular investments.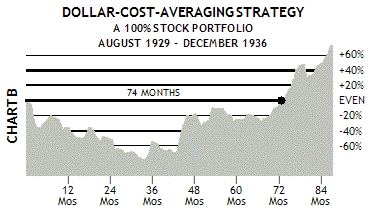 Knowing your emotional tolerance for risk is very important! Too many investors deal with their fears of a falling market by exiting stocks altogether rather than simply reducing their stock allocation.
Chart C illustrates the effects of embracing a lower risk profile by reducing stocks to one-half of the portfolio. A 50% stocks, 50% U.S. Treasuries mix would have dampened the decline and made a return to breakeven that much faster.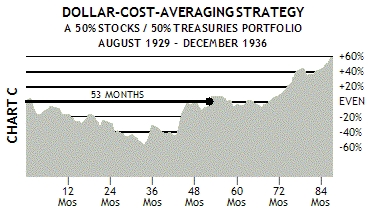 The drawback, of course, is that the Treasuries slowed the growth of the portfolio during the rally phase — by the end of 1936, the portfolio was worth 57% more than had been invested (versus 72% for the 100% stocks portfolio). Still, this "lesser-losses, lesser-gains" scenario might be a preferable one for anxious investors. And, depending on your time horizon, it is a better solution (in our view) than departing from stocks altogether.
Hopefully, taking this visual tour will help you to see that, even during the "worst of times" for the stock market, perseverance has rewarded the steadfast. I encourage you to continue any monthly investing strategy you may have in place. (This assumes you have 10 years or more before you will need to withdraw any funds.)
September 10, 2010
© Sound Mind Investing

Published since 1990, Sound Mind Investing is America's best-selling financial newsletter written from a biblical perspective. Visit the Sound Mind Investing website .



Get a FREE copy of Seven Key Principles for Christian Investing.







Learn more about the newly updated 5th Edition Sound Mind Investing Handbook, available at a 35 percent discount.