20 Ways to Encourage Summer Reading
Barbara Curtis

Crosswalk.com Contributor

2012

13 Jun

COMMENTS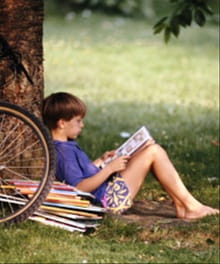 1) Visit the library
If he doesn't already have one, get your child a library card. Check out some books, then read books together with a picnic lunch on a blanket somewhere special.
2) Invest in books
Look for lightly-used books at garage or library sales. Buy inexpensive paperbacks from discount stores.
3) Care for books
Teach children to handle books as though they had great value. They do.
4) Create a reading nook
Fill a cozy spot with a beanbag chair or fluffy pillows, hang a few small pictures of people reading. Books on a shelf nearby.
5) Turn down the volume
Create a quieter atmosphere at home – less TV, radio, and other distractions.
6) Give books as gifts
Ask Grandma too! Books are gifts that never stop giving.
7) Subscribe to magazines
Your kids will look forward each month to their own. Focus on the Family has great age-appropriate magazines: Clubhouse Jr., Clubhouse. Highlights has been a faithful friend to kids for over 60 years.
8) Pursue special interests through books
A reluctant reader/baseball nut may get turned on reading books on baseball heroes. There are books on every interest under the sun.
9) Listen to audio CDs/casettes
To break the TV habit, build a bridge with audio CDs/cassettes – Books on Tape or the Focus on the Family Radio Theater or Odyssey series. Without visual cues, children learn to exercise imagination. And an audio learner like my daughter Maddy can transition to becoming a lover of books.
10) Introduce series books
Following one or two main characters – like the Hardy Boys or Boxcar Kids – can build a reading habit in an on again/off again reader.
11) Watch movies of classics
Watch Little Women, Tale of Two Cities, Oliver Twist (look for the old, black&white versions to avoid politically correct changes) – then give the book to your child to read (abridged versions for younger readers).
12) Visit bookstores
Many bookstores are very child-friendly, with inviting sections for children. Teach your child to show respect for the books and the store.
13) Attend a book signing
Check local bookstores for upcoming readings by children's authors. Buy a copy and get it autographed.
14) Tolerate comic books
As long as they're decent, comic books are okay to encourage kids who might not otherwise read. My kids loved the TinTin books, which are translated from French and have pages of cartoon panels.
15) Publish your child's book
Help your child write and illustrate his own book. Show how to make a cover and cover page, with author, date, and city. Print on the computer and distribute copies to friends and family.
16) Give her a diary
Teach your child how to journal, including reading back over what she has written.
17) Set the pace
As your child takes on longer books, review them with him first for total pages – then set a daily goal and target date to finish
18) Read aloud
No child is too old to be read to. Choose a rich book like David Copperfield – it's most stimulating to read several notches above your child's own reading level.
19) Read together
Take turns reading – plays and skits are great fun for families.
20) Read yourself
You are his true hero. Make reading a priority and your kids most likely will too!
Barbara Curtis is an author and mother of 12 who blogs at MommyLife.net.
Publication Date: June 13, 2012