A Home School Mother's Envy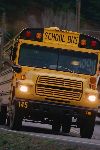 I followed the bus for a series of four blinking stops and then watched as, at each, a number of young children clad with back-packs, boarded. Many small hands waved good-bye to the group of congregated mothers on the street corner as the vehicle drove off. Being about three weeks into the school year, the novelty and change of pace from summer were still evident.
The mothers smiled to one another and then headed back to their respective homes. For some, it was to quiet and solitude. For others pushing strollers, it was to deal with the younger siblings of the children they had just sent away.
Had I not had the necessity for an early morning errand, I would have forgotten what I was "missing". That half hour away from home was a real eye opener.
I couldn't help wondering about each of the "corner-gathered mothers." Some, I am sure, were returning to a noiseless house to plan cleaning or errands accordingly, only making sure that their schedule took into account the return of the big, yellow, school bus at three o'clock. Their younger counter-parts, still toting babies and toddlers, had to also figure in naptimes when planning their day. But all had passed on the responsibility for educating their children to an institution.
"How do they do it?" I thought to myself. Giving over their God-given blessings to someone with different values, standards, and beliefs. If children are a heritage, why do they risk the danger of tampering?
Could it be tradition? - This is the way I was raised and this is the way it's always been done.
Maybe it's insecurity. – What do I have to offer my children? The government has computers, technology, sports activities, and advanced academic programs.
Could it be a feeling of "They owe me. I pay my taxes?"
Or, as hard as it is for most to admit, is selfishness the root of reasoning? - "I raised my babies. I put in my time. Now I need space for myself, to do the things that I want to do".
Whatever the reason, it is still mind-boggling to me!
Turning into my driveway and pulling up to the house, I am greeted by one of my precious blessings.
"Hi, mommy," my ten year old daughter walks up to the car and greets me with a kiss, as if I had been gone all day. "I'm finished my devotions."
As we enter the side door, my eye catches four more blessings sitting on the couch reading their assignments for the day. My youngest is fumbling with the cereal and bowls as he makes himself breakfast.
"Thank you, Lord," I pray, "For opening the door for me to homeschool."
Too soon will this home of ours be quiet, as one by one my children grow into adults and leave to start families of their own. No longer will I have opportunity to directly impact their lives for the Lord, to pass on my faith first hand, or to impart my beliefs and values into their young and impressionable minds.
Even though the days may sometimes seem long with its many responsibilities and challenges, the years of influence are relatively short.
The door to homeschooling is open to all, but only entered into by those who truly view mothering as a ministry, and who see raising children as a personal responsibility from the Lord that also includes the academics. They heed the uneasiness that the Holy Spirit stirs within them in transferring the task of education to someone else, and they resist the temptation to accept the belief that others know better. These brave pioneers experience firsthand God's grace in overcoming selfishness to not live one's life apart from those to whom God has entrusted to them.
Homeschooling has its challenges, and I confess that on hectic days I sometimes envy the solitude of the yellow bus mothers. But my envy is only for a moment, as I allow God's grace to shape me and mold me into His servant's vessel. He reminds me that HIS way is the best way and that the rewards are still to come.
---
Maribeth Spangenberg is wife to Steve, homeschooling mother of nine children, and happy, new grandmother to one granddaughter. She considers it a blessing and a ministry to be able to encourage other mothers and homeschoolers to "stay the course"!
This article was originally published in Eclectic Homeschool Online (www.eho.org) to which Maribeth is a regular contributor to the Home and Family Department. Maribeth also writes weekly devotionals for Homeschool Enrichment newsletter and website (www.homeschoolenrichment.com).