You can be a great mom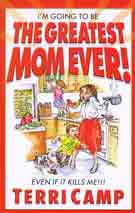 Motherhood is a great privilege and responsibility. You may feel pressure to be "the greatest mom ever," but you don't need to strive for unrealistic goals. Instead, rely on God's grace to help you every day in your role as a mom. Then God's greatness will shine through you.
Here are some ways you can live a more graceful life as a mom:
Take time for personal renewal in the midst of serving your family. Even something as simple as half an hour in an aromatherapy bath can help.
Reduce clutter in your house. Donate items, sell them at a yard sale, or simply toss them out.
Don't worry about fixing gourmet meals for your family. Just make sure your family eats regular, nutritious meals.
Just accept the fact that you will continuously have laundry that needs to be done. Don't sweat the huge piles that accumulate during particularly busy times; just tackle them when you can.
If you experience especially stressful times that cause you to feel as if you're going insane, remind yourself that God has given you a sound mind and will meet you in the middle of your pain to help you cope.
Pay much more attention to your inward beauty than your outward appearance, since God looks at your heart. It's fine to wear makeup or not wear to makeup, to wear dresses or to choose pants instead. The important thing is to cultivate a pure heart.
As a child, you may have thought that you wouldn't make any of the same mistakes your parents did. You may be dismayed now to discover that you have. Realize that God still loves you and will help you.
Don't rush through life. Take the time to fully experience moments you have with your child.
When your child asks incessant questions, try not to get upset. Instead, try to answer, so you can use the moment as a time of teaching about God's world.
Discover what motivates you and everyone else in your family, so you'll know how best to encourage your family to keep growing as God would like you to grow.
Ask God to help you break bad habits and establish good ones.
Commit your day's schedule to God, and don't worry if something interrupts your planned agenda.
Create special memories with your child as often as you can.
Spend time on your knees before God in prayer, asking Him to continually transform you more into the person He would like you to be.
Be patient with your child when he or she makes a mistake. Remember that he or she is made in God's image and that God has a purpose for each person.
Remember that God is much more powerful than any circumstance. Ask God to do battle for you in challenging situations.
Regularly communicate your passion for God to your child.
Pray for others often - not just for your family, but also for friends and others you know about. Your prayers contain significant power to help others and perhaps even save their lives.
In all you do, strive to serve out of a sense of love, not merely duty.
-- By Live It Editor Whitney Von Lake Hopler
Adapted from I'm Going to be the Greatest Mom Ever! ... Even if it Kills Me, copyright 2000 by Terri Camp. Published by Loyal Publishing, Inc., Sisters, Ore., www.loyalpublishing.com, 1-888-77-LOYAL.
Terri Camp lives in Iowa with her husband Steve and their eight children.