Make a Joyful Noise
Sheila Campbell

Texas Home School Coalition

2013

22 May

COMMENTS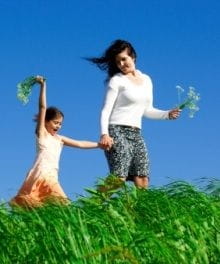 The grass was still wet with dew, the morning still damp and cool as the boys and I headed to the barn early one summer day. My heart was grieving over the recent loss of my husband, and the weariness of it made my steps slow. Just in front of us a meadowlark began to herald the day. His joyful tune mixed with the gleeful chatter of finches and sparrows lifted my spirit. Suddenly my son Jerrod, who was 11 at the time, also burst out in song. His sweet tenor was like a burst of sunshine on a cloudy day, and I blended my alto voice with his as we sang the chorus together, lifting our voices in song and our hearts in praise.
Christian music has always been an important part of our lives. When my oldest son, Justin, was a little boy—prior to a brain injury that left him severely handicapped—he was my little songbird. He loved music, and we spent hours listening to children's praise songs and Scripture memory songs. By the time Justin was 3 he had many of them memorized and would wake in the morning singing just like the meadowlark that was outside my window.
After the brain injury, Justin was in a coma for several weeks, but as he began to recover, his first reaction to stimuli was in response to music, and his first smile was in response to music. When the world around him became too overwhelming and his over-stimulated system could not handle the chaos of daily life, music calmed him, and singing was always a sure way to get a smile.
Justin kept music alive in our home, and as my other children grew, we discovered that music—especially music sung in praise and worship to our Heavenly King—can soothe restless young souls, calm ruffled teen tempers, relax worried minds, and comfort wounded hearts. It can bond a family through praise, thanksgiving, and love, and nothing seems to fill the heart to overflowing with gladness quicker than praise and song when both flow out of the mouth simultaneously. When a family is hurting, music can express emotions for which mere words alone are insufficient. It can enhance joy and soften grief.
As my other children grew, they came to love music as much as their brother did. Jerrod was particularly gifted in this area, but whether a child or family is musically inclined or not matters little—everyone can enjoy music. In our family we enjoy a wide range of music; we love good music as much as we love good books.
I have sadly observed that many parents—even homeschooling parents—often approach singing together in much the same way they approach reading together: they gradually stop as their children get older. But good songs, like good words, have a way of filling your soul to overflowing with praise, and what a wonderful thing to share with our children—regardless of their age.
A family doesn't have to be gifted in this area to make music a part of daily life. I encourage you to make music part of your family's daily life. Psalms 100 is one of my favorite psalms. The first verse says, "Make a joyful noise unto the Lord, all ye lands." This passage then goes on to blend singing, gladness, thanksgiving, and praise in a song of worship unto the Lord. As our children grow, we should not forget the significance of music in our lives; it is a balm for the soul and a catalyst to praise—regardless of our age.
Sheila Campbell began homeschooling in 1991, and after the death of her husband in 2001, she homeschooled as a single parent. She also was the parent of a special needs child whom she cared for at home until his death in 2004. These difficulties have strengthened her walk with her Lord and Savior, Jesus Christ, and it is her prayer that her words will encourage and inspire others. Sheila invites you to visit her blog at pausingtopraise.wordpress.com.
Copyright, 2012. Used with permission. All rights reserved by author. Originally appeared in The Old Schoolhouse® Magazine, the family education magazine, June 2012. Read the magazine free at www.TOSMagazine.com or read it on the go and download the free apps at www.TOSApps.com to read the magazine on your mobile devices.
Publication date: May 22, 2013