Homeschoolers Kick it Up
From the HSLDA newswire

2002

20 Dec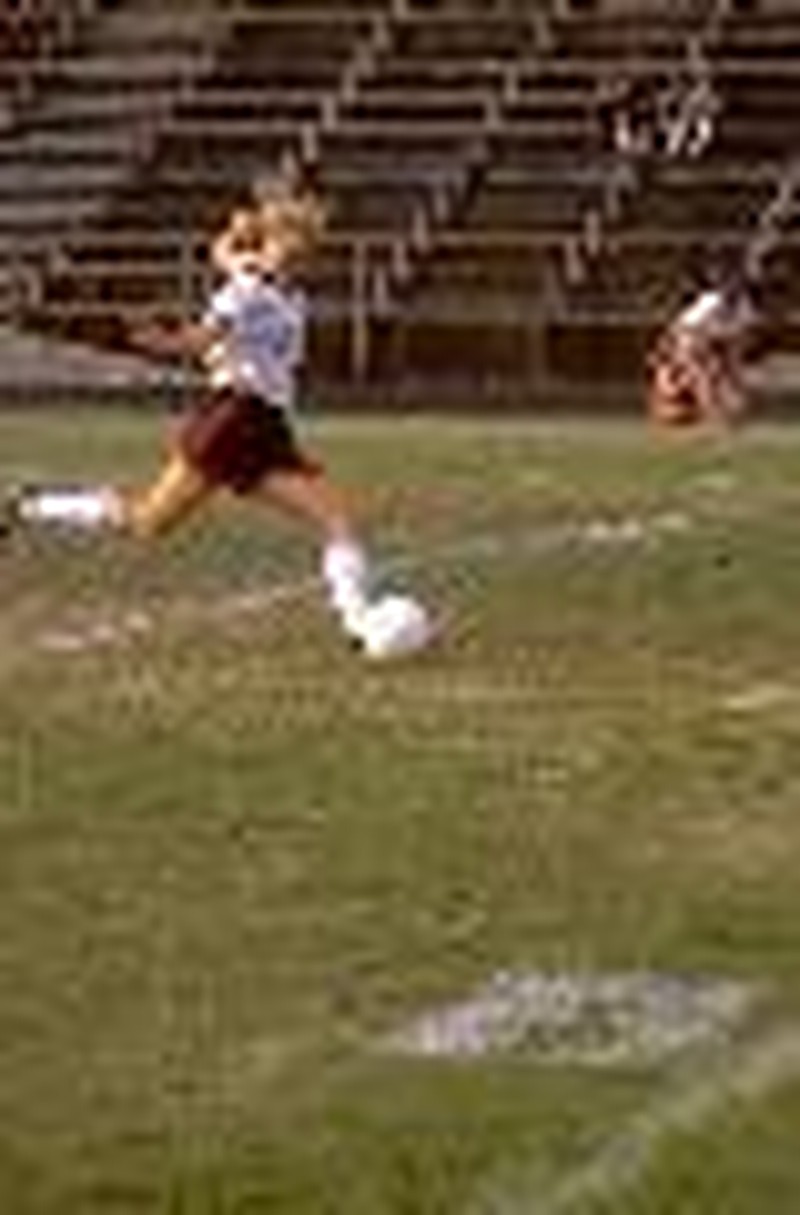 As the sport of soccer sweeps over the nation, it should be no surprise to learn that homeschoolers are excelling at the highest levels.
Two long time Home School Legal Defense Association (HSLDA) member families provide prime examples. Craig and Jan Klaas of Rockford, Ill., have three children who have played collegiate soccer. Kurt and Sherry Kuykendall of Oakton, Va., have five children playing the game, including three who have played or have agreed to play at the collegiate level.
For both families, the decision to home educate has facilitated the children's soccer aspirations. Jan Klaas said homeschooling helped free time for other family activities.
"Club soccer is such a demand on time. It can be draining. Homeschooling helped ensure we would have other family time," Jan said.
Kurt Kuykendall, who played professionally in the North American Soccer League and coaches high school and club soccer, said homeschooling has allowed him to go through additional skills training with his children.
"From when they were ages 5 to 13, we would get up at 7:30, go into the basement and do technical training for one hour Monday through Friday," he said. "So they were able to develop a large toolbox of skills and techniques with those hundreds of training sessions which were in addition to club training. So the joke I kid them with is that they owe it all to their mom, because without being homeschooled, they would have been in school with the other kids and not able to do this training."
The Kuykendalls third son, Jason, will live and play soccer in Holland next year, with one of the amateur reserve teams of Top Oss, a professional club in one of Europe's top leagues. Both Kris and Shawn, his two older brothers, also did this before, enrolling at American University in Washington, D.C., where they are starting midfielders for the nationally-ranked program. Younger sisters Jaime and Samantha play for youth club teams.
C.J. Klaas, the youngest of three children, is the starting right back for the United States Under-20 national team, which recently qualified for that age group's version of the World Cup. C.J. is considered a top prospect to play professionally, perhaps as early as next year. He also plays for the University of Washington in Seattle. His older sister Katie is a junior midfielder at Northern Illinois University, while their older brother Kevin played and graduated from Judson College in Illinois.
Katie Klaas cites her parents' decision to homeschool as an important part of her success in soccer, as well as school.
"Probably the biggest thing would be the work ethic I was taught at home," Katie said. "At public school, I saw kids do the minimal work required to get through classes. At home, we were always taught to work our hardest at things. We were reminded that God commands us to do our best in everything, that we are working for Him and not for people. I think even in soccer you can see the mentality of 'what's the least I can do to get by.' We had the mentality of 'what's the most we can do.' If my coach told me I need to work on something, I would go work on it. We were used to working on our own."
Katie noted her belief that homeschooling provided especially good preparation for university.
"I feel like I'm a lot better off," she said. "I was given a lot of independent studying to do in homeschooling. As I got older, I'd go to a homeschool workshop and get information and study on my own, which is a lot like what goes on in college."
Jan Klaas said soccer was part of her family's emphasis on being involved with others, to help avoid the stereotype of isolation among homeschoolers.
"It's important for a family to get involved in things. Our kids had sports, they went out for music lesson, played with kids in the neighborhood, at times it even got to be too much and we had to say no to things," she said. "We are to be a light of the world, so we've got to be in the world. That's been important to Craig and I, that as Christians we are here to influence. We've had a passion for reaching lost people. Homeschooling is an opportunity to prepare our kids to reach the world, not just to provide a shelter from the world, Soccer became our primary way because it took up so much of our time."
Kurt Kuykendall also stressed that his family's decision to homeschool was made in the context of providing tutelage to the children in spiritual matters, which helped them respond to adversity and challenges.
"After our training we had a family chapel over breakfast, and this really helped in building strong family relationships," he recalled. "We are a very close family and that makes a big difference today."
C.J. Klaas noted that the family dynamic spurred on by homeschooling provided a practical help to his soccer career as well.
"It made a big difference, being able to stay home and get things accomplished more quickly," he said. "That meant I was able to play soccer with my older brother and sister and their friends. It allowed me to practice on my own more than other players, but my brother and sister played a big part in helping me be a better player. They're both older than me and those two together, playing at home, were a great help."
Visit the Home School Legal Defense Association at www.hslda.org