Maintaining the Home/School Balance
Ann Simpson

Homeschool.com

2010

23 Mar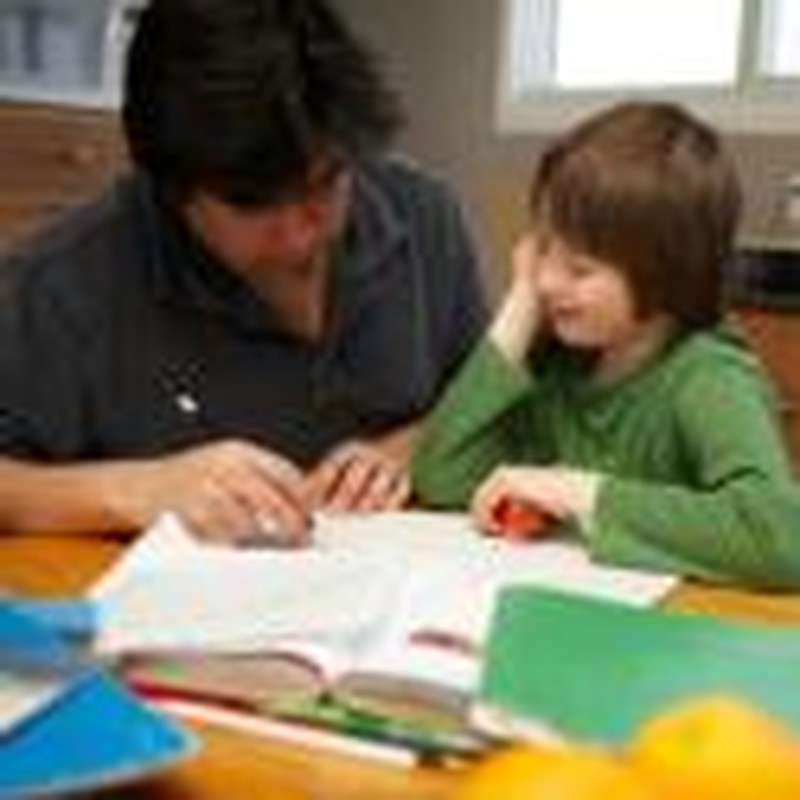 My husband and I love homeschooling our children. We also really like our home and we don't want it to look like a school. In case you're like us, and you like the separation between home and school, I'd like to share with you, just how our family maintains the home/school balance at our house.
First, and this is very important, we designate a certain area in our home for our homeschooling endeavors. Keeping the school area separate from the rest of the house allows us to truly focus on school when we're in education mode and it helps us keep the home feel of our house when our educational endeavors are finished for the day (although we all know that learning is never really finished for the day).
Our house has an open floor plan, so we added an attractive doorway with a door that can be closed. This keeps the two areas (home space and school space) separate. It's nice to have the door closed during our schooling day, separating ourselves from the rest of the house. And at the end of the school day, it's nice to be able to close the door, without always having to clean up, especially if we're mid way through a project. And really, we're always midway through a project!
We made a family policy that everyone in our family is to respect our homeschooling space. What does this mean? It means that siblings can't run in screaming and laughing when another child is working, or even come in and ask, "Mom, have you seen my iPod?" By the way, why is it, that they always think we know where their things are? Perhaps, because we almost always do?
We made sure our school area has lots of lighting, comfortable chairs, an abundance of school supplies, bookcases chocked full of interesting books (think library sales, garage sales, etc), and a large project area because we love projects.
I realize that not everyone can have a separate space for their schooling endeavors—but really, with a little rearranging, perhaps it can be done. Did I mention that our space is our formal dining room? We just didn't use it much as a dining room—we use it every day as a learning space. The new doors enhance the space, and when it comes time to sell our home, the room can easily be put back to being a dining room. Perhaps you have a comfortable basement, a guest bedroom that is rarely used, or with a little work, a garage can be turned into an inviting learning area.
Even if this just isn't possible for you, the kitchen table is always a great space. My girlfriend uses her table all the time. She removes everything from the table for educational purposes, and when learning tasks are complete, she puts a tablecloth on the table—thus defining school and family time as separate. It sounds simple—but it works!
I don't know about you, but my vehicle is also a school room and thus, I've equipped it as such! We have four small separate bins in the back of the car--one for videos/CDs, one for books, another for basic school supplies, and last but not least, one for nonperishable snacks (learning can make one very hungry). Everything is within reach of the backseat thus making it in reach for the kids. I even made canvas storage bags that hang over the front seat headrests into the back seat, and these are filled with a spiral notebook, pens, drawing materials, and whatever books my kids are presently reading.
Now—this is a HUGE one—not only do I take advantage of my house and my car, I use other people's spaces too! I partner up with other homeschooling moms and go to their homes (they come to mine too). The kids and I go to the library (their long tables are great for spreading out), to the park (sometimes for messy projects). We even go to my in-laws, as that's where my son practices the drums. Yes, my mother-in-law is wonderful!
The spaces we don't use for learning are my kids' bedrooms. Per our agreement with them, there are absolutely NO school related items in their bedrooms—unless of course, they want them to be there (my kids read before they go to bed, so books are always there). What I'm trying to convey is, they don't have element charts or history timelines on their walls--and they can play a video game in their room, they don't have to watch PBS. Just as we like our home to look like a home, they want their room to look like their room. We understand that.
So there you have it—how we keep the balance in our home. For some this might not be important—for us, it really is. And I think the separation actually lets me be a better mom and a better teacher. But that's just me...
This article published March 23, 2010. Originally published at Homeschool.com. Reprinted with permission.