More Military Options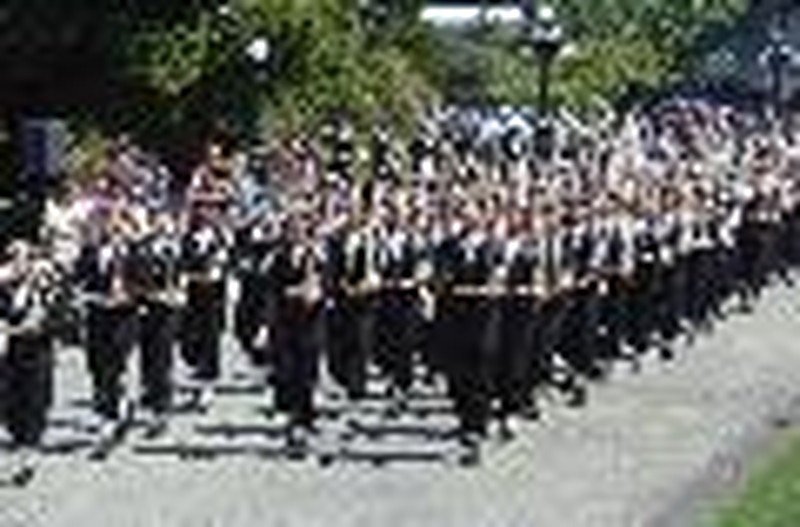 We are presently talking about the military options for home schoolers. Not only are there a lot of great organizations like the Boy and Girl Scouts, as well as Civil Air Patrol, there are other great options if you are willing to look for them.
Junior reserve officer training corps - Another option that is not quite as accessible to home schoolers is Junior R.O.T.C. Each of the branches of the service has their own Junior R.O.T.C. Program. Most of these programs are organized by local high schools (public and private). Depending on your location, you may be able to contact a local school district office to see whether your children can participate in their program.
Starting a Junior R.O.T.C. apart from a local school district is difficult because the program demands hiring at least one retired military officer with a salary equivalent to what is offered at the active duty level. Except for the independently wealthy, this would be very difficult for a home school group to do on their own. 
Once again, the focus here is to provide opportunities for your young men and women to experience aspects of military life before taking the plunge on their own. The legitimate option is to find a local R.O.T.C. at a high school and see if you can tie in.
The Navy Sea Cadets (part of the Navy Reserve system) is another organization that may be of interest to home schoolers. It is similar to Junior R.O.T.C.  The Sea Cadets provide the opportunity for young people to join up and prepare for a future in the Navy in the same way that Junior R.O.T.C. prepares young people for the Army, Air Force, or Navy R.O.T.C. programs in college. The Sea Cadets usually meet and work with the local Naval Reserve base, so anyone within range of one of these facilities may be able to take advantage of it.
These groups all have a place for those who wish to give their children a chance to taste of what it means to serve "God and Country." There are many options as we have seen. Take advantage of them and help your home schoolers prepare for the future.
The real deal
In preparing this article, David went to the local U.S. Military Recruiting offices and sat down with the actual recruiters. He wanted to experience what many of you will, if you drop in to get information for your home schooler. It was a very revealing experience.
To understand the dynamics of what he went through, you need to realize what has happened in the last year or two with the home school recruitment process. Up until October 1998, home schoolers were considered "Tier II candidates" for admission into the armed services. Essentially, they were relegated to the same status as high school dropouts or those who have had to take the GED as an equivalent to a high school diploma. [To the armed forces, the GED is not the same as a high school diploma.  Keep this in mind as you assess the kind of completion standard you give to your own students.] 
This resulted in a difficult time entering the military simply because they did not have high school diplomas from accredited schools. To exacerbate the problem in 1998, the Marines and Air Force decided they would only accept Tier I candidates into their branches of the military. 
Only 10 percent of all Navy and Army enlistees were Tier II candidates that same year.  Numerous home school candidates were scoring over the 90th percentile on the Armed Services Vocational Aptitude Battery (ASVAB) test, meeting all the military's eligibility requirements.  Yet they were being rejected simply because they did not have an accredited diploma!
In an effort to rectify this situation, U.S. Senator Paul D. Coverdale of Georgia proposed an amendment to House Resolution 3616, the Defense Authorization Bill, to end this discrimination of home schoolers.  It created a five-year pilot program to automatically place home schoolers in the Tier I status for recruitment eligibility.  Each of the armed forces is now required to allow up to 1,250 home school diploma recipients to be considered under the Tier I status along with all other high school graduates.  The bill was passed into law and is now in effect.
This means a home schooler seeking to enlist in the military must provide a high school diploma, a high school transcript, pass the ASVAB, and meet the physical and eligibility requirements for recruitment in order to be accepted as a home schooler into the desired branch of the service. Home schoolers can no longer be rejected for military enlistment simply because they do not have a completed transcript from an accredited high school.
Recently we also were contacted by one of our Crosswalk.com readers who told us about another option that we weren't aware of. Apparently within some churches is a Christian alternative to Boy Scouts called "Royal Rangers." Perhaps there are also other organizations that can prepare young people for disciplined life and rigors of military service. We can only touch the tip of the iceberg here.  Find one that fits you and your child's goals.  That's the key.
For more information about the military and the options for home schoolers, please consider our book, "The Guidance Manual for the Christian Home School."  We think you will find it to be one of the most comprehensive resources on military options anywhere. Check it out.
David and Laurie Callihan are authors of The Guidance Manual for the Christian Home School: A Parent's Guide for Preparing Home School Students for College or Career and The Christian Homeschool Daily Planner. Learn more at www.davidandlaurie.com