No One Else Named Mom
Kari Lewis

Home School Enrichment

2010

1 Nov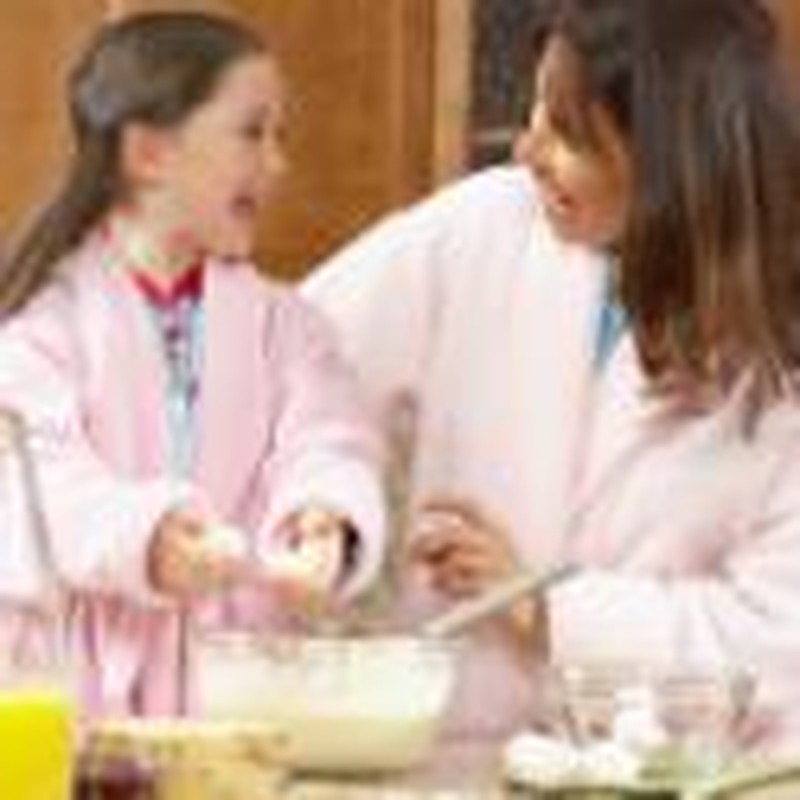 She looked directly at me, talking intently. I felt increasingly uncomfortable and distracted. The baby in her arms was fussing loudly and batting at her face. She deftly darted her head around to miss the most direct slaps from his tiny hand and talked on. Her 3-year-old was pulling on her skirt and calling to her loudly. Still she talked on. Her 5-year-old was out of her range of sight and hearing, doing who knows what. Still she talked on.
I tried to see if I could help the 3-year-old with something. He glared at me and kept tugging on his mom. Still she talked on. I smiled at her baby and offered him his pacifier, to no avail. Still she talked on, the conversation frequently punctuated by her exasperatedly saying a child's name, trying to get one or the other to settle down. But it didn't work. It never worked.
Unfortunately, it wasn't the only time this scene played out over the years. As my friend's children got older, they did more and more audacious things trying for Mom's attention—all while she talked on, doing her own thing.
There was nothing wrong with the things my friend talked about. She was a Christian lady who wanted to make a difference in the world around her. She loved to minister to others and share her knowledge and godly insight on things such as her ministries in the church, why homeschooling was important, abortion/pro-life issues, healthy eating, creation vs. evolution, and a host of other truly vital, important topics.
Though there was nothing inherently wrong with the things my friend talked about or the ministries and activities she was involved in, something nonetheless was terribly wrong.
What was wrong in my friend's life? She was living out a proper, Godly focus at an improper season of life! She desired to be used by God, but failed to see that her most important ministry at this stage of her life (and for many years to come) was her home and her children—not the church or the world. The right thing at the wrong time equals the wrong thing!
Tragically, my friend's heart was not truly and fully at home with her children. Yes, she was bodily at home much of the time, she talked to her children about the Lord, she homeschooled and used Christian curriculum, and she and her family were faithful church members—present every time the doors were open. But her feelings of joy and self-worth were derived from ministering to others, not from raising her children. Her children knew it and responded in kind. Home was chaotic and miserable.
I wish I could say her family has had a happy ending, but they haven't—at least not yet. In the grace, mercy and love of God, they still may; but during the 25 years we've known them, things have gone from bad to worse.
There have been broken relationships and confusion in abundance. The parents love the Lord and are worried, perplexed, and even ashamed.
Most of us have my friend's problem to some degree or another. We all want significance or acceptance, and we have a natural tendency toward selfishness. We have hopes, dreams or plans, whether that means we want to do something big and important like reaching a whole continent for the Lord, or whether that means our greatest desire is to take a nap this afternoon.
If we're truthful, most of us would admit that occasionally we have a teensy-weensy tendency, no matter what we say with our mouths to the contrary, to feel that children are messy, noisy distractions to be endured during our quest for "meaning" or "life" as we want it to be. (Was that said too honestly for our comfort, or did I pretty much hit the nail on the head? Ouch!)
But how does God parent us? Is He distant and involved in His own thing? Do we have to pester or become obnoxious to get His attention? Is He concerned with mature Christians rather than new Christians (older, more "useful" children rather than younger children)? Is He touched by our infirmities? Does He stick closer than a brother? Did He die for us?!
A slight rewording of John 15:13 may be helpful for us Christian moms: "Greater love hath no mom than this, that a mom lay down her life for her family." Laying down our lives doesn't sound fun, but Jesus said that whoever loses his life for God's sake finds it—and the life we find in Him is abundant! What perspective, hope and blessing!
Matthew 18:10 says, "Take heed that ye despise not one of these little ones; for I say unto you, That in heaven their angels do always behold the face of my Father which is in heaven." Wouldn't it please God and show Him that we don't despise our little ones—no matter how old they are—if our faces and hearts were easily and freely beheld by our children? Motherhood is time consuming; it takes vast effort, thought, care, creativity, and selflessness to be done well—but the blessings of fulfilling that high calling are well worth every sacrifice!
The world and even the church clamor after us about this activity, that cause, or this ministry. Often these activities are worthwhile and God-centered. As Christians, we may be interested and want to be involved—other times we're made to feel that we just don't measure up if we don't get involved. However, we need to prayerfully and carefully determine God's will for our families. We don't want to sacrifice His best for something that is only good!
Our ministries and mission fields are in our homes and children. Our highest calling is in the baby that cried off and on last night seemingly just because he loves to hear his voice reverberate through the quiet house. It is in our 3-year-old when she asks her trillionth "why" question of the morning. It is in our 6-year-old as he uproariously spouts off yet another knock-knock joke. It is in our 10-year-old as he struggles with math. Our ministry continues to be vastly important throughout the pre-teen years and beyond, as our children's natural talents and bents for the future become more apparent, needing more specific prayer, affirmation and direction. Our ministry is in continually learning to know and read our children correctly so we are able to address their heart issues. The heart is vastly more important than outward actions, but takes considerably more prayer, time and effort to see and address properly.
Our ministry is learning to take immense pleasure in being with our children, laughing, working, talking, praying, learning and playing—no matter how old or young they are. The other stuff of life doesn't matter nearly as much—others are out there doing those things.
My dad once shared a poem with me written by Charlotte Fiske Bates. I've never forgotten it:
Duties are pressing upon me,
And the time for work is brief,
What if with purblind vision,
I neglect the very chief?
What if I do with ardor
What a thousand could maybe,
And leave undone forever
What was meant for only me?
No one else named "Mom" lives in our homes and holds our children's hearts and lives like we do. Let's not miss our greatest ministry!
---
Kari Lewis is the mom here at Home School Enrichment. She and Frank have been married for 31 years and homeschooled Matthew and Jonathan from their early elementary years through their high school graduations. Together, the four of them started Home School Enrichment in late 2002. You can reach her at kari@HomeSchoolEnrichment.com
This article was originally published in the Sep/Oct '08 issue of Home School Enrichment Magazine. For more great homeschool help, download our FREE report—The Secret to Homeschooling Freedom! Click here to download: http://HomeSchoolEnrichment.com/resources/report.htm