Oh Me of Little Faith
Terri Camp

Home school author and mother

2004

10 May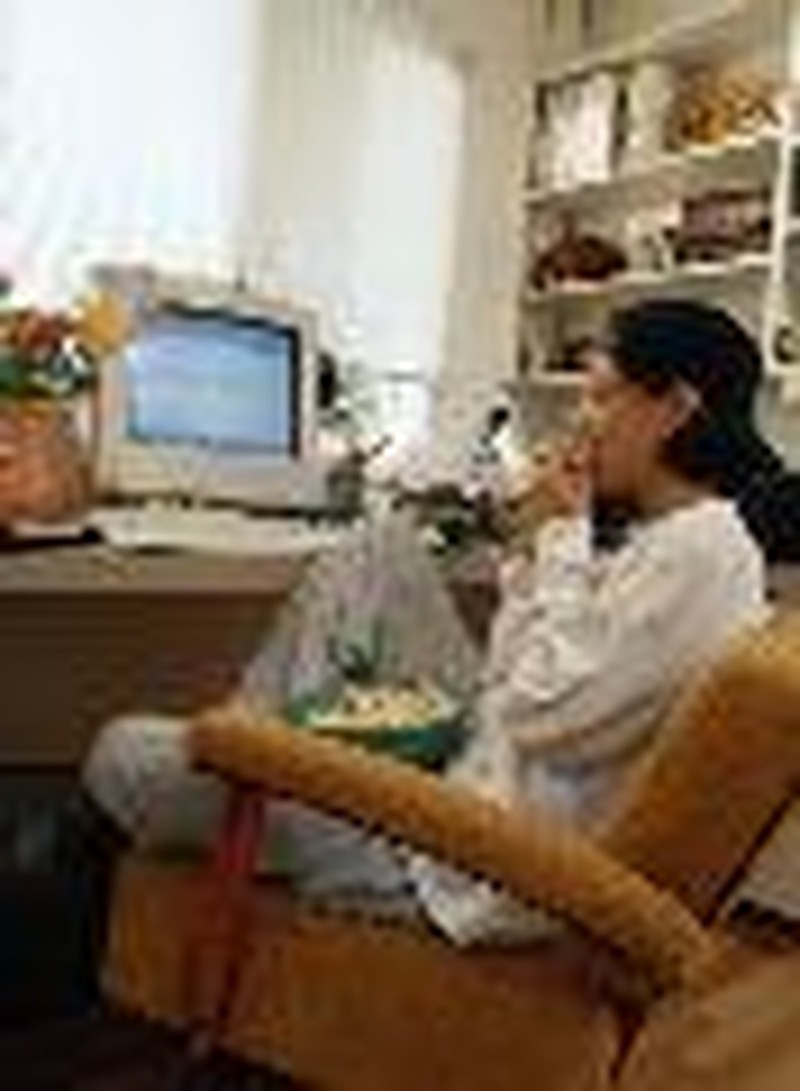 My frustration mounted as every few minutes an error message would pop up on my computer screen informing me I was being shut down. I knew I had a virus so widespread it was even announced on the news, but being newsworthy did not lessen my frustration. I ran the virus fix, but to no avail. My intelligent computer informed me that I did not contain the virus. I knew I had it, but no amount of talking to my computer would tell my computer that it should fix the virus. I had spent hours trying to delete the horrible worm but without success.
I'm not sure if it was the scream coming out of my mouth, or the act of picking up my laptop, preparing to throw it out my window which caused Steve to gather the kids in his presence and begin to pray. I suddenly realized that I did not practice what I preached.
Bryan's fruit of the Spirit word for the past few months has been "self-control." And here I was, great Mom of the house, losing control over an inanimate, albeit extremely intelligent with a mind of its own, computer.
As Steve began praying for my computer, I prayed for self-control. Have you ever heard the Holy Spirit whisper in your ear, just as Jesus said to His disciples, "Oh ye of little faith?"
That very morning I had begun a new Bible Study with my children. The study is titled Lord, Teach Me to Pray (for Kids) by Kay Arthur and Janna Arndt. Our first lesson was on 1 John 5:14-15 that says, "This is the confidence which we have before Him, that, if we ask anything according to His will, He hears us. And if we know that He hears us in whatever we ask, we know that we have the requests which we have asked from Him."
Imagine my surprise as Steve is praying for my computer my mind isn't praying along with him, but is saying, oh right, like he's going to fix my computer.
That was followed by a whisper in my heart, "oh ye of little faith."
My next thoughts were arguments with the whisper in my heart. It's not like I don't think God can fix my computer, but I just don't see why he would. It's just a computer. He has a few bigger things on his plate than fixing my computer. And how do I even know if it is God's will to fix my computer? Aren't we supposed to pray God's will? Steve's just praying so I won't get angry. "Amen" I heard my voice say as Steve ended his prayer.
After the "Amens" Erica said, "There, God is going to heal your computer." I felt a little bad that she would have her faith shot down a peg when my computer would not be healed.
"Oh ye of little faith," I heard once again.
I went back to working on my computer, searching for files, manual fixes, patches, etc. An hour and a half passed, without any progress in finding the files that were supposedly on my computer. Out loud I said to no one in particular, "I'm so frustrated that I had to spend all this time working on this when I could have been playing a game with everyone and nothing has worked!"
The kids had brushed their teeth and were waiting for me to try one more thing before we prayed with them before bed. "Briana," I said, "What time did you guys pray for my computer?"
"Seven thirty-eight" she replied.
Suddenly I realized I had not had one shut down since they prayed for my computer. With shock I exclaimed, "My computer hasn't shut down even once since you prayed for it!"
Erica, a bit incredulously I might add, stated, "Of course not Mom, we asked and God heared us!"
"Heard!" The rest of us shouted.
Why was I surprised that God heard the pleas of my family? Why do I continue to wonder if He really cares about the little things in our lives? I've seen Him answer pleas for lost items, like car keys. I've experienced His healing power when the doctors all agreed I should have died. I watched as God protected our family from a horrible accident. Why do I still have little faith? And the funny thing about this whole experience is that just a couple of days ago, I said to someone, "I think my spiritual gift is faith. I just believe that He answers prayer. I don't have any doubt in that area."
I wonder if she sent up a quick prayer to God, "Show Terri where her doubt lies and flush it out."
My latest prayer is, "God, help me to see that you care about everything in our lives, not just the things that we think are big, but that you care about the little things, like viruses and worms that attack our computers and rob us of our joy."
In addition to devoting herself to her husband and the eight children she home schools, Terri also enjoys writing and speaking to offer encouragement to women in an effervescent, humorous way. Visit her Web site at www.ignitethefire.com or e-mail her at terri@ignitethefire.com.