Our Thanksgiving
Marilyn Moll

Contributing Writer

2007

19 Nov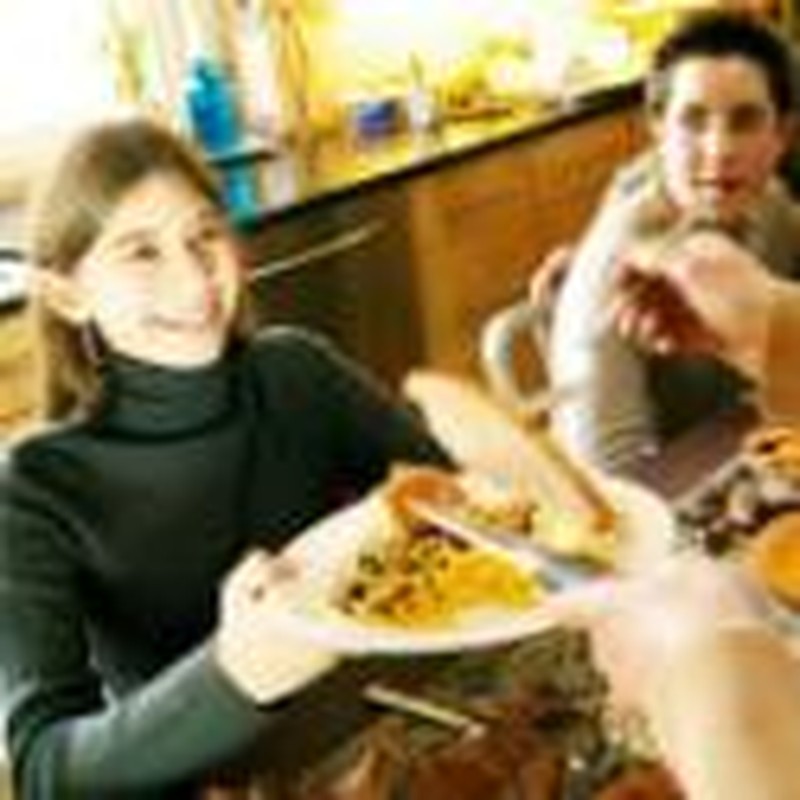 Over the years, my children and I have focused on various historical aspects of Thanksgiving traditions and used a variety of ways to focus on and enrich our celebrations. We have read lavishly illustrated living history stories about the Pilgrims' celebrating their first Thanksgiving, made colorful Pilgrim and Indian costumes and head-coverings, roasted our turkey outside on a spit over coals, and other hands-on activities to create memories. We have prepared traditional foods such as spicy pumpkin and apple pies, Indian pudding and arisen early to gather together and watch parades and football games.
Children of all ages, however, can learn that Thanksgiving has a richer and deeper meaning when they are involved in all aspects of the preparations and are taught how to focus on the spiritual blessings God has bestowed on them and their family as modeled by their parents.
In our family, we don't have extended family members that live close by to celebrate with, therefore, we have had to dig deeper to create a fruitful and meaningful celebration that we eagerly anticipate each year. Although we use Thanksgiving as a time to reflect on material and financial blessings, we endeavor to take time to talk about and reflect on the spiritual blessings experienced both personally and as a family. In fact, we have found that amidst family afflictions and conflicts a quintessential opportunity presented to focus on and recognize God's abundant blessings amidst the challenges and
trials inherent in daily living. Reflection time enables us to experience deeper appreciation of God's love, His sufficiency, His great and precious promises of faithfulness, provision, mercy, goodness, and the completed work of the cross.
Difficulties and disappointments of life are tools that God uses to prune us so that we may bring forth more fruit in our lives. Difficulties help us to learn to count it all joy and give thanks in all circumstances.
In our family, a preparation of our traditional family recipes sets the stage for an unforgettable and worthwhile Thanksgiving celebration. When we have eaten and are satisfied, our immediate family gathers together, not necessarily on Thanksgiving Day, to praise the Lord for all his benefits, to give thanks to him and praise his name and especially to focus on what He has been doing in the life of each of us.
Your Thanksgiving meal will be more enjoyable and noteworthy when you take time to plan the menu, assemble recipes, contact guests, make shopping lists, and prepare decorations several weeks ahead of time. When the menu is planned and the grocery list is complete, make lists and create a timeline for completing food preparations, decorations, cleaning tasks and other preparations ahead of the big day. Be sure to involve all the children. Set aside the academics for a few days and focus on the life skills and memories that they can be develop.
Children of all ages enjoy simple to complex kitchen tasks including milling wheat into flour, measuring dry ingredients, stirring and kneading dough, rolling pie crusts, cutting fruits and vegetable, arranging trays of pickles, olives, and vegetables, mixing up dips, cutting fruits and vegetables, opening cans, shaping rolls, washing dishes, dusting furniture, vacuuming, cleaning bathrooms, putting away clutter, setting the table, preparing decorations and more.
You might be surprised at what gorgeous centerpieces children can create from simple items such as gourds, pinecones of various shapes and sizes, nuts, acorns, mini-pumpkins, oak leaves, Indian corn, ribbons, turkeys, pilgrim statues, candles, napkins, doilies, dried grasses, and whatever else you may have in hand that fits into the theme of harvest and Thanksgiving. Many of these items may be found while walking around in your neighborhood or a park. Older children can teach and supervise the younger children. Teaching practical life skills to children is the foundation of priceless traditions and memories. Try to make it a point to take lots of pictures. They will make timeless additions to student notebooks or family photo albums.
Here are a few more practical tips for planning all the cooking and baking, followed by our family's traditional Thanksgiving menu as well as some of our family favorite recipes.
Purchase as many non-perishable items ahead when they go on sale.
Turkeys are usually on sale ahead of time. Buy the biggest bird that will fit in your freezer and oven. Leftover turkey can be frozen in meal sized portions to make some of the tastiest and most economical main dishes imaginable.
Pies, rolls and breads can be baked several weeks ahead and frozen.
Allow sufficient time for the turkey to thaw in your refrigerator. It may take several days for big turkeys.
Clean out your refrigerator and use all the leftovers several days ahead of the big day to make room for the turkey and trimmings.
Clear your counters of any unneeded clutter to make room for the preparations.
Stuffed turkeys cook slower but make yummier stuffing and help to save precious oven space during that last hectic hour prior to serving.
Allow at least one hour prior to serving time for the turkey roasting to be complete so you have plenty of time to carve, make gravy, mash the potatoes, heat vegetable dishes, and attend to other last minute preparations.
Want to see the Urban Homemaker Family's Traditional Thanksgiving menu? CLICK HERE
Copyright, 2004. The Old Schoolhouse Magazine. Used with permission. Marilyn Moll is a major "Home Ec" name in the homeschool community. Her articles encourage and support the stay at home mother. Her company website is: www.UrbanHomeMaker.com.
www.TheHomeschoolMagazine.com.