Patrick Henry College Announces Summer Teen Leadership Camps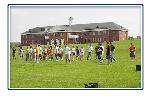 In the summer of 2001, Patrick Henry College established a summer camp program designed for teens wanting to make a difference in our nation and culture. During the summers of 2001 and 2002, more than 800 students attended 11 weeks of camp. These students learned how to apply their biblical worldview to the issues of today.
Now, in the summer of 2003, five different camps will be offered on the campus of Patrick Henry College. Campers, supervised by PHC students serving as counselors, will sleep in the dorms, eat in the dining hall, and attend chapel. Campers will spend time in informative workshops and classroom sessions taught by PHC faculty and other field experts. The camp experience will also include outings to nearby historical sites, monuments, and centers of American government.
The following camps are being offered:
Constitutional Law (June 8-14) - taught by Michael Farris, J.D. -- This year, Dr. Michael Farris will be teaching through his textbook "Constitutional Law for Christian Students." It will be a live version of the online course that has been taken by several hundred students. The class will require reading and some study and will include a written exam at the end of the course. Many students have counted their online version of this course as a semester's credit for high school government. A day of touring the Supreme Court and other attractions on Capitol Hill will also be part of this unique camp. Dr. Farris will conduct the tours and all classes. (This is the only time this version of the course will be offered for several years.)
Journalism (June 15-21) - taught by Les Sillars, A.B.D. -- This camp will create a virtual news world right on the campus of PHC, with several competing newspapers assigned tasks of discovering, reporting, and writing news stories. Attendees will also interact with and learn from Christian journalists and other figures in the Washington D.C. and political arenas. This camp also includes a field trip to Washington.
Political Activism (June 22-28) - taught by Stan Watson, Ph.D. -- During this action-packed week, campers will meet and learn from the movers and shakers in politics - members of Congress, heads of national activist groups, elected officials in state government, and influential government staffers who are fighting for change. Students will glean insights on the workings of the policy process; be equipped as an agent of change; and participate in mock elections and a mock legislative session. It will be a full week of exploring the many facets of political activism.
Debate (July 6-19) - taught by Missy Hurter, National Education Debate Association Champion & PHC Debate Captain -- During this two-week camp, students will hear lectures, practice debating, and spend time researching the NCFCA (National Christian Forensics & Communication Assoc.) debate league's 2003-2004 topic. Classes will emphasize debate theory, case construction, refutation, and strategy. Paired off into smaller "lab" groups, campers will interact with other students and a lab group leader in discussing case ideas and researching with some of the college's best academic databases and research sources. At the end of the two weeks, the camp will host a tournament.(Debate experience not required)
American History: The Critical Moments (July 20-26) - taught by Alan Snyder, Ph.D. -- Recapture the turning points in American history. Revisit the spirit of the Pilgrim Fathers and the fervor of the men who established this nation. Examine how a Civil War tested the resolve of a nation that had begun a mere "four score and seven years" before. Travel into the 20th century and see how a worldview revolution changed America's concepts of law and government, the nature of man, and of education. Discover the major shifts that took place during Franklin Roosevelt's New Deal and Lyndon Johnson's Great Society, and ask what must be done to reestablish America's Biblical roots. During this week, students will travel not only to Washington, D.C., but also to Gettysburg to ponder the meaning of the sacrifices of so many who fought for an American vision.
To Register: For additional details about Teen Leadership Camps or to register go to: www.phc.edu/teencamps/. If you need more information, call Patrick Henry College at 540-338-1776.