How to Help Your Kids Love Learning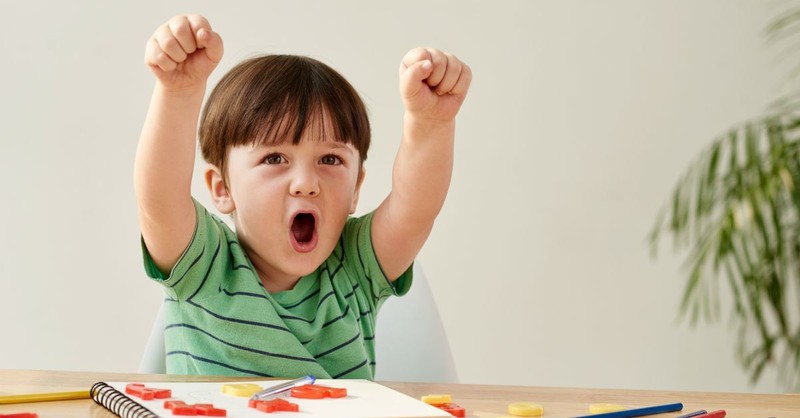 It was that delightful look on his face which I will never forget. Enthusiasm, excitement, motivation. It was the look of pure joy. My son John had been researching dogs. His dad had promised John when he was nine that when he was 12 years old he could get a dog. Sadly, my husband Chris passed away when John was just short of turning 12, but I remembered his daddy's promise and I was determined to keep it.
So, here he was, barely past his 12th birthday, checking out a stack of books on dog breeds and dog care, poring over them like he had discovered a cache of gold. He made extensive notes in a notebook on how to care for, potty train, feed, groom, and play with a dog.
He stuck slips of paper in the pages of dog breed books, indicating the ones he liked—I had given him three requirements, which included a mid-size or smaller dog that didn't shed and didn't bark a lot—all of which were fine with him. Then he made a list of things he would need to care for a puppy.
Here was a picture of a kid fully engaged in delight-directed learning. And I couldn't have been happier.
The power of delight-directed learning
Some of you reading this might be thinking, "How is that real learning?" That's a reasonable question, one I asked myself many years ago when I first heard about this way of teaching children. However, Mary Hood, author of The Relaxed® Homeschooler and articles and talks by Gregg Harris, both pioneers in the homeschooling movement in the 1980s, answered my question. In writing about delight-directed learning, they refer to the power of feeding a child's innate interest in the world around them as a key to deeper learning and to becoming life-long learners. This idea made a lot of sense to me.
"I wanted them to love learning."
Starting out on this path, I naturally worried about my kids learning "enough." I had also read about unschooling but realized that the academic in me couldn't apply that approach. I wanted my children to master the basics of computation and acquire good communication and writing skills. But even more than this, I wanted them to love learning and carry that love with them into their adult lives.
While they were young, I provided my kids exposure to a multitude of experiences— arts and music, live concerts, theater performances, science museums, living history, travel, and opportunities to delve into subjects they were naturally interested in. We went to the library at least every couple of weeks and we would come home with 60-75 books which my kids devoured in a few days' time.
As a result, they not only learned more deeply about such topics as marine life, knights, Ancient Egypt, writing a play, baking, horses, architecture, trains, and geology, they learned a variety of skills alongside their self-motivated book study.
Delight-directed learning with a schedule
We still held to a schedule which included family Bible reading and hymn singing, plus workbook time—phonics, vocabulary, spelling, handwriting, building thinking skills, math review, etc.— along with formal instruction time in math and reading literature together. Yet, afternoons and sometimes evenings were spent by my children enthralled in whatever most interested them at the moment.
6 Unexpected Benefits:
And the benefits of this type of learning far exceed book knowledge. For instance, let's take my son John's fascination with wanting a dog as a case in point. Along with getting the dog of his dreams—a sweet, little purebred Irish Terrier pup (which he named Indy Anna aka "Indy" after Indiana Jones movie fame), John learned the following skills and character qualities:
Exercising good research and decision-making skills.
Building a daily routine around caring for something other than himself.
Learning to get up while it was still dark to take a not-yet-potty trained puppy outside and cleaning up her messes when she didn't make it!
Growing in organization and budgeting skills—he still had to get all his other schoolwork done and learned to save money to pay for extras like toys, or to replace items she damaged.
Taking on the full responsibility for Indy's care—no one else did it in the early years; he became more self-disciplined and he also valued her more as a pet.
Learning management skills as he not only trained Indy to go potty, obey, and do a variety of tricks, but also as he worked with her social habits around others (she needed to learn to stay calm around other little children and the elderly or infirm).
Delight-directed education opens up your child's world, takes their education to much deeper levels, builds their character, expands their abilities, and fosters a love of learning that can last a lifetime. These, and that look of pure joy on John's face, made it all worthwhile.
Tracy Klicka homeschooled her seven adult children and has been writing for over 20 years, encouraging parents that homeschooling is worth the challenges! As the Director of Development for the Home School Foundation, she helps families homeschooling through hard times. She can be reached at tracy@homeschoolfoundation.org
Copyright 2018, The Old Schoolhouse®. Used with permission. All rights reserved by the Author. Originally appeared in the Winter 2018 issue of The Old Schoolhouse® Magazine, the trade publication for homeschool moms. Read The Old Schoolhouse® Magazine free at www.TOSMagazine.com, or download the free reader apps at www.TOSApps.com for mobile devices. Read the STORYof The Old Schoolhouse® Magazine and how it came to be.
Photo Credit: Thinkstock/DragonImages