How to plan your class in 13 steps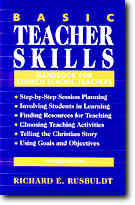 It's best to have a plan for any session you are going to teach. There is a sequence to doing things well - and by planning in the right order, you can achieve success.
Steps to a perfect class:
Prayer. Begin by asking God's help in planning and teaching the session. You and God are in a partnership to convey His words to your students.
Reading. Do a complete reading of the quarterly material - looking for the big picture. Keeping that goal in mind, read the specific session. Remember that a printed curriculum is a guide which you - as a teacher - are encouraged to tailor to fit your particular class.
Review last week. Make a list of everything important that happened last week. Does anything need a follow-up? Did you make any promises that you must keep this week? Did you raise any expectations? Who was absent? Your list will furnish pointers for this session.
Gather concerns. They can be problems, needs, hurts, issues, opportunities, challenges, and hunches you have about your class. Your concern can be active or passive. Active concern: If a student is having surgery, you can tell her that you will come to visit, and then have the class pray for her. Passive concern: You know Joe was laid off last week, but will ignore it in order not to embarrass him until he wants to tell others.
Know the unit goal(s). Most curriculum material states at least one unit goal - something you hope to accomplish over several months of teaching. For example: That students be able to tell God's story in their daily lives.
Set learning objectives. This is what you want them to work on for this session. For example: At the end of the first 30 minutes, the class will have completed the collage.
Make a session outline. This provides, at a quick glance, a look at the key elements in the session, laid out so that you can see each one and its relationship to the next. Estimate a length of time for each step or activity. On your outline, write how you will begin, what steps you will use for the heart of the session, the activity you will use, etc.
Prepare opening activities. A good beginning sets the tone for the session. Activities may include sharing among class members, discussing current issues in the community or at school, watching videos, a dramatization, or even a game.
Master teaching activities. Often these methods will be described in the curriculum (and developed by experts in the field of teaching), but here again, you are free to adapt those methods to your style and the needs of your class.
Plan closing activities. A closing activity is a good choice so that students leave with some sense of conclusion to the session. Activities may be sharing what members have learned, bridging class experience to morning worship experience, singing, praying, or celebrating with snacks.
Plan participation. The day of the classroom lecture is over. Participation is the key to the learning experience, calling for the students' active involvement in the session.
Collect materials and resources. Well in advance of the day they are to be used, make a list of the materials you need, collect them, and if necessary experiment using them.
Evaluate. Review the class and evaluate with the aim of improving your skills for the next session. What additions or changes should be made, what went well, and what should be eliminated?
From Basic Teacher Skills: Handbook For Church School Teachers - Revised Edition by Richard E. Rusbuldt. Copyright (c) 1997 by Judson Press, Valley Forge, PA 19482, 1-800-458-3766. Used by permission.
Richard E. Rusbuldt served as executive minister of the American Baptist Churches of Pennsylvania and Delaware and as associate general secretary for World Mission Support, ABC/USA. He is author of many books, including Evangelism on Purpose, Basic Leader Skills, Hello! Is God There?, and A Workbook on Biblical Stewardship.