Not Afraid of the Freezer
Amanda Galeotti

The Old Schoolhouse Magazine

2011

27 Dec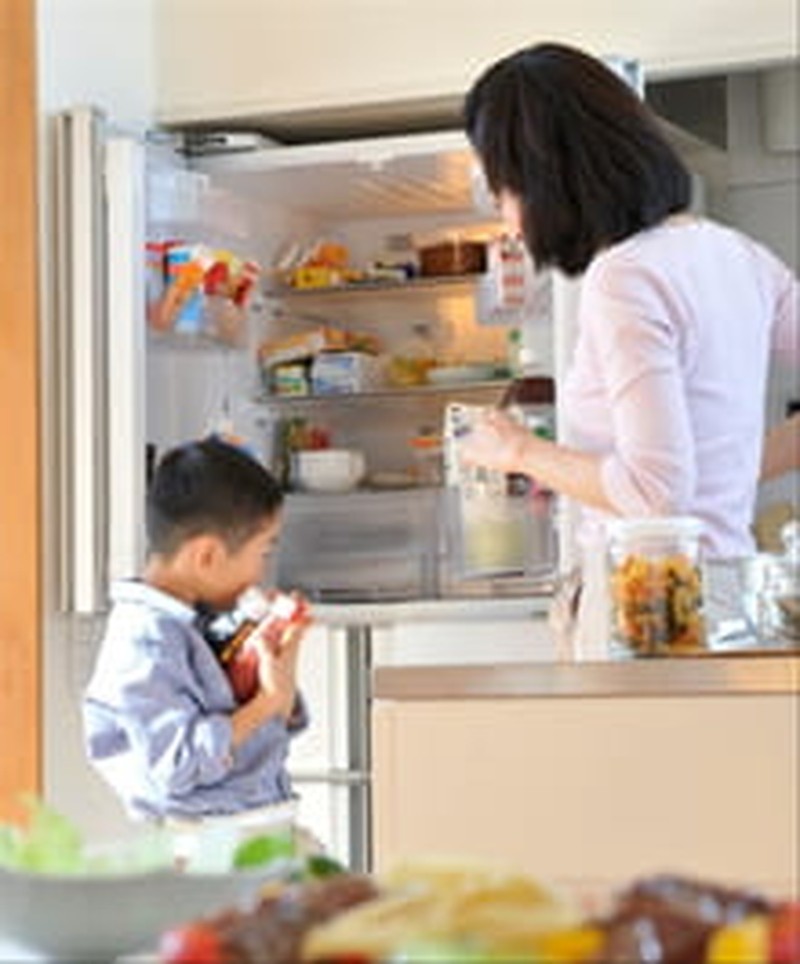 As a young girl, I spent summer days with my grandmother. We enjoyed many hours together in her hot, steamy kitchen putting up fresh fruits and vegetables: green beans from her garden, blackberries picked the night before from my uncle's back field, corn picked from friends' fields, and more. One of my jobs was to seal and label the bags. After I had prepared a stack, Granny would tell me to take them to the back room, where she had two large chest freezers, and put them away. I'd trudge back there with a laundry basket full of bagged food and open a freezer, trying to find a home for each bag. Inevitably, I'd head back to the kitchen where she was busy blanching corn or sugaring berries and tell her that I'd found room only for a half-dozen or so bags and that I wasn't quite sure where I was supposed to put the remaining bags and those forthcoming. She'd march back there with me, open the freezer, and start digging around. I would cringe and wrinkle my nose at the freezer-burned beans, long-forgotten beef, leftovers from meals past, and almost-emptied cartons of ice cream that she tossed out into a garbage can. To my young self, it seemed that there was a never-ending supply of ancient food in those freezers. Somehow, though, she always found room for that year's bounty.
Having grown up in the shadows of the Great Depression, my grandparents understood the importance of being good stewards of what they'd been given (as a reward for their own hard work in the garden and through the hard work of others), but I still sometimes wondered why she and my grandfather went through the hassle of putting up all that food when a good portion wasn't used before its expiration date. I think it was just that some food got pushed to the bottom and wasn't noticed until it was too late to make use of it.
Fear of their deep freezers aside, I loved having dinner with my grandparents, especially if it was during the summer when she'd pick fresh tomatoes and okra from the garden. Oh, how I loved fried okra and thick, juicy slices of still-warm tomatoes. But on those days when she would retreat to the freezer, I'd always wonder just how old that food really was that she had pulled out. Nevertheless, it was always delicious. Those green beans and creamed corn still tasted really good in January when the best you could get at the grocery store was a hard tomato or imported green beans. I didn't know it then, but their summer garden was beginning to make an impression on me, not just about the importance of learning how to garden but also about the economic advantages and time-saving techniques of putting up local or homegrown food.
After I moved away from home and settled with my husband in Pittsburgh, Pennsylvania, I started to find ways to enjoy the summer's bounty when the food was at its tastiest and cheapest. I found out about u-pick farms and started harvesting fresh, sun-ripened fruits. Suddenly that built-in freezer that I had just assumed would always be big enough to suit our needs for ice cubes and frozen vegetables was no longer large enough to store all the fruit I'd picked over summer. So I began to look for more creative ways to store food. Armed with a stash of canning jars and a small pressure cooker, I learned how to can and filled several shelves in our pantry with preserves and pie fillings. I was beginning to understand why my grandparents had made use of chest freezers: it takes a good bit less time to freeze than it does to can food for preservation.
As I spent more time in the kitchen and had a growing stack of favorite recipes, I began to experiment with freezing leftovers to save time. In the process, I discovered which dishes would freeze well. I learned, for example, that certain soups and chili were still delicious after being reheated from frozen. On the other hand, I tried freezing potato soup only once, because I discovered that the freezing process caused the potatoes to turn into unpalatable mush.
In anticipation of our first child's birth, we sold our small condo and moved to a larger townhouse, and my generous in-laws gifted us with a deep freezer. I worked feverishly in the weeks before our first son's birth to fill the freezer with meals that could just be thrown into the oven. After his birth, my mother and mother-in-law did the same during their visits in those early weeks. Those meals made it so much easier to adjust to the needs of our new addition. Especially where our young children are concerned, that freezer has simplified my meal preparation time by allowing me to stock up on pre-made, but still homemade, meals.
Just like my grandmother's freezer, though, I've found it can be a chore to keep the food organized and rotated. Ours is a stand-up model with shelves and baskets (for those of you who have a traditional chest freezer, plastic baskets help with organization). I try not to put anything but spices and quickly consumed items on the door shelves and in the baskets, because those items are exposed to a greater temperature swing with the opening and closing of the door. Having a specific "home" for varying categories of food also helps me to avoid the purchase of too much of a certain item: I simply put a limit on how much space is available for each category.
To help keep track of what's inside, I keep a freezer inventory. I have an Excel sheet that I've made for the different categories of what we store, which can be printed and stuck right on the door of the freezer. I mark quantities in pencil, which can be erased or added to as needed. When making a weekly menu, it's easy to take the list down and use it to help plan the week's meals. I've found the inventory to be the key to an organized freezer.
In order to maximize space and keep things neat, I like to freeze any bagged items flat first before stacking and storing. For the more complicated frozen foods, like casseroles, I prepare them in aluminum half-sized pans and stop short of thoroughly baking them. Once cooled, I cover the food with a layer of waxed paper and two layers of foil. After labeling and dating each one, I stash them in the freezer, making sure they are at least partially frozen before stacking.
When it comes to stocking the freezer, I've found that some recipes are easily multiplied without much extra effort. For those recipes where effort isn't scaled to volume, I always try to make a double or triple batch. Having a stash of freezer bags and disposable (yet reusable) aluminum pans simplifies the process of freezing and helps when putting up the summer's bounty or a bunch of leftovers. A triple batch of chicken cacciatore is one of my favorites to make and freeze. At a later date, all I have to do is to take it out of the freezer, plop it into a pot with a little water, cover it and heat for half an hour, stirring occasionally. Some fresh jasmine rice and roasted broccoli along with the reheated chicken cacciatore make for one delicious meal that all of us, 1- and 3-year-olds included, really enjoy.
Over time, my freezer has become a place to help expedite meal preparation instead of just a storage place for ice cubes and a few bags of frozen fruits and veggies. It's taken me some time to figure out how best to utilize the space I have in the freezer, but I certainly enjoy filling it up during the summer and during those rare breaks in life that afford a little extra time in the kitchen. Just knowing that blueberries, apple cobblers, lasagnas, and bags of cacciatore are there for those days when chasing my boys is all I can manage helps ease some of the stress. And, having a well-organized freezer eliminates any anxiety in not knowing what lies at the bottom of those stacks in there. I'm so grateful for the abundance that we have and for the freezer that has made utilizing that bounty so much easier.
Amanda is a stay-at-home wife to her wonderful husband of six years, John, and a mother to their two boys, 3-year-old David and 1-year-old Benjamin. She enjoys spending time preparing good food for her family, working in her urban backyard garden with the boys, and visiting her large family in Tennessee. You can learn more about her family and find more recipes on her website at www.homesteadgirl.com.
Chicken Cacciatore
1–1½ lb. chicken breasts, cut into strips
Flour, salt, pepper
Olive oil
1 large onion, cut into thin rings
1 bell pepper, chopped
14½-oz. can stewed tomatoes
8-oz. can tomato sauce
4-oz package fresh mushrooms, sliced (or 4-oz. jar of sliced mushrooms)
½ teaspoon Italian seasoning
½ teaspoon oregano
¼ teaspoon garlic powder
½ teaspoon salt
¼ teaspoon pepper
3 cups cooked rice
1. Coat chicken with flour, salt, and pepper.
2. Heat oil in skillet over medium-high heat.
3. Brown and cook chicken in oil about 10 minutes, stirring often.
4. Add onion and bell pepper. Cook about 5 minutes, stirring often.
5. Reduce heat to medium. Drain oil. Stir in tomatoes and tomato sauce.
6. Add mushrooms and seasonings. Stir.
7. Reduce to medium-low heat. Cover and simmer 30 minutes, stirring occasionally.
8. Turn off heat. Let stand 30 minutes.
9. Reheat to serve.
10. Serve over rice.
To freeze:
Let cool to warm; divide portions into quart-size freezer bags. Cool completely, seal, and label. Freeze flat before stacking.
To reheat from frozen:
Remove from bag and place block of frozen cacciatore into a pot with about ½ cup of water. Cover and heat over medium-low heat, stirring occasionally until boiling. Serve over rice.
Serves 4–6
Note: This is for a single recipe. I usually triple this in a very large pan.
Roasted Broccoli
Adapted from a recipe by Ina Garten
1 bundle of broccoli—florets chopped and stalks peeled and chopped
4 cloves of garlic, peeled and sliced
Salt
2–3 Tablespoons olive oil
½ lemon
2 Tablespoons Parmesan cheese
Preheat oven to 425. In a baking dish (I use a stainless-steel roasting pan), toss the broccoli with the olive oil until lightly coated. Add the garlic cloves and toss a bit more. Sprinkle with salt and toss to mix. Roast for 25–35 minutes until starting to brown. Remove from oven, zest lemon over it, and then juice the lemon half on top of the mix. Toss to combine. Top with Parmesan and serve immediately.
Serves 2 adults and 2 young boys
Apple Crisp
Adapted from a recipe in the October 2002 issue of Gourmetmagazine
Topping:
2-1/3 cups all-purpose flour
¾ cup packed dark brown sugar
¼ cup granulated sugar
½ teaspoon cinnamon
½ teaspoon salt
1 cup unsalted butter, cut into pieces and softened
1-1/3 cups pecans, chopped
Filling:
½ cup granulated sugar
½ teaspoon cinnamon
5 lb. apples
2 Tablespoons fresh lemon juice
Zest of one orange
Make topping: Blend dry ingredients in a food processor or by hand. Add butter and blend until clumps form. Transfer to bowl and mix in pecans by hand.
Make filling: Whisk sugar and cinnamon. Peel, quarter, and core apples. Slice into ½" or thinner slices. Add apples to sugar mixture, along with the lemon juice and orange zest. Toss until combined well.
Bake crisp: Divide into square cake pans (I use 4 or more aluminum pans). Divide topping among the pans. Bake in the oven until bubbling and apples are not quite done, about 40 minutes.
Prepare for freezer:
Once cooled, cover with a layer of waxed paper and two layers of foil. Label and date.
To cook from frozen:
Remove all layers but one layer of foil. Place in oven and turn on to 350. Heat for 30–40 minutes or until heated through. Take out of oven and serve with ice cream or whipped cream.
Copyright, 2011. Used with permission. All rights reserved by author. Originally appeared in The Old Schoolhouse® Magazine, Fall 2011.
Visit The Old Schoolhouse® at www.TheHomeschoolMagazine.com to view a full-length sample copy of the magazine especially for homeschoolers. Click the graphic of the moving computer monitor on the left. Email the Publisher at Publisher@TheHomeschoolMagazine.com.