Unit Study: The Revolutionary War
Jennifer Steward

Educator

2013

4 Jan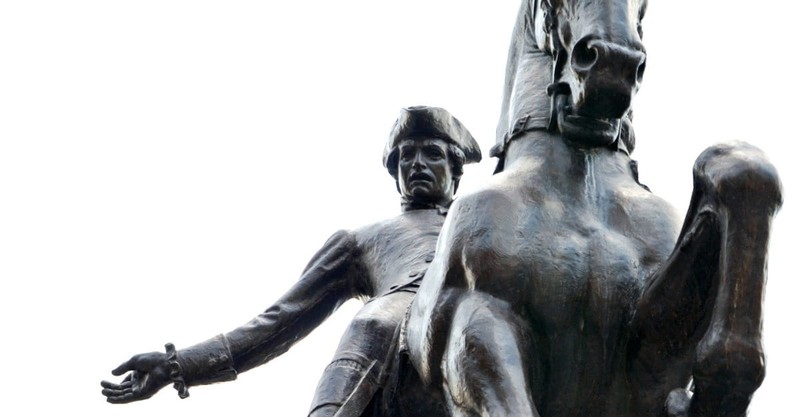 When the topic of the Revolutionary War comes up, people begin to draw from their memory banks familiar events such as the Boston Tea Party, Paul Revere's ride, or this statement, which was most famously associated with James Otis: "Taxation without representation is tyranny." There is so much to learn about the American Revolution—I don't know where to start! When The Old Schoolhouse® Magazine asked me to write on this subject, I almost said "Huzzah!" because this is one of my all-time favorite studies, and you will soon see why!
Wars don't usually just start up out of nowhere. Trouble starts brewing long before a war or conflict begins. We can take a look at a timeline of events that led up to the war by going back to 1763, when the Thirteen Colonies were enjoying peace and prosperity after the end of the French and Indian War. At that time, the American Colonies were made up of people who were proud to be British subjects, and most of them lived on family farms, exporting agricultural goods through booming ports in cities such as New York and Boston, ports from which the colonies had shipped supplies for the British Empire's military efforts during the war.
While the British king did appoint governors for each colony, for the most part the colonies were left alone to manage their own affairs. Far across the ocean, the British government intended to keep the growing American colonies under strict control. There was little industry in the colonies, so manufactured goods had to be imported from Britain. As a demonstration of their authority, the British required the colonies to pay increased taxes for keeping them "in the Empire." This policy proved to be very unpopular in America, where colonists considered it a violation of their rights as Englishmen.
By 1772, the Colonies began to reject the authority of the Parliament that was governing them—without representation—from afar. The colonies began to establish their own form of government, beginning with the Committees of Correspondence. Then, with the development of their own Provincial Congress, the Thirteen Colonies became self-governing states that were formed with the intention of breaking free from the monarchy of the British Empire—culminating in 1774 with the First Continental Congress.
Britain responded by sending troops to impose Britain's direct rule. In 1775, delegates from each "state" met at the Second Continental Congress, which raised armies, managed the war effort and strategies, appointed diplomats, and adopted the Declaration of Independence.
The famous "shot that was heard 'round the world," fired on April 19, 1775, marks the first military engagement of the American Revolution in Lexington, Massachusetts. There were, however, other important events associated with the war that led up to the actual conflict, including these:
Passage of Acts—Molasses Act, Stamp Act, Townshend Act, Quartering Act, Sugar Act; the Boston Massacre; and the Boston Tea Party.
The Founding Fathers were strong advocates of republican values. Their values lead them to put civic duty ahead of their personal desires. This duty motivated them to be prepared and willing to fight for the rights and liberties of their countrymen.
For women, "republican motherhood" became the ideal, exemplified by Abigail Adams and Mercy Otis Warren. The first duty of the republican woman was to instill republican values in her children and to avoid luxury and ostentation.
The war ended with an effective American victory in October 1781, followed by a formal British abandonment of any claims to the United States with the Treaty of Paris in 1783. General Cornwallis surrendered to General George Washington in Yorktown, Virginia. Among the significant results of the Revolution was the creation of a democratically elected representative government responsible to the will of the people.
Now that we've laid the foundation for why and how the Revolution started, we can immerse ourselves in the topic by reading books and applying academic skills and subjects to our study. You can include spelling/vocabulary, geography and maps, reading, writing, and research, as well as other valuable activities!
Reading List
Read Aloud Titles
Johnny Tremain by Esther Forbes
Mr. Revere and I by Robert Lawson
Young Students (Picture Story Books)
The Hatmaker's Sign by Benjamin Franklin, retold by Candace Fleming
Betsy Ross by Alexandra Wallner
Paul Revere's Ride by Henry Wadsworth Longfellow
Redcoats and Petticoats by Katherine Kirkpatrick
In 1776 by Jean Marzollo
Early Readers
Phoebe and the General by Judith Berry Griffin
Aaron and the Green Mountain Boys by Patricia Lee Gauch
Sam the Minuteman by Nathaniel Benchley
Buttons for General Washington by Peter and Connie Roop
Good Children Get Rewards by Eva Moore
Intermediate Readers
Molly Pitcher by Jan Gleiter and Kathleen Thompson
Paul Revere by Jan Gleiter and Kathleen Thompson
Can't You Make Them Behave, King George? by Jean Fritz
Will You Sign Here, John Hancock? by Jean Fritz
The Winter of Red Snow by Kristiana Gregory (Dear America diary)
The Fighting Ground by Avi
Tree of Freedom by Rebecca Caudill
Guns for General Washington by Seymour Reit
Upper-Level Readers
My Brother, Sam, Is Dead by James Lincoln Collier and Christopher Collier
Carry On, Mr. Bowditch by Jean Lee Latham
Yankee Doodle by Dr. Richard Shackburg
Nonfiction Resources
If You Lived at the Time of the American Revolution by Kay Moore
Valley Forge by R. Conrad Stein (Cornerstones of Freedom series)
American Revolution by Joy Masoff (Chronicles of America)
American Revolution (DK Eyewitness Books)
Two if by Sea by Leonard Everett Fisher
Picture Book of Revolutionary War Heroes by Leonard Everett Fisher (These two books may be available in the library system or through a used online source; though "out of print," they are worth obtaining.)
Coloring and Activity Books
Revolutionary War Era (Hands-On Heritage)
The Story of the American Revolution coloring book (Dover Publications)
Heroes and Heroines of the American Revolution (Dover Publications)
How Our Nation Was Born: The American Revolution (American Milestones)
Other Resources
Handwriting Practice
Find inspiring quotes by Revolutionary patriots and use for handwriting practice.
Read the Scripture on the Liberty Bell from Leviticus and write it out.
Practice your "John Hancock" (sign your name in cursive).
Activities
Memorize "Paul Revere's Ride" by Longfellow.
Make a Revolutionary War timeline. See this page (click on "timeline").
Read The Winter at Valley Forge by James E. Knight, and then describe the conditions that the soldiers were forced to endure.
Older students—watch the movie The Patriot starring Mel Gibson (with parental consent, as some scenes of war are very graphic).
Writing
Have older students read from Thomas Paine's "Common Sense." Discuss its impact.
Write a newspaper article that reports pertinent information about people and events.
Write a paragraph about several key people of the Revolution (Dr. Joseph Warren, James Otis, Paul Revere). See Picture Book of Revolutionary War Heroes by Leonard Everett Fisher.
List the American and British generals. Also list battles.
List Founding Fathers: Samuel Adams, Patrick Henry, John Adams, Benjamin Franklin, Thomas Jefferson, Thomas Paine, George Washington, James Madison, and Alexander Hamilton. Write a short biography of each one.
Take dictation from the book Johnny Tremain by Esther Forbes.
Write out the first part of the Declaration of Independence.
List names given to people associated with both Britain and the Colonies: Americans, patriots, Whigs, Rebels, Revolutionaries, Loyalists, Lobsterbacks, Tories, Redcoats, Minuteman.
Read about the Boston Tea Party. Write about it as if you were one of the Sons of Liberty.
Geography and Maps
Make the following maps:
Boston map (showing key places in Boston, such as the Old North church, the harbor, Paul Revere's ride, etc.)

An area map of key cities and towns, such as Boston, Lexington, Concord, and Charleston.
A world map showing England, the British Colonies, the distance across the Atlantic, Boston, etc.
Art
Paul Revere was quite an artisan. He was a master silversmith and also did beautiful woodcutting. View a copy of Paul Revere's engraving titled "The Boston Massacre"
Copy, color, and cut out the picture of Paul Revere on his horse. Attach him to a blank page with a brad so that he can "ride" his horse!
Research
Find out about America's Godly heritage to discover how the principles the Founders stood on has made her a powerful and successful nation.
Read this article about the destiny of the signers of the Declaration of Independence.
View the cartoon by Benjamin Franklin titled "Join or Die" and find out what it means. Then draw your own version of it.
A whole study could be done on George Washington alone, but for now, read, then write a paper about the Battle of Trenton, when Washington crossed the Delaware River.
Copyright 2012, used with permission. All rights reserved by author. Originally appeared in the January 2012 issue of The Old Schoolhouse® Magazine, the trade magazine for homeschool families. Read the magazine free at www.TOSMagazine.com or read it on the go and download the free apps at www.TOSApps.com to read the magazine on your mobile devices.
Jennifer Steward is an author, speaker, teacher, wife, mother of eight, and grandmother of ten! She openly shares from the heart pearls she has gleaned during her 25+ years of homeschooling and is widely known as a humorous and encouraging speaker, unit study and living books expert, and author of Everything You Need to Know About Homeschool Unit Studies. Jennifer is also one of The HISTerical Sisters--sisters who teach kids to love history and remember the facts. . .by using humor! The Stewards reside in northern California, where they manage their family business, Steward Ship: www.unitstudies.com Steward Ship: (888) 4R-UNITS
Publication date: January 4, 2013