Why God Should be in Charge of Your To-Do List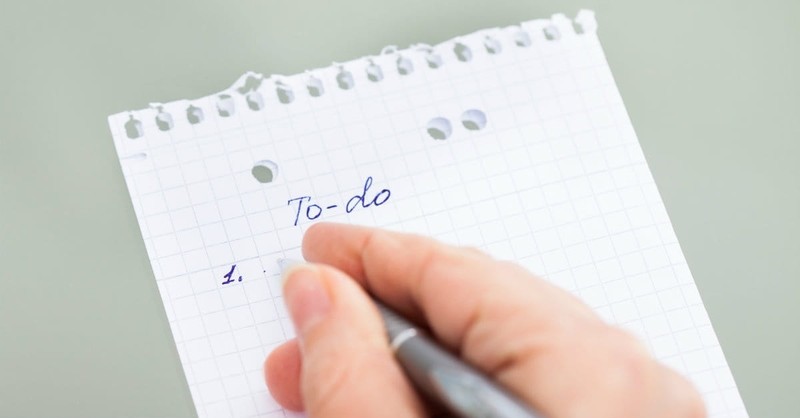 A lot has been written about the subject of "me time." Proponents assert that one cannot take care of others without first taking care of herself, while those opposed to the idea will tell you that it's selfish to look for time solely carved out to take care of you. Is there a middle ground? Should there be?
Honestly, I could write an article from both positions and probably convince you one way or the other. Scripturally, we see both sides of Jesus: He serves others tirelessly (take a look at Mark 1:21–34, and He retreats to spend time alone with his Father (Mark 1:35 is a great example). Like so many things in this Christian walk, there is a precariously thin line of balance, and we tend to teeter on one side or the other at any given moment. Teetering is the reality we live in, and there won't be balance unless...
Unless we listen to the Holy Spirit. Unless we find our value in the cross. Unless we surrender our to-do lists, plans, schemes, and routines to the One who loves us most and knows where we will find our balance: in Him.
In this season of raising little ones, setting aside our agendas seems like shooting ourselves in the foot. If I don't have laundry at the top of my list, who's going to do it? If I spend my day on the couch with my Bible, who's going to change diapers and get dinner on the table, not to mention teach the kindergartener to read? I'm not talking about forsaking all of the practical stuff for the stuff that makes us feel spiritual. The truth is, God knows the job He's tasked us with, He knows how many working hours there are in a day, and He knows your frame. That last part's the best part. He knows your frame and mine, and He knows what He wants each of us to accomplish each day.
Trouble is, we often forget to ask. I'm so terribly good at making to-do lists that I almost never remember to ask God what He wants on that list. He is the best list-maker, and you know what? His lists are always balanced. When a pedicure or a workout or some quiet time reading in a coffee shop is on the list, I can rest in the fact that these are gifts the Father gives us and wants us to have. Gardening, surfing, knitting, baking—what's the thing that nurtures and energizes you? God doesn't necessarily want to take that from you in this season of sacrificial homeschooling. He loves to give us exactly what we need, and sometimes a rest from the day-to-day grind is exactly what I need. And sometimes sacrificing the energizing stuff is what we truly need.
So here's the question, then: How do I make a list with the Holy Spirit in mind? I will go ahead and make those lists in my regular format, using great online tools with corresponding apps like Evernote and TeuxDeux. Then, if I remember to, I'll pray specifically over the list and ask God to add or delete or to give me a sense of what's really important. TeuxDeux is great for this, because whatever tasks are left unfinished one day will automatically transfer to the next day's task list. I can rest in the fact that what was left undone today is what God has allowed to slip through my fingers.
Granted, I know (and so will you) which items are time-sensitive. If library books are due or an appointment outside of the home must be kept, well then of course those things become a priority. But what about the things on the list that fall more into the "want to" category (think homemade valentines) or the "really not all that important" category (think ironing the sheets)? Asking God to design our days will help us put the "want-to's" and the "not so important things" into perspective. It doesn't mean we'll never get to do them; it just means we'll not feel that sense of guilt or unrest or fatigue that comes when we are running around trying to fulfill our own agendas in our own strength.
Can you trust me—an older mom of eight—when I say that you do need to find some time for quiet in your life? That you will be a better mom, able to give more when you've taken some time to breathe? It's not healthy to continue to pour out your energy—whether it's physical, mental, or spiritual—without ever stepping back and pouring all three things back into your life. "Me time" isn't selfish unless your intent is with an attitude of "Well, now it's my turn. You all can fend for yourselves because I'm heading out with the girls and am going to pretend my real life doesn't exist for a few hours!"
So if you're with me, think now about ways that you might replenish yourself in those three areas: physical, mental, and spiritual. Sometimes, all three can be accomplished at once. I know a lot of moms who take a morning walk and pray as they refill their physical tank. It gives them time to think too. Would taking a walk work for you?
Or maybe you can divvy it up, as I often do. I listen to my Bible while I'm doing my make-up, then read aloud with the kids during our morning Circle Time. I tend to pray all day long.  I work out after dinner when my husband takes over, and then I get uninterrupted thinking time while I'm in the shower. It's what's working in this season of my life.
Homeschooling mom of little people, you need to fill up your physical, mental, and spiritual tanks. It will happen when you surrender your days to the One who loves you most, and because He's ordered your days, you have nothing to feel guilty about.
A Few Great Resources to Help You...
Replenish Yourself Physically
Walk Away the Pounds with Leslie Sansone
Every Body Matters by Gary Thomas
Replenish Yourself Mentally
Loving God with All Your Mind by Elizabeth George
501 Must-Read Books by Emma Beare
Replenish Yourself Spiritually
Pray.
Read the Bible.
Ask a friend whose walk of faith you admire what single book has made an impact on her more than anything other than the Bible, and purpose to read it this year.
Kendra Fletcher is a homeschooling mother of eight, aged 18 down to 3. She has never known what it means to homeschool without the presence of preschoolers and loves to encourage other moms who are beginning their homeschool journeys with little ones underfoot. Her website and blog can be found at www.preschoolersandpeace.com.
Copyright 2012, used with permission.  All rights reserved by author.  Originally appeared in the June 2012 issue of The Old Schoolhouse® Magazine, the family education magazine.  Read the magazine free at www.TOSMagazine.com or read it on the go and download the free apps at www.TOSApps.com to read the magazine on your mobile devices.
Publication date: November 8, 2013