Socially Lacking - By God's Grace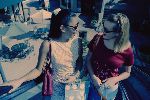 (1 Peter 4:4-5) - "They think it strange that you do not plunge with them into the same flood of dissipation, and they heap abuse on you.  But they will have to give account to Him Who is ready to judge the living and the dead."

(1 Sam. 16:7) - "...The Lord does not look at the things man looks at.  Man looks at the outward appearance, but the Lord looks at the heart."

What in the world is going on in the clothing industry lately?!  I have 2 teen daughters and we can hardly find anything suitable for them to wear...thank the Lord for Eddie Bauer and L. L. Bean or they wouldn't have a modest pair of jeans to put on. 

At any given day, a trip to the mall, a view of the TV screen or a gander at a magazine cover in the checkout line can be an eye-opening experience.  What's a Christian parent raising Christian teens to dress modestly to do?  Even well-meaning gift-giving relatives have bought into the world's corrupt ideas of "fashion" when it comes to birthday and Christmas presents.

I'm very bold when it comes to protecting my family and I am not above returning a gift or tactfully declining to accept one.  Of course, we get met with those questioning looks, but I will not dress my girls like prostitutes, nor will I let anyone else. 

I know that I'm not the only one who feels this way...but why does it seem that no one else is letting the store managers know?  Whenever I can't find anything suitably modest enough to buy, or see something that one should be able to SEE is unsuitable for a teen, I often (much to my teen daughters' chagrin) summon the store or department manager and let them know that they are losing a huge market.  "Not everyone wants to dress their daughters like street walkers."

Most of the time, I get that "well there's nothing I can do about it" answer, to which I reply, "You can tell your buyers."  (I didn't spend 8 years in retail for nothin'!)  There must be others out there getting up the guts to say something about it besides me, because I just read an article saying that "Skin is Out!" for the next fashion season.  Of course, they made it a point to say that it had nothing to do with the "Christian Right"...which makes me say a big "hmmmmmmmm...Me thinks thou protests too much!"

Yes, my girls are socially lacking...by God's grace!  My children have been raised in a loving Christian home with parents who care enough to say "no" when it's necessary.  Parents who have guided them to find "...whatever is true...noble...pure...lovely...admirable...excellent or praiseworthy..."  (Phil. 4:8).  We have prepared them for how hard it can be to stand up and say, "The emperor has no clothes!"  (We didn't realize that it would be literal!)  We have reminded them of the many Bible figures who stood alone for the sake of the Lord and His mighty cause.  I have reminded them of Elijah and how he thought for sure he was the only righteous man left, but the Lord told him that there were 7,000 who had not bowed their knees to Baal.  No matter what the world says, we are not alone.

I have reminded them of how young David was chosen by God to be king.  Even when his tall, handsome, muscular brothers were paraded about, God told the prophet "no" until the sweet little shepherd who had a way with a harp stepped forward.  Even his own dad couldn't believe it!  But God looks at the heart - not a fashion statement.

Our family might be "socially lacking" as the world sees us...but who has the better reward for how we will live our lives?  Not by works, but by the faith we have in Christ and the obedience that faith causes us to walk in.  I'm hoping that after our initial shock at seeing how girls have been sucked in by the world's lies, that we will remember to pray for them.  They were also created in God's image and we must remember..."There, but for the grace of God, go I." 
---
Kim Wolf
has been married to her best friend, Ty, for 21 years and they are in their 13th year of homeschooling. The Wolf's are very involved in the music ministry of their church, particularly in the praise team. Kim is not only a Miami County Ohio homeschool coordinator, but she is a writer/product reviewer/Ohio coordinator for the Old Schoolhouse homeschool magazine, freelance writer and speaker. 
wolfhomeschool@erinet.com
, 
http://www.homeschoolblogger.com/Buckeyeblog
Copywrite 2006-The Old Schoolhouse magazine