Spending Time in the Kitchen with Sue Gregg
Diane Wheeler

2003

11 Aug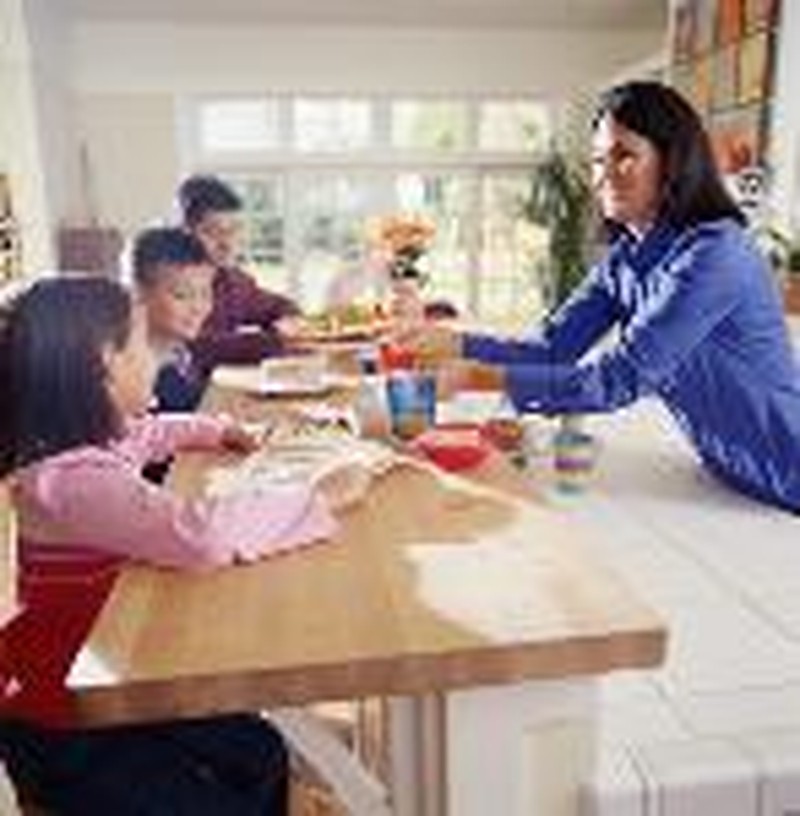 "Basically, just start with familiar, favorite recipes, and change the quality of the ingredients ... You don't have to start with expensive equipment, and you don't have to start with yeast breads." - Sue Gregg
Meals happen with overwhelming regularity, don't they? It is one thing to get food on the table three times a day; it is another to make sure we are meeting our nutritional needs. Whether we have an urgent need to address health concerns, such as allergies or illness, or we just know that a refined, highly processed diet is not best, it is difficult to know where to begin to change.
Sue Gregg understands the transition to healthier eating and has experimented and researched excellent recipes and methods for food preparation. She has a series of cookbooks that are easy to use and are well indexed, and she has developed materials for teaching children the basics of healthy cooking. I recently spent some time talking with Sue about her ministry and the concerns that we have about changing our eating habits. Sue has much more information to share on her website (www.SueGregg.com) and in her many publications. May our conversation be just the beginning of your learning and changing to healthy cooking and eating.
Q: Sue, can you tell us how you came to write your cookbooks and how your ministry started?
A: Sure. I majored in home economics in college, and it was always something that I had a bent toward. When I was about 38 years old, I began to get more interested in healthier eating. I really didn't know anything, but my husband started having some health problems. There was information coming out about grain mills and making your own bread so I thought I should ask around. I read Diet for a Small Planet, which focused on world hunger, eating more grains, and not eating meat. I gave my family brown rice, vegetables, nuts and seeds, but they didn't like it! I had to back off and pray. I asked the Lord, "What am I doing that I shouldn't be doing?" That still small voice said, "First of all, pray for your family, and second, change your approach." So, I backed off. I did purchase a grain mill and mixer, and it was quite an expensive investment. I told the children, "No more white bread; we are going to have whole grain bread," and we got so that we really loved it. I started selling the machines and giving demonstrations. Then my demonstrations got longer. People were asking me nutritional questions like, "Why do you use honey instead of sugar? Why do you use oil instead of shortening?" I had to say, "I don't know, but I will research it." In the summer of 1978, we decided to do a nutrition seminar. I would have women come up to me and say, "We need recipes to do what you are telling us to do. Do you have some?" So, I took 100 of my favorite recipes, and we made up 100 sets. These eventually grew to more recipes and nutritional information in a binder, and then the binders became our basic set of seven cookbooks.
Q: When attempting to change to a healthier diet, many think, "I cannot do this." How do you talk someone through the first steps of changing their diet?
A: First of all, there has to be a conviction, a mindset that says it is important. I recommend beginning with prayer. God understands all of our individual situations, what we can cope with and what we need to work on. Through prayer, He can answer our needs. We have had people come across our book Healthy Living and tell us, "I was praying for a way to do this and I found your book." That always encourages me. Healthy Eating deals with the why and the how-to. We deal with the main challenges we have seen women have.
The second thing is to start with simple things. You don't have to start with expensive equipment, and you don't have to start with yeast breads. We suggest making whole grain quick bread recipes in the blender. Almost any woman has a blender, and they can make muffins, pancakes, waffles and cornbread. It is so easy to do! Another key is changing the ingredient quality in your own recipes with really simple things such as buying leafy green lettuce instead of iceburg lettuce. If your family is into pasta, then go to the health food store and get some kamut pasta instead of white flour pasta. If you are big chicken eaters, start with a few chicken recipes or if you like Mexican food, just change the quality of ingredients in your recipes.
Then, especially for homeschoolers, if you can involve your children, the children get excited, and it becomes a learning project. If you teach your children, they can contribute to the workload, which makes it less overwhelming.
My final point is to have proper expectations. This is a subject that requires time and focus. It can be a good project for a family to do in the summer when homeschooling lightens up.
Q: Some common questions are: How much money will we spend? Where do we find resources? Will I like the taste of these foods? Let's start with cost. Is it true that healthy eating costs a lot of money?
A: We put the approximate cost of the recipes in our books. Those prices become outdated faster than you would think, but even though they are dated, they are comparative. You can compare and see what is less expensive. In Main Dishes we have a chart of 46 low-budget menus. Grains and beans are always the least expensive things. I tell women, "When you initially start, it might go up a little bit because you are trying to make adjustments. But, when you start to shift the balance of the foods so that you are using less dairy and less meats, and more of your lower cost foods such as grains and beans, then that helps to balance the cost." It turns out that you can spend a lot of money or you can spend a little money, depending on how you balance out your choices.
Q: What about taste?
A: Basically, just start with familiar, favorite recipes, and change the quality of the ingredients. It is more apt to be acceptable.
Q: Where do we go for resources? What's available?
A: Check with your local health food store. Then, you can look on the Internet for mail-order sources. Find a source close to home and you can save on shipping
Q: You talk about something called the "Two Step Process." Can you explain what that is?
A: Our Breakfast book introduces this, and it involves the whole grains. There are phytates in grains that bind up key minerals. Unless you process grains slowly, those nutrients won't be released. There are three ways to accomplish this. One is to sprout the grains. Two is fermentation. That is when you make yeast bread. I have changed the process for yeast bread by making a sponge the night before. You put the liquid with the flour in a bowl, add the yeast and mix it well. Let it stand at room temperature, and the next morning you finish off the recipe. I also recommend at least two rises; that extends the fermentation. The third option is the "Two Step" process. You allow the grain to soak, seven to eight hours or overnight, and that releases the nutrients. With a blender you put in the grains and liquids, and blend it for three minutes, omitting the egg since it will be sitting at room temperature. When the soaking is complete, you add the egg, the rest of the ingredients, and do the baking. Once you learn the process, it is easy to take any other recipe and apply the principle. Now that this has come to my attention, I wonder if so many people have trouble with allergic response to whole grains because they are not doing this process.
Q: People do struggle with food allergies. What do you suggest for these families?
A: I usually suggest our cookbooks because we focus on allergies quite a bit. In our Master Index, we have an index on allergies. The major allergies are wheat and dairy. For wheat allergies, kamut and spelt are two grains that are a type of wheat, but a lot of people can tolerate them. They are two wonderful grains that have enough gluten in them to make yeast breads. Spelt has kind of a nutty flavor; it is closer to the wheat. Kamut is really different; I love the taste, but it is hard to describe.
For dairy, the most popular alternative is soy. It has been brought to my attention, and I have done a lot of research, about the dangers of soy. I won't go into detail here, but I would caution people not to use all soy substitutes for their dairy products. I think nut milk is a great one to use. I would do a variety. You can get yogurt cheese with active cultures. That is probably easier to digest and not made from soy. There are a lot of things like that. Experiment.
Q: You have a new set of materials called Taste and Tell that models the concept of serving food as a bridge for connecting people. Tell us more about that.
A: This is really my passion. Don Richardson, author of the book, Peace Child!, also wrote a book called Eternity in their Hearts. It talks about a redemptive analogy, the fact that in every culture there is something that makes a natural bridge to the gospel. We have realized that food is a universal redemption analogy. God intended our dependence on food as a way of showing us that we need to depend on Him for everything. When I read Apples of Gold by Betty Huizenga I saw an opportunity for a pattern for introducing Jesus to people, which is really where my heart is. Apples of Gold is a six-week mentoring program of food demonstration, eating together and then a Bible study. Well, last year we piloted a class with our Taste and Tell recipe sampler, which has about 20 recipes in it. Everyone eats together and then we do Bible studies. The Bible studies are four food incidents in the gospel of John: Wedding Wine, John 2; Living Water, John 4, Living Bread, John 6; and The Catch of Fish, in John 21 where Jesus, after the resurrection, feeds the disciples on the beach. Jesus uses all of these incidents to draw people to Himself. We will see how it goes. I am really excited about it.
Q: Sue, we have really enjoyed meeting both you and your husband, Rich. We look forward to having you back here again sometime in the near future. Below, we have included your delicious Almond Coffee Cake recipe which you have graciously agreed to share with our readers. God bless your ministry and thanks again for spending time with us.
Here is a sample recipe from Sue's Breakfast cookbook. Blender recipes are a specialty of Sue's, and this will give you a good feel for how easy whole grain recipes can be to prepare.
Almond Coffee Cake
Amount: 11.5 x 8 (preferred) or 9 x 13 baking pan
Bake: 325 degrees - 30 to 40 minutes
1. Place in blender; blend on highest speed 3 minutes until smooth:
1 cup buttermilk
1/4 cup olive oil (for more cake-like texture)
3/4 cup honey (warm slightly if not easily pourable)
grain choice (not flour) of
1 1/3 cups whole-wheat pastry grain
or 1 1/2 cups spelt, kamut or brown rice
or 1 1/4 cups barley grain
2. Meanwhile, for topping blend together in order given with a fork:
2 Tablespoons butter (unsalted preferred)
2 Tablespoons sucanat or crystalline fructose
1/2 cup uncooked rolled oats
1/2 cup chopped or sliced almonds
(With kamut only) 1 teaspoon cinnamon
3. Cover blender; let stand at room temperature overnight.
4. Grease or spray baking pan.
5. Preheat oven to 325º.
6. Just before baking, add and reblend on highest speed for 1 minute:
2 eggs
7. Mix into blender batter thoroughly, but briefly, using blender and/or rubber spatula, as needed:
1/2 teaspoon salt
1 teaspoon baking soda
1 teaspoon baking powder
2 teaspoons cinnamon (omit with kamut)
1/4 teaspoon ginger
8. Pour batter into baking pan. Distribute topping evenly over top with fingers, pressing it slightly into batter with fork.
9. Bake at 325º for 30-40 minutes or until knife or toothpick comes clean out of center of cake. Serve cake hot.
Sue Gregg's experience includes teaching home economics in a high school for two years after she received her bachelor of science B.S. in home economics education at Washington State University. Thirteen of Sue's cookbooks are currently in print. Her husband Rich partners as her critical but appreciative taste tester, photographer, editor, publisher, and webmaster. Her research, teaching, and sense of adventure took her to Okinawa, Kenya, Malawai, Estonia, and Russia in 2001 to partner with cross cultural envoys working in orphanages, universities, and community service projects. In 2002, she visited Russia for a fifth and sixth visit to conduct "Taste & Tell" classes. Sue Gregg is motivated to see others enjoy the benefits of a healthy lifestyle by discovering the Creator's design for living.
Diane Wheeler is the senior staff writer for The Old Schoolhouse Magazine. She lives with her husband, five children, and assorted animals in lovely Placerville, Calif. When she is not feeding her hungry children, she enjoys reading mystery stories, drinking strong coffee, and gardening with her family. Write to her at Diane@TOSMag.com.
Copyright, 2003. Used with permission. The Old Schoolhouse Magazine. www.TheHomeschoolMagazine.com