Storing Mommy's Kisses


My second child and first son, Jason, seemed to be a lightning rod for controversy for most of his developing years. He has a very black-and-white approach to life, which I think might be genetic. This often created a supercharged atmosphere in our home. He's grown into his temperament over the years. While we still have occasional conflicts, he's now 17 years old, and by God's grace we have overcome a lot. But I'll never forget the time many years back . . .

It was a long day with five small children in the house. The temperature outside was near zero with a wind chill to match; going outside was not possible. I tried to keep them busy and active, but my son just kept pushing the limits of both his creative energy and my patience. Some days were pure survival and this was one of them.
My husband was out of town, so I was doing double duty. Even the "fun" things I planned didn't seem to go well. Conflict and chaos seemed to rule the bad day, where my son reigned as king. I found myself getting more and more frustrated and probably raising my voice a few too many times. To be honest, I just wanted it all to end. Anxiously, I kept my eye on the clock, waiting for the familiar chime that signaled it was bedtime.

Finally, they were all nestled under blankets. I made the rounds to each bed, kissed each head, prayed, and shut the door on this "eventful" day. Too exhausted to enjoy the sudden quiet of our home, I headed for my own pillow, silently hoping that tomorrow would be better. Not content to let the stillness rule for a single moment, Jason's voice rang out in the darkness. "Mommy!" he called.

"Go to bed." I reflexively shouted back without opening his door.

"Mommy! I need to tell you something," he persisted.

"It will have to wait until tomorrow," I said, determined not to give in.

"It can't; I have to tell you noooooowwwwww!"

(An inner war began inside of me. Don't give in; he'll manipulate you for life. Go ahead—one time won't matter. I stood there arguing with myself. My mother's heart eventually won.)

Opening his door, I said, "Okay, what is so important that you have to tell me tonight?"

He smiled, undeterred by my harshness, and said, "Do you know what I do every night after you give me a kiss and leave the room?" (My mind could think of a few things, but I didn't want to give him any ideas.)

"I take your kiss and rub it into my heart for safekeeping. That's where I store all your kisses." (As he spoke, he rubbed his hand over his lips and then on his chest.)

My heart melted and I gave my son a few more kisses to store in his collection.
---
Karen Braun is a Christian, wife, and homeschooling mother to six children. She is engaged in the full-time art of managing her home and educating her children. Karen also enjoys speaking and writing on behalf of homeschooling and is a strong advocate for the Christian family. Her popular blog, SpunkyHomeschool, blends all of those interests.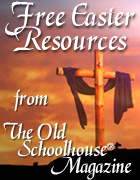 The Old Schoolhouse offers three FREE Easter resources for homeschoolers! Check out their in-depth study, copywork, and festive place cards here.
Copyright 2008 The Old Schoolhouse Magazine, LLC
www.thehomeschoolmagazine.com
This article originally appeared in the Fall 2008 issue of The Old Schoolhouse Magazine, LLC.
Reprinted with permission from the publisher.