TeenPact: Making a Difference in America
Zan Tyler

Editor of the Crosswalk.com HomeSchool Channel

2002

25 Apr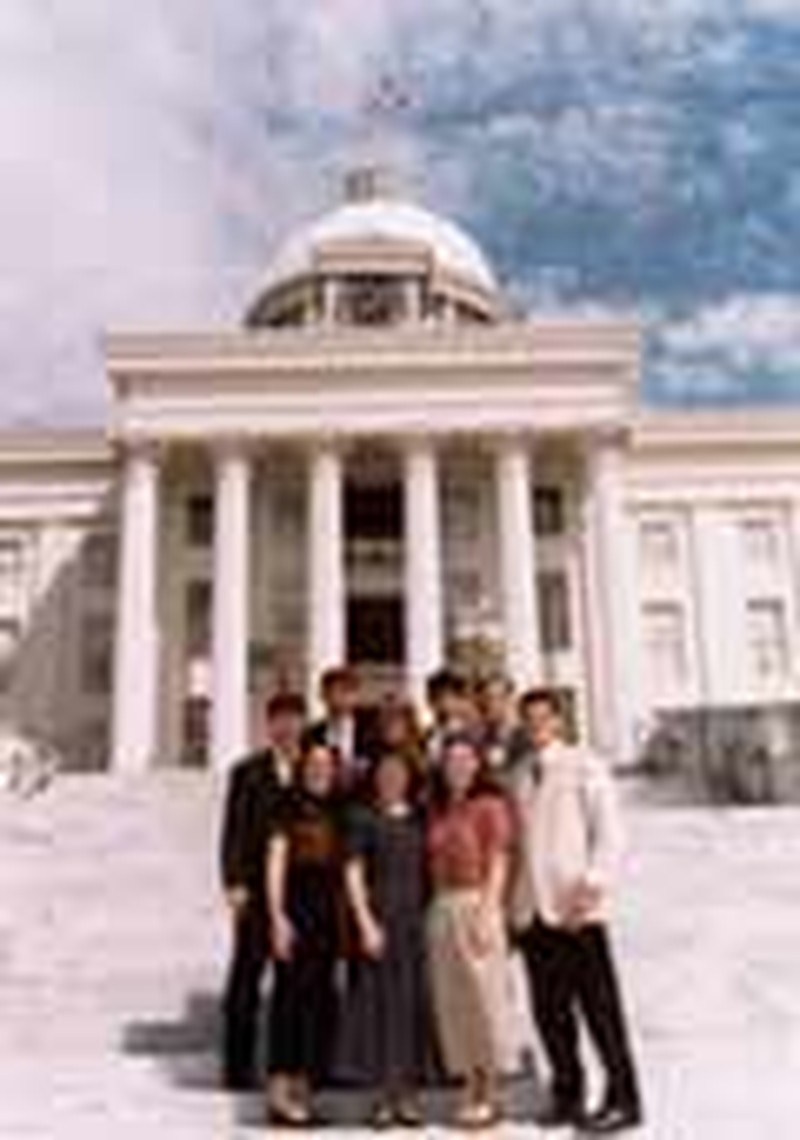 "I highly recommend TeenPact to families who desire to see their kids make a difference in America."
Mike Farris, President of Patrick Henry College and Board Chairman of HSLDA
For the seventh year in a row, one week in April for the Tyler family is revolving around TeenPact. TeenPact is a teen leadership school dedicated to its motto of developing a passion for citizenship and justice in today's youth. The program runs Monday through Thursday at the state capitol complex.
The benefits of TeenPact are hard to chronicle in a short newsletter. But I will say that after a week at TeenPact most students walk away with more working knowledge about government and politics than 95% of the adults in our country.
Both of my college-aged sons, Ty and John, participated in the basic TeenPact week, multiple alumni activities, the TeenPact trip to Washington, D.C., and served on the TeenPact staff. John participated in the TeenPact internship program during his senior year in high school. Both of my sons have gone on to serve as pages and legislative aides in the South Carolina Senate and pages in the U.S. Senate for Senator Strom Thurmond. They both served as president of their freshman class, and Ty is now serving as president of his college student body. John, a junior in college, continues to work in the South Carolina Senate and is president of our voting precinct. TeenPact was an invaluable part of their preparation.
In addition to the hands-on training that TeenPact provides, the second greatest benefit is the opportunity it provides for the development of life-long friendships. Ty and John both continue to keep in touch with their TeenPact friends. TeenPacters develop friendships based on shared interests and a common faith - not just the shallow interests of pop culture that often define the friendships of so many of today's adolescents. These kids are intent on serving God and country - and when they have a forum to hook up with each other, the resulting energy and ensuing friendships are inspiring and contagious.
I would encourage you to consider sending your children to TeenPact. TeenyPact is a one-day program for 8-12 year olds. TeenPact is a four-day program for 13-18 year olds. I count attendance at TeenPact toward history or government high school credit, which ever we happen to be covering at the time.
There are a few remaining classes for this year, and it is not too late to register. If you have already missed your state's TeenPact class, find out when your class is for 2003 and mark your calendar now! Here is the schedule for the remainder of this year:
South Carolina: April 29-May3
Rhode Island: May 6-10
Texas: May 13-17
Massachusetts: June 3-7
North Carolina: July 8-12

TeenPact is also hosting a one-week Judicial Class (July 25-31, 2002) at Carmel Retreat Center, north of Atlanta. This class focuses exclusively on students who have an interest in being an attorney or judge and will be academically rigorous. There are over 700 pages of reading to complete, a brief to write, and oral arguments to prepare.
For more information visit the TeenPact Web site (www.TeenPact.com) or call them at 1-888-343-1776. To respond to this article, or for more information, you can also e-mail the TeenPact staff at knowmore@teenpact.com.
Here is some basic information on TeenPact taken from their Web site.
A Real Understanding:
TeenPact and TeenyPact's major objective is to break down the intimidation that many have about involvement in our civil government. Surprisingly to some, public servants are available and desirous to meet citizens - regardless of age - who live within their district. We want students to see that the future of our country is dependent upon their involvement.
Making Sense of the Paperwork:
You can't go into a Legislature anywhere in the country and not be inundated with paper: bills, amendments, disclosures, rosters, code sections, committee reports. They all seem so confusing at first. Students leave the Capitol with a better idea
of the importance of each document and how they can use them as citizens for the rest of their lives.
Parliamentary Procedure:
Both TeenPact and TeenyPact students learn the basics of parliamentary procedure and debate and have fun putting it into practice. Students write their own bills and work to see them passed by the TeenPact Legislature throughout the week.
Learning Their Way Around:
TeenPact and TeenyPact students learn their way around the State Capitol. Amazingly, just feeling comfortable with the surroundings and knowing your way around does a lot to help our students feel like this is THEIR Capitol and a place they want to come back to.
Singing and Devotion:
Students begin each morning with music as they sing hymns and familiar choruses. TeenPact Student Staff lead their peers through a devotional on great political leaders found throughout to Bible.
Boundary Breaking:
TeenPact students spend several sessions throughout their 4-day experience getting to know one another and developing an appreciation for the uniqueness of each person.
Important Interaction:
TeenPacters and TeenyPacters both have the opportunity to not only hear presentations by important and influential people in their state, but to interact with them personally. Political leaders enjoy spending time with our students and often share candid insights that inspire students to aspire for positions of leadership. Our hope is that every student will meet and encourage their legislators.
Friendships:
TeenPact Students - especially in the 4-day schools - often develop special friendships with one another that extend far beyond their experience at the Capitol.
Inspiration for a Lifetime:
Inspiring students is no easy task these days, but at TeenPact it is the most important task always before us. Taking otherwise boring subjects like committee hearings and lengthy bills and making them come alive is what we do best.
Zan Tyler is co-author of the book Anyone Can Homeschool and senior education editor for Crosswalk.com. She and her husband have three children and have been home schooling since 1984.