Tell Me a Story, Mama
Terri Camp

Home school author and mother

2002

13 Sep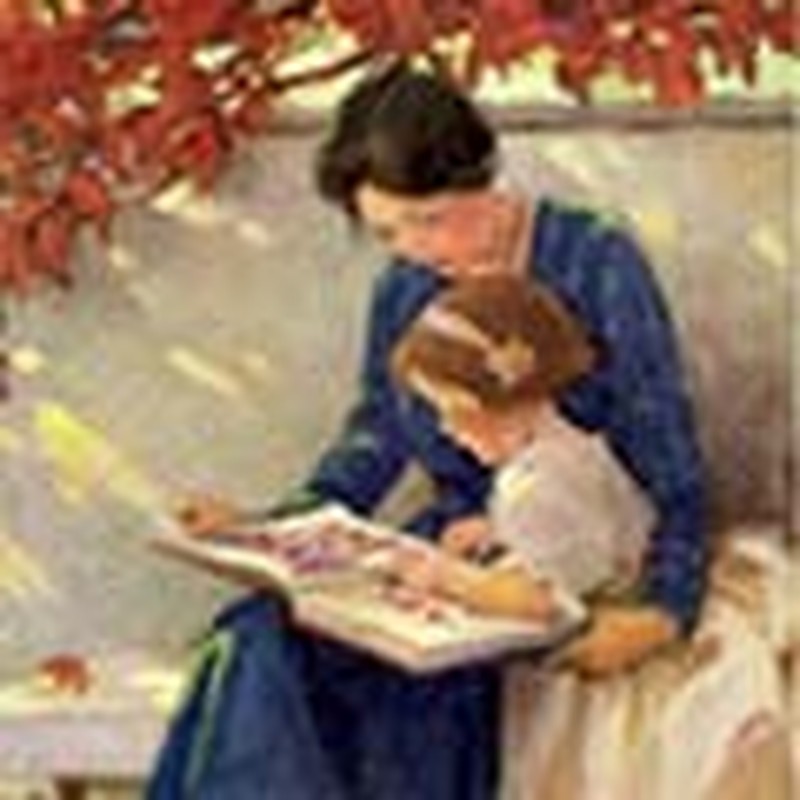 Over the years I have heard the phrase "Can you tell us a story, Mom" many times.  I love to make up stories for my children.  It was a tradition that was passed down from my mom. When we were little she would make up the most spectacular stories. Many times there would be a suspenseful part of her story. She would get real quiet, we would lean in, then she would shout and we would jump. It was delightful.

I'm currently reading a book by Monte Swan, published by Loyal Publishing called, "Romancing Your Child's Heart." Monte talks about the importance of revealing God in our children's lives through stories.

Stories of our childhood, Bible stories, and even make-believe stories can all play a part in being able to touch the heart of our children.

When our kids were very young I created a character named Imelda.  Imelda went through many of the same challenges and temptations that my children go through.  Her sin nature always seemed to win out though, and she always had to accept the consequences. 

I must admit I had a picture in my head of Imelda as the little girl on a television show called "Laugh - In" which we watched when I was quite young.  The girl would sit in a giant rocking chair and tell about the things she did to her brother.  I remember one episode when she talked about her little brother having Chicken Pox.  She apparently connected the dots with a permanent marker.
 
I recalled this story when my children had Chicken Pox.  Imelda was born when my poor children were miserable and feeling a bit itchy.  For thirty minutes I shared about Imelda connecting the dots on her little brother.  Meanwhile I pretended on David's belly to connect his dots using calamine lotion instead of a permanent marker, turning his dots into stars, constellations, a dog, and a cross. From there I was able to share the love of Christ in a simple way to my young children.
 
Another time we were on a six-hour drive heading to Grandma's house.  The kids were getting a bit rambunctious in the back of our mini-van (yes, there was a time we fit in a mini-van).  As my frustration increased, I knew there must be something I could do.

"Hey, anyone want to hear an Imelda story?"  I shouted.

"Yeah!"  They shouted back in unison.

"Okay, but you must be really quiet so you can hear the story."

I began a story of Imelda going to visit Grandma in a new, big city.  We talked all about the city and the tall buildings and the wide river that must be crossed.  Imelda, being quite disobedient at times, was very naughty on her ride to her grandmother's house.  She was not able to sit quietly in the car and her daddy had to pull over. 

As I glanced in my rearview mirror, two of my little children sat wide-eyed as they could almost feel her pain. 

After the story was over, I didn't have any trouble with my children getting loud for the rest of that trip.  In fact, when we got to the city, they said things like, "Is that the river Imelda crossed?"  "Oh, look at that tall building, just like the one in Mom's story."
Stories have a way of reaching into the hearts of our children. 

Today is a day of celebration at our house, as it is the birthday of one of our children.  I called all the little kids in my room. As we all sat on the bed cuddling, I began a story about a little girl who almost wasn't. Her mommy and daddy had decided that five children were enough for any family. 

But God had a different plan and convinced the Mommy and Daddy that they should allow Him to create life and not hinder it.  The Mommy and Daddy prayed every day that this child would come into the world in a special way, and that the first thing she heard when she was born would be a song of praise to God.

Indeed, our little Briana Sue, which means Strong Lily, would hear a song of praise to God.  And our prayer was also for her to be a living testimony of God's faithfulness to us.  For God is able to do exceedingly abundantly beyond all that we can ask or imagine.  We could not imagine a young lady so beautiful.  Only God could craft such a remarkable little being.

I had been holding Briana in my arms while I shared the story of the little girl.  She looked at me with tears in her eyes and said, "Is that me, Mommy?"

As I kissed her head I said, "Yes, my dear. You are that beautiful young lady who is a living testimony to the faithfulness of God."

Quickly there was a chorus of other children saying, "Tell me about when I was born!"
I was tempted to tell them all a story, but this was Briana's special day.  She was my gift from God on this day. 

Listen to Terri's weekly broadcast for home schoolers at www.thepathhome.com.
 
In addition to devoting herself to her husband and the eight children she home schools, Terri also enjoys writing and speaking to offer encouragement to women in an effervescent, humorous way. Visit her Website at www.ignitethefire.com or e-mail her at terri@ignitethefire.com.