The Benefits of "The Burnout Box"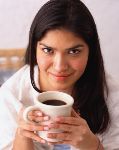 Why did you decide to homeschool your kids? During my first year of homeschooling, I was asked this question almost as often as my kids asked, "Mommy, do we have to do school today?" I tried to give a concise answer; but the truth was, there was a whole list of reasons.
So I decided to write them all down.
I thought if I was armed with a box full of concrete reasons I'd decided to homeschool, maybe I wouldn't be tempted to flag down the yellow school bus when it sailed through our neighborhood. Maybe I could drive past the elementary school without feeling like an outlaw. I even hoped something in my box would squelch the yearning I was afraid I'd feel when I spotted a neighborhood mom driving off to have coffee with a friend, a solitary grocery store experience, or a yoga class at the local Fitness Palace.
I decorated the box with photos of my children and dubbed it my "Burnout Box."
I found myself clutching the box several times during my first months of homeschooling. My original notes included everything from lofty educational purpose to how much I hated dragging my son (and myself) out of a toasty bed in January to be pelted by rain at the bus stop. When I spotted newspaper articles about school shootings, teacher molestation charges, or superintendent budget wars, I ripped them out and tossed them into the box.
Alas, February came and the yellow school bus beckoned like a siren promising endless delight if only I'd surrender my children. The voices of all the naysayers chattered in my head … you aren't a certified teacher … a little competition is good for kids, toughens 'em up … what about socialization?
I'd forgotten all about my Burnout Box.
Then one snowy afternoon I sat down to devour a batch of chocolate chip cookies and spotted the box tucked under a pile of dusty "how to homeschool" books. I reached in and pulled out the following entry I'd written when my 8-year-old son was still in public school:
He's been ostracized all year. I think it's partly because he's more into drawing and art than basketball or soccer. He often ends up playing alone during recess.
Yesterday he came home so excited. He'd taken my advice and joined the other boys in a soccer game at recess. I praised him for his courage and thought to myself, "He's finally going to be accepted."
But today I got a call from the school principal. [My son] had tried to join in the soccer game, but this time the other boys wouldn't let him. He'd persisted, so they grabbed him. When he started crying, they called him a baby. Then one of them shouted, "Hold his arms!" and the boys started punching him …
I gripped the box and remembered how I felt that day. It was the moment I realized the damage that was being done to my son, and I was running out of time to do something about it. After wrestling with the decision for two years, I decided to homeschool.
Throughout our first year I watched my son's faltering spirit flourish into self-confidence. I'm convinced it's because he spends more time in a loving environment and less time getting emotionally pummeled. He joins the neighborhood kids when they play basketball or baseball, and he's found a couple of friends who share his passion for drawing.
These days, when someone asks me, "Why did you decide to homeschool your kids?" I'm tempted to pin them into a corner until I've shared the entire contents of my Burnout Box. For fear of assault charges, I try to keep my answer short and simple—it was the best choice for our family.
---
Suzanne Paynter and her husband homeschool their three children in Leesburg, Virginia. Her work has appeared in several magazines and anthologies. She has worked as a professional ballet dancer, a dance teacher, a sales trainer, and a corporate scriptwriter; but no pursuit has brought her as much joy as being a homeschool mom.
Copyright 2006. Used with permission. Originally published in the Spring 2006 The Old Schoolhouse Magazine. Right now, 19 free gifts when you subscribe. www.TheHomeschoolMagazine.com