The Great American Railroad
Nancy K. Baetz

Contributing Writer

2006

8 Nov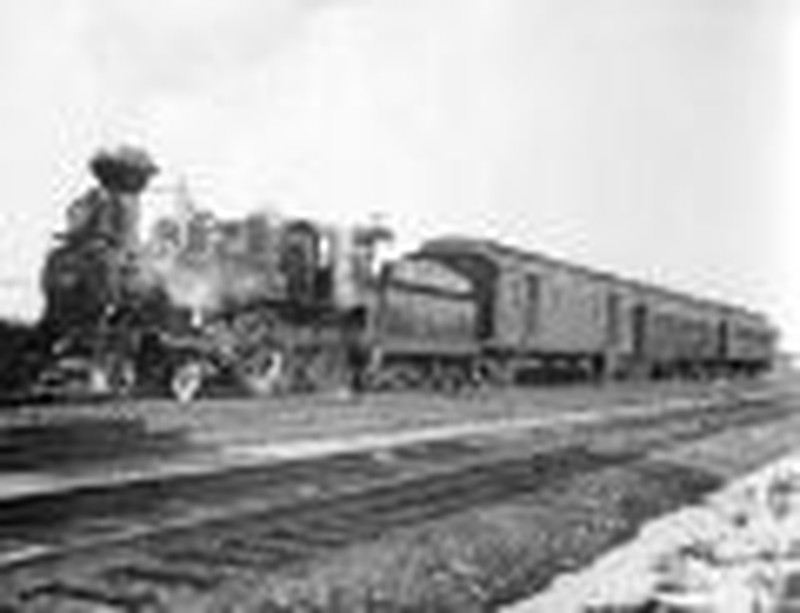 "May God continue the unity of our Country as this Railroad unites the two great Oceans of the world." --Engraved on the golden spike of the first transcontinental railroad
I've been working on this railroad article, for certainly not "all my live-long day," but I have made an important discovery! People everywhere are enthusiastic about every aspect of train lore. Adults and small children are fascinated with trains. My children learned the word choo choo probably in close proximity to the words Mama and Dada. I remember my nephew at around age 2 running out back of Grandma's house to see the train each day at noon, pointing and shouting, "da boo!" This of course, was his excitement at seeing the caboose.
Once you are hooked on trains, you are hooked for life! There are people out there doing historical research whose hobbies are modeling trains, collecting railroading ephemera, drawing, painting, or photographing trains, or dreaming of holding the highly coveted position of engineer. No matter what the draw, these aficionados of the railroad kind are a dedicated bunch. After riding the rails myself, through a little research, I can see why!
But how did all this locomotion get started, anyway? Well, now that your ticket is in hand, a-a-a-all aboard! Let's take a little trip and see what we can learn together!
The history of the train and the railroad system is as complex as the World Wide Web, it seems. One thing leads to another. In order for civilizations to grow, people and things must be moved from one place to the next. In the natural progression from walking to riding horses to hauling entire households on Conestoga wagons across the wilderness, people have always found more innovative ways to get from here to there.
Sometimes technological advances are not accepted with open arms. Many people perceived the railroad as bringing threats and dangers. Some folks even objected to the railroad on religious grounds, saying that the iron beast was from the devil himself. Even though some of their worries were far-fetched, such as the idea that the speed of the train would take your breath away or make you go insane, some perceived dangers were real. Cars lurched and jolted passengers, and sparks flying from a train's own smokestack sometimes started fires. Bridges and tracks were unstable, and numerous train accidents occurred in the 1850s, according to Richard Wormsier's book The Iron Horse.
Some of the first railroads were used in mines. Horses or mules pulled cars with wooden wheels running on wooden rails back in sixteenth-century England. The wheels were actually built to ride the rails like modern train wheels are now, with a flange. One of the earliest turbine devices that used steam, dating to 1629, is attributed to Giovanni Branca (University Society Encyclopedia, 1975 edition). According to the same resource, Richard Trevithick built and tested a steam locomotive in 1801. A steam-power "explosion" occurred around that time, with Robert Fulton's steam-powered boat heading up the Hudson River from New York to Albany in 1807. Excitement and experimentation were taking place on both sides of the world!
The Rocket, George Stephenson's famous engine, pulled the world's first passenger train on the Liverpool and Manchester Railway in 1830. Stephenson created the standard track gauge used worldwide. In the United States in that same year, Peter Cooper invented the Tom Thumb in Baltimore. It raced a horse-drawn coach and lost because a belt broke. The first steam locomotive to carry passengers in America was reportedly the Best Friend of Charleston in 1830. In the 1850s, trains become increasingly popular and efficient and put other means of transport out of business. In 1865, George Pullman unveiled his sleeping car. After it was attached to the funeral train of Abraham Lincoln, the demand for them multiplied and Pullman's business boomed.
Thousands of miles of tracks snaked across the country--over 254,000 in 1916. Then, after World War II, the steam locomotive died out for the most part and diesel-electric locomotives took over. By the 1980s there were just over 167,900 miles of track left. Today, we still have important railroads operating in the United States. The Alaska Railroad, completed in 1923, was the last major railroad to cut through the North American wilderness (Beth Walker, "Trains: Then and Now," Boys' Quest: Feb./Mar. 2001).
Today, Amtrak serves the United States as the National Railroad Passenger Corporation. Amtrak is the blending of the words "American" and "track." Amtrak began service in 1971 with 143 trains. Today, up to 300 trains per day operate in 46 states, every minute of the year.
On this journey across time and space, I discovered that there are myths and historical "discrepancies" in railroad history. Stories that aren't actually true can be passed on for so many years that they are accepted as fact. Did you know there is controversy over where the actual meeting of the rails was when the first transcontinental railroad was completed in 1869? This might be a great research project for your kids! Find out the real details of the Golden Spike ceremony and let me know. In any case, here is the prayer spoken at the ceremony at Promontory Summit:
 "Our father and God, and our fathers' God, God of Creation and God of Providence, thou hast created the heavens and the earth, the valleys and the hills; Thou art also the God of mercies and blessings. We rejoice that thou hast created the human mind with its power of invention, its capacity of expansion, and its guardian of success. We have assembled here this day, upon the height of the continent, from varied sections of our country, to do homage to thy wonderful name, in that thou hast brought this mighty enterprise, combining the commerce of the east with the gold of the west to so glorious a completion. And now we ask thee that this great work, so auspiciously begun and so magnificently completed, may remain a monument to our faith and good works. We here consecrate this great highway for the good of thy people. O God, we implore thy blessings upon it and upon those that may direct its operations. O Father, God of our fathers, we desire to acknowledge thy handiwork in this great work, and ask thy blessing upon us here assembled, upon the rulers of our government and upon thy people everywhere; that peace may flow unto them as a gentle stream, and that this mighty enterprise may be unto us as the Atlantic of thy strength, and the Pacific of thy love. Through Jesus, the Redeemed, Amen."
(The Reverend Dr. Todd, of Massachusetts. A dedicatory prayer at Promontory Point, the golden spike ceremony. George Kraus. High Road to Promontory. American West, 1969, p. 274.)
The immensity, power, and design of each train begin to inspire awe and draw a person to desire to know more. Sure, a train is a train--loud, rumbling, something to be wary of. But there is such a powerful beauty about them. Watercolorist Howard Fogg, a man who loved the railroad, will inspire your young artists. A collection of his work is found in The Railroad Artistry of Howard Fogg (San Rafael, CA: Cedco, 1999).
Once your eyes become trained on the railroad, it just doesn't seem as though you will ever reach the end o' line (see the sidebar glossary for the meaning of this and other railroad terms)!
Railroad Facts and Activities
The largest steam engines ever built were American. The Union Pacific Railroad's 4000 Class of freight locomotives were nicknamed the Big Boys. A steam engine is known by a special wheel code. The Big Boy was known by 4-8-8-4, the numbers of leading, driving, second set of driving, and trailing wheels. See if you can figure out the wheel code while watching an engine.
Look up the term "Maglev" and see what it means.
Who are these people? Find out how they fit into train history:
John Stevens, George Westinghouse, Andrew Jackson Beard, George B. Dorey, and George Pullman; and these women: Eliza Murfey, Catherine Gibbon, Mary Riggin, and Mary Walton.
What other kinds of trains are there that aren't mentioned here? How about train terms--can you find any more that aren't in the sidebar glossary?
Trains unit study by Amanda Bennett-- www.unitstudy.com/trains.htm 
Unit study on trains-- www.childrensmuseum.org/teachers/unitsofstudy/trains/index.htm 
A wonderful list of reviews of train books for children--www.childrenslit.com/th_trains.html
All about cabooses!-- www.railfanclub.org/trainlessCABOOSE.asp
Timelines-- www.sdrm.org/history/timeline and www.pbs.org/wgbh/amex/tcrr/timeline/index.html
The Railroad Paint Shop by Joshua Moldover-- paintshop.railfan.net
Chris Carey's photos of the engines at Promontory!-- pics4learning.com 
Sources and Resources
Beebe, Lucius, and Charles Clegg. When Beauty Rode the Rails. Garden City, New York: Doubleday, 1962. Pictorial collection of railroads.
Fraser, Mary Ann. Ten Mile Day. New York: Henry Holt, 1993. Child's reading level, beautifully illustrated throughout. Inside back cover, illustrations of railroad tools and supplies.
Garratt, Colin. The Golden Age of Steam. New York: Lorenz, 1998.
Kraus, George. High Road to Promontory. Palo Alto, CA: American West, 1969.
Middleton, William D. Landmarks on the Iron Road. Bloomington, IA: Indiana University Press, 1999. A study of the development of civil engineering and the construction of railroads, tunnels, bridges, and the men who created them.
Stein, R. Conrad. The Story of the Golden Spike. Chicago: Children's Press, 1978.
Wormsier, Richard. The Iron Horse: How the Railroads Changed America. Walker, 1993.
Zimmerman, Karl. Steam Locomotives. Honesdale, PA: Boyds Mills, 2004.
------------
Glossary of Railroading Terms - Click Here
Timeline of Trains and Railroad Transportation - Click Here
------------
Nancy Baetz and her husband Ken have four children. Nancy enjoys learning with her children about God's creation, and she lives for Summer! She also likes to write about her experience as a homeschooling mom, takes zillons of photographs as a freelance photographer, and spends as much time as she can in her wildflower patch! www.HomeschoolBlogger.com/ByHisGraceinColorado
Copyright 2006. Originally appeared in Summer 2006. Used with permission. The Old Schoolhouse Magazine. Right now, 19 free gifts when you subscribe. www.TheHomeschoolMagazine.com