The Least of These
Terri Camp

Home school author and mother

2002

1 Apr

COMMENTS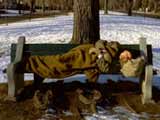 The Lord has been remolding my heart these past few months. I have welcomed the change; however, it has been a bit painful to have my heart yanked out of my body, then returned to its normal place, only to be yanked out once again for a new revamping.
The most recent yanking has been because of the verses in Matthew 25:31-46. Let me set the stage for you. We're in heaven. Jesus is separating the sheep from the goats. Jesus tells them, "I was hungry and you gave Me food; I was thirsty and you gave Me drink: I was a stranger and you took Me in; I was naked and you clothed Me; I was sick and you visited Me; I was in prison and you came to Me."
He then goes on to tell them that when you see someone in need, it's like helping Him. And when you see someone in need and do not help him, you are likewise not doing it unto Jesus.
I know I would be one of those people saying, "Lord, I never saw you hungry. I never saw you thirsty, or naked, or in prison." But you see, I have seen him that way. And I have chosen to cross the street or turn my eyes away from the face that looks frightening or in need.
I would see faces, and purposefully try to not imagine there were souls behind the eyes. It's easy to not do what Jesus asks if we turn our eyes. Then there are times when the Lord comes to minister to us, reminding us, ever so gently, that He wants us to be Him to the world. He wants us to care deeply for those who have no names. He desires for us to feed the needy, clothe the naked, and visit those in prison. Allow me to share the story of one whose death has changed me.
To many who came in contact with him, he was a frightening fellow. His presence could clear a room quickly, as no one seemed to want to share space with this man called Catfish. His body reeked of alcohol and poor hygiene. Life had dealt him blows that aged his face considerably. One look and you may think he had spent a great deal more than forty years on this earth.
One Tuesday morning, he ventured in late to the local clothing giveaway. Jan, the woman on duty that day was pleased he was late, because he is so frightening to some. It also enabled her to give him a little more time and attention. Catfish was pleased with his new jeans and his can of Pepsi. As Catfish left that day, Jan was burdened to pray for him.
What would bring an upper-middle-class, retired schoolteacher, and a bum to share a moment? It was the love of God that brought them together. It is that love for her fellow man that brings Jan to work at the local clothing giveaway. It is also that same love that dwells in her heart creating in her a desire to spend many a morning preparing food and serving at the local Episcopal Church so the "least of these" will have a hot meal three days a week.
Many friends wonder why Jan would want to spend time with the unfortunates of the world. Perhaps they shake their heads as she shares stories with them about men like Catfish.
To many, Catfish lived a wasted life. He was a bum. His life was lived from one drink to the next. How many of us cross the street rather than share our lives with a bum? How many of us live our righteous lives and never once reach out to the least of these?

When Jan saw Catfish that day, offering him a new pair of jeans and a can of Pepsi, she had no idea that would be the last time she would have a chance to touch his life and pray for him. The following Friday, Jan was informed that Catfish had been found dead, lying in the alley behind the liquor store. A few silent tears fell down her cheek as she thought of the man named Catfish.
His life didn't seem to amount to much in the worldly sense, but his death has caused me to rethink my life.

In addition to devoting herself to her husband and the eight children she home schools, Terri also enjoys writing and speaking to offer encouragement to women in an effervescent, humorous way. Visit her Web site at www.ignitethefire.com or e-mail her at terri@ignitethefire.com.