Training Teens On-Target, Part I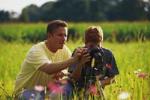 With an inward determination, the archer reaches across his shoulder and selects a favorite arrow. He checks the alignment then places it in his bow. His eye is focused on the target's center as he gently pulls back, feeling the string tighten and the tension increase. Waiting a moment, he realigns his aim . . . relaxes slightly . . . then releases his arrow . . . to hit the bulls-eye!
As homeschooling parents, our primary goal is to train our children to fulfill God's plan. It's not enough to merely hope our kids won't turn out bad; as Christians our hope is infinitely higher. Our goal is not to raise teens who never step foot in a public school classroom, who never taste a drop of alcohol or puff on a cigarette. It's not even enough to get our teenagers to their eighteenth birthday without going on a date!

Can you imagine an archer completely distracted by his surroundings and pledging, "Okay, in today's competition, I'll try not to hit that tree, I won't shoot any arrows into the river, I'll work at aiming higher than the grass and I'll try not to skewer my opponent!"  Most likely this contestant will miss even the outer rings of his target!
In training our teenagers, instead of focusing on the "NO" side of man's legalism (emphasizing endless rules and regulations) it's more fulfilling to challenge them to live on the "YES" side of God's life (emphasizing His eternal plans and purposes).
If teens will keep aiming towards the long-term goals, today's short term decisions will be easier.  For example, if your teenager daughter keeps focused on her desire to have a happy family with a godly husband, she will have the self-determination to make wholesome decisions this weekend.  If your son stays focused on a future desire for military service, he will be self-motivated to increase his strength and more attentive to his upper-level math and verbal skills (wanting to do well on standardized tests).
If teenagers aim at nothing, they'll hit it every time; but if they aim towards knowing God and fulfilling His purposes, even today's difficult decisions will make more sense.
One of the benefits of homeschooling through high school is having the freedom to tailor our teen's education to help them prepare for God's specific life-mission, whatever that may be. In the Amplified Bible, Proverbs 22:6 tells us, "Train up a child in the way he should go [and in keeping with his individual gift or bent], and when he is old he will not depart from it." I see this as more than training our children to believe in God; our responsibility as Christian parents is to train them to personally know God, to learn to recognize His voice and to follow His individual direction for their lives. 
As you think about your teenager, ask yourself:

• What are my teen's unique talents, gifts and personality strengths?
• What does my teenager love to do?
• What could be one of God's purposes for my teen?
• How can we make the best use of these teenage years for the kingdom of God - for both today and to prepare for the future?

Look for Training Teens On-Target, Part II next week.

Ann Dunagan lives with an energetic passion for the Lord and the lost. She is a joyful homeschooling mother of seven kids (ages 4 to 18) and the wife of an international evangelist. Currently, Ann is finishing a book for parents and teachers entitled, "The Mission Minded Child" and can be contacted through their ministry website (www.harvestreport.net).