Why I Flunked Kindergarten
Susan Lemons

Home School Enrichment

2008

3 Dec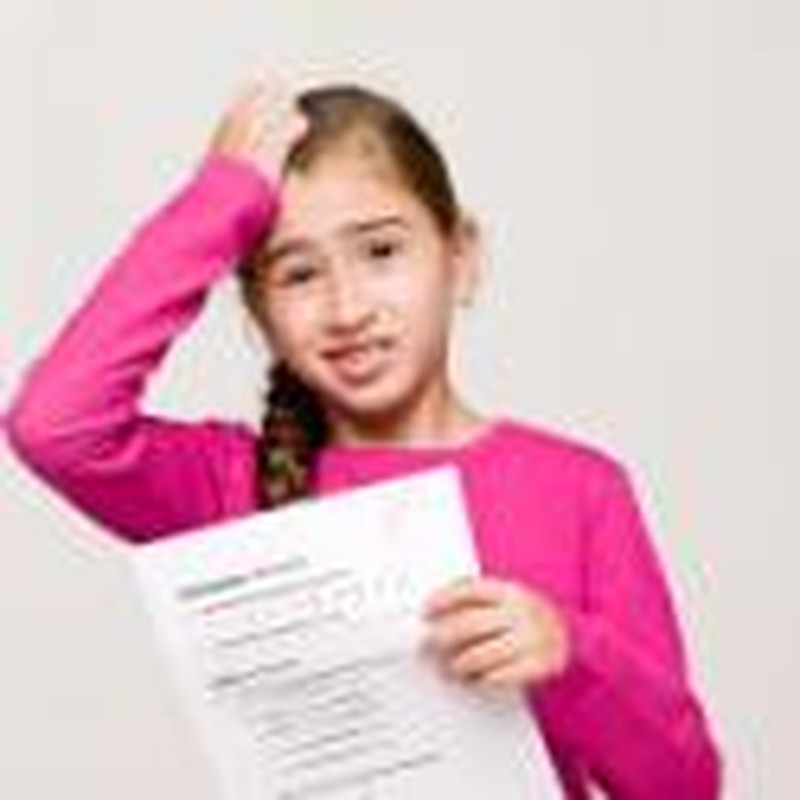 Yep, I have to admit it: I flunked kindergarten. It's embarrassing, but true. After all, I consider myself to be a fairly intelligent person. I hold two college degrees and write a column for a wonderful magazine, I keep up on current events, and I love to learn. But I flunked kindergarten.
This wasn't some type of experimental, accelerated kindergarten, either. It was an average, public school kindergarten. And this was way back in (dare I say it?) 1967, when kindergarten was kindergarten. Back then, all that was expected of kindergarteners was that they learn how to be away from their mothers for a few hours; name their colors, shapes, numbers, and letters; cut and paste; stand in line; and sit quietly for story time. But I still flunked.
Why? Why did my school career get off to such a lousy start?
I'll tell you why: Because I was just a normal little girl who wanted to play. I had no interest in school. I wasn't developmentally ready for kindergarten. I was a young kindergartener, having barely passed my fifth birthday. I was young and immature. The teacher said I was very social, talking and playing instead of listening to my lessons.
I remember what followed: My mom, with the best of intentions, spent her entire summer drilling me on the "facts." Every morning she would call me into the kitchen, stand me by our chalkboard, and make me recite my numbers, letters, basic math facts, and letter sounds till I was in tears. I felt like a failure—and I'm sure my mom did, too.
The following year I was put into an experimental program called "Pre-First." It was not an exact repeat of kindergarten, but close to it. I don't remember much else about the situation, except to say that I never flunked a grade or a class again. Now I was an older and more mature student—older than most of my peers. This never bothered me. School came easily for me from then on; I loved to learn, and I always got good grades. My experience taught me that not all 5-year-olds are ready for kindergarten. It would have been better for me if my parents had kept me at home one more year. Some children are 5 years old chronologically, but not developmentally. Developmentally, they are not ready for kindergarten . . . and that fact does not make them dumb. Even mature 5-year-olds are usually not ready for the new, "modern" idea of kindergarten, which includes intensive formal academics. Instead, give your child a more traditional, play-based kindergarten experience that is appropriate for your child's abilities.
Things You Should Know About Kindergarten
• In many states, kindergarten is not mandatory, but optional. If this is the law in your state, you don't have to worry about reporting to anyone or enrolling in any programs. Different states have different requirements and different compulsory attendance laws. Make sure you find out about the law in your state, and do some research about your options. A good place to start is www.hslda.org. You can find out about your state's laws and support networks there.
• Even if kindergarten is optional in your state, you should give your child that "kindergarten experience." Give yourself a year with a light schedule of reading, art, music, and learning games in preparation for first grade—and start when your child is 5 or even 6.
• Even though the traditional age to start kindergarten is 5, many children, especially boys, benefit from an extra year of "preschool"—even if you are planning to implement a traditional, developmentally appropriate kindergarten program. As a general rule, later is always better. Children who are given an extra year or two of play will benefit from the extra maturity, knowledge, and attention span they develop during those years.
• If you choose to forego kindergarten till your child is older, you'll probably have the option of starting him in either kindergarten or first grade the next year. Even if my child was doing first grade work, I would officially call him a kindergartener. That way, if anything happens in the future (such as a family emergency, extended illness, or learning problems), your child will be ahead of the game, not behind. This takes a lot of pressure off you and your child. You can always skip him ahead later.
• Kindergarten is the time to develop consistency and regularity in your daily routines, if you haven't already. Develop habits in yourself and your children that will help you keep your house in order, and establish a daily "school time" with your children, with a regular starting time.
• The word "kindergarten" literally means "children's garden." Kindergarten was meant to be exactly that: a wonderful year full of beauty, wonder, and play. Kindergarten has traditionally been a year of transition, a time of preparation for entry into more formal education. In most countries, "kindergarten" is a part of the preschool or "nursery school" system, and not a part of the elementary school system. Kindergarten is an entity all its own—a special, separated time. It was never intended to be just another part of the traditional school system—another year of elementary school. Kindergarten is somewhere north of preschool, somewhere south of first grade.
• Kindergarten is a time to concentrate, now more than ever, on the development of your child's character. Work out any discipline problems as best you can. See to it that your child obeys quickly and cheerfully. Train your child to be a cheerful helper. Practice table manners and field trip manners.
• Kindergarten is the time to relish those Bible stories—reading longer Bible storybooks and talking about the lessons in the stories.
• Kindergarten is the time to begin daily memory work, if you haven't already: not only Bible verses, but simple poems and nursery rhymes, tongue twisters, etc.
• Kindergarten is the time to have fun with educational games, using them to make sure your child knows all his facts: colors, shapes, opposites, letters, and numbers.
• Kindergarten is the time to extend your child's attention span to 20-30 minutes or more.
• Kindergarten is the time to begin reading chapter books aloud to your children, if you haven't already: Winnie the Pooh, The Velveteen Rabbit, My Father's Dragon, Catwings, Stuart Little, Mr. Popper's Penguins, Mrs. Piggle-Wiggle.
• Kindergarten is the time when imaginative play really blossoms. You'll hear your children assign roles: "You be the mommy, and I'll be the daddy; let's pretend we live on a boat" or "Pretend he doesn't see you, and he says, 'Oh my, where did he go?'" This is the time of life when play is as believable as real life to children. Don't make the mistake of thinking your child has outgrown the need for imaginative play.
• Some children are ready for short, game-based lessons in phonics and math. It is your job, as parent, to decide when your child is ready to go on to the next step. (You can always try a few lessons and see how your child responds.)
• Short "lessons" in the form of fun and games are appropriate; five to ten minutes of lessons in letter identification, phonics (initial sounds) or beginning writing; five to ten minutes of math games or learning how to write numbers, if, and only if, your child shows readiness and interest.
Signs Your Child is Not Ready for Kindergarten
• Your child seems immature in attention span, self-control, or speech.
• Your child won't sit still for a story that lasts longer than five minutes.
• Your child resists all your efforts to establish a "preschool" routine and only wants to play all day.
• Your child complains when you spend one or two hours on a preschool routine; he says he "has no time to play" or asks, "How much longer till we're done?"
• Your child shows no interest in learning his letters, numbers, and so on.
Remember: Even though your child is "of "kindergarten age," he still may not be ready for kindergarten, especially if you plan on implementing a more rigorous, academic program. In fact, most kindergarteners are not ready for formal academic pursuits. A traditional kindergarten program, minus the academic emphasis, is most appropriate. Make your child's kindergarten a "child's garden"—somewhere north of preschool, somewhere south of first grade—a traditional and non-pressured program. Save most of the sit-down, formal academics for first grade and beyond.
Children who are homeschooled should never be put in the position of feeling academically pressured or feeling that they are failures. They should never be drilled to tears. We can make our curriculum ready for our children, instead of trying to make our children ready for the curriculum. I flunked kindergarten simply because I wasn't ready for it. Your child doesn't have to do the same.
---
Susan Lemons and her husband have been married for 23 years, and have homeschooled their four children (ages 19, 15, 6 and 4) "from birth." Susan has earned both Associate and Bachelor Degrees in Child Development, and serves the homeschooling community as a mentor, "first contact" for new homeschoolers, and conference speaker. You may contact her at mentormom@bak.rr.com if you have any questions about her column, or about preschool at home. Visit her blog at www.HSEBlogs.com/susan
This article was originally published in the Nov/Dec '08 issue of Home School Enrichment Magazine. Get more great homeschooling help by downloading our FREE report entitled "The Secret to Homeschooling Freedom" by visiting http://HomeSchoolEnrichment.com/resources/report.htm