Writing for the Future
Karen Lange

Contributing Writer

2008

26 Mar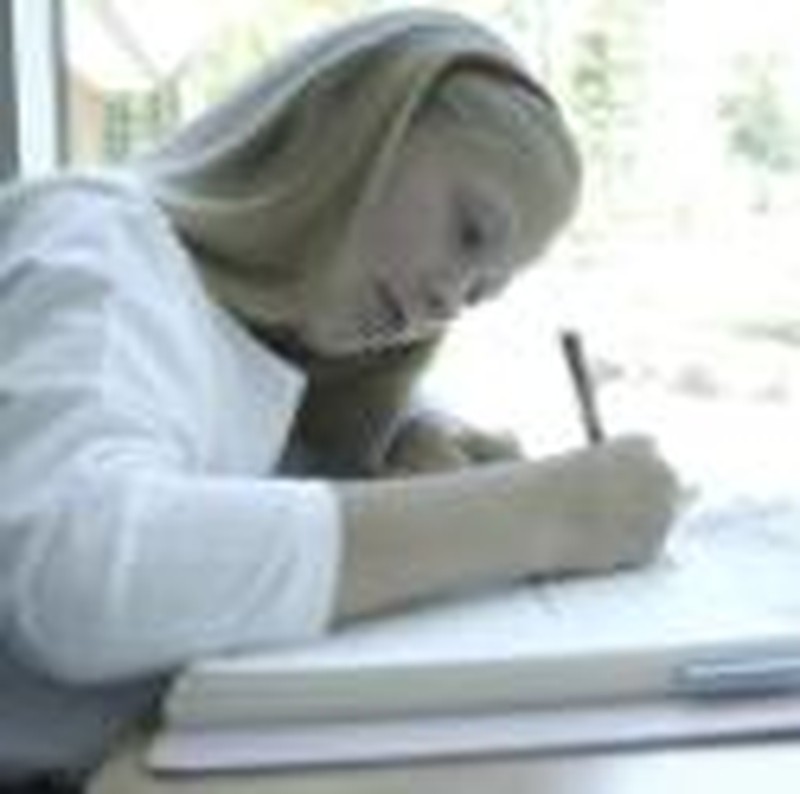 No matter what we do in life, it is necessary to write and communicate. We interact with and express ourselves to others every day. Good communication can be an important element for success. The more our writing improves, the better we will communicate. What can homeschoolers do to prepare their children in this way for the future?
Teaching writing can be intimidating, especially if you don't feel like you are a good writer. Here are some tips you can use to encourage your kids to write and polish their communication skills. Grade school, high school—age doesn't matter; it's never too late to develop good writing skills. A seventy-year-young gentleman I know took a writing course and got published. You're never too old to learn!
1. Read to Your Kids

Make family reading time a priority, if only once a week. It's a great way to share quality time together. It provides opportunities for discussion. The benefits of exposure to literature are endless. It broadens perspectives and lends to a sense of adventure. We read the Little House series, biographies, carefully chosen classics, and more. I looked for books that were interesting and relevant to my kids' lives and studies.
You can often tell which kids have been read to and/or are readers. Among other things, they sometimes have imaginations that are more vivid. They have a good sense of what sounds right when writing because they have been exposed to good literature. Reading, and being read to, opens up a world for kids that they might not experience otherwise.
2. Set a Good Example

Let your kids see you writing. Even if the only things you write are letters, lesson plans, and grocery lists, you are still writing! Keep writing and encourage the kids to do so too. The more you do it, the more you improve. My husband is a prime example (and a good sport). When we started in business twenty-some years ago, writing a business letter was not his thing. With practice and a little advice, he now writes a professional letter with very little assistance from the editing department (me!).
3. Find Writing Projects to do Together

Writing activities in a curriculum are great, but sometimes they don't spark a student's creativity. How many of us plodded through the required "What I Did On My Summer Vacation" assignments when we were students? A group project can be more fun.
When it comes to writing, especially for reluctant writers, fun is the key. Engage kids by finding short, interesting activities to start. Projects can be expanded as their skills develop. Try writing a continuing story, silly poetry, or a family newspaper together.
Some kids are great storytellers, but are too young to write it all down. Let them dictate the story while you write or type it on the computer. If they still aren't crazy about writing it all down as they get older, alternate writing with them—you write some, they write some. This way they get experience and don't get too dependent on you doing their writing for them!
4. Illustrate it!

Sometimes kids like to draw but don't like to write. Jump-start imaginations by combining the two. Write a story together, if only a short paragraph, and let them illustrate it. Find a funny picture or remove captions from cartoons and have the kids write about it.
The computer is a good tool to facilitate this. There is software available that kids can use to create artwork, and of course, word processing programs that help kids spot spelling and grammar errors. With a good balance, so as not to get too dependent on spellcheck, this can make writing seem less daunting.
Plan a night for family and friends to get together, and have the kids display or read their illustrated stories. Maybe a few other homeschool families would be interested in having an art and story fair. You could set it up as a creative exhibit, where visitors can view and talk to the kids about their work. Serve light refreshments and take pictures to make it a fun, memorable event.
5. Encourage Kids to Keep a Personal Journal

This can take a variety of forms, ranging from a weather log or a current events journal to something as simple as writing out the family meal menu. This can be done daily or weekly, depending on ability level and schedule. It can be written together or individually and shared with the rest of the family. Have them compare results from the weather log, for example, with family or friends in another part of the country.
6. Think in Extremes
Extreme or unusual stories such as tall tales often appeal to kids. Check out some books in that genre from the library and then have the kids create their own extreme or funny characters.
Interesting story starters can be helpful for extreme stories, too. Have your kids consider and write using thought-provoking questions like these: what would George Washington do if he woke up tomorrow morning in the White House? What would Abraham Lincoln be thinking if he were riding in a race car? Make sure they are questions that require more than a yes or no answer.
Go one step further and make up a list of unlikely combinations to write about. What would happen if Napoleon worked at the drive-through window at McDonald's? Or if the Wright Brothers were running the roller coaster at the fair?
7. Start a Writing Club

Gather a few like-minded homeschool families and start a little writing co-op. Each time you meet, have a parent give a short mini-lesson on writing such as fiction basics, tall tales, or poetry. Have the kids write a group story as an example for practice. Then have them bring their own work to read aloud at the next meeting. This works best, especially with shy or reluctant writers, in small groups of 5-8 kids. They can build relationships better and will feel more comfortable sharing this way. Have a publishing party and assemble their stories into small booklets after a month or two. Don't forget the snacks to make the party a real event!
Friends and I did this with our kids when they were of elementary school age. At first, the kids weren't crazy about reading their work aloud, but they soon became more comfortable. It was a great way to gently give them public speaking practice. We also had the kids comment on each other's stories—constructive comments and questions only. This helped the kids interact more and share about why they wrote the story, etc. We encouraged them to illustrate their stories and share their pictures with the group too.
8. Just Let Them Write

Let the grammar go while they get their ideas on paper. It can be hard sometimes; I know! But it's important to let them be creative and realize that they can write. Don't hover over them pointing out errors. Keep a balance with the grammar. Yes, it is important, and it has its place in a student's learning plan. But wouldn't you rather see them feel comfortable getting their ideas down as opposed to hating to write?
The saying "Choose your battles" can apply here. They're kids, and as long as they are learning and moving forward, even in small increments, you are making progress. Concentrate on the good things they've done first, and then address issues that need work down the road. A gentle and balanced approach will reap big results.
We used to choose a few things that my kids had written (in our co-ops and at home) to revise and polish. That way, they didn't feel like they had to produce a perfectly penned product every time. I wanted their best, but not at the expense of a lot of stress over writing, especially when they were younger. I wanted them to enjoy the process of writing and to be comfortable expressing themselves through the written word. There is plenty of time as kids move into the upper elementary, junior, and senior high years to focus on grammar and mechanics.
During his elementary grade years, my middle son kept notebooks of stories. Most of the stories were composed of one long run-on sentence. Punctuation was nonexistent; the spelling was terrible. The stories were good, but I cringed when I read them. However, if I had corrected everything, he would not have written at all. I let him have his writing space and we worked on things over time. The approach worked: he's an adult now who writes and communicates very well.
9. Above all, pray!

The Lord provided divine inspiration daily during our homeschool years. He is faithful and will provide it for you, too. If He has called you to teach your children at home, then He will provide the means to see it through. Psalm 138:8 is a scripture that is especially meaningful to me: "The Lord will perfect that which concerneth me: thy mercy, O Lord, endureth for ever: forsake not the works of thine own hands." That verse covers everything, even teaching writing skills!
There are many resources available to help inspire kids to write. One of my favorites for all ages is If You're Trying to Teach Kids to Write, You've Gotta Have This Book! by Marjorie Frank. This book is full of fun activities that can be used with one or more students. Other good sources include online lesson plan sites, such as www.forlessonplans.com. Many have free writing activities for grades K-12.
Your kids will need to write no matter what they do in life. Be patient; they are works in progress. Help them stretch their writing and communication skills, and you'll give them an edge for their future. You never know, someday they just might send you a thank-you note!
---
Karen Lange
homeschooled her three children K-12 in southern New Jersey. Now living with her family near Louisville, KY, and retired from homeschooling (till the grandchildren arrive!), she is a homeschool consultant, freelance writer, and creator of the Homeschool Online Creative Writing Co-op for teens. Email her at writingcoop@yahoo.com or visit her Web site at www.hswritingcoop.bravehost.com
This article was originally published in the Jan/Feb '08 issue of Home School Enrichment Magazine. For more information, visit http://HomeSchoolEnrichment.com