5 Reasons I Pray for My Husband Every Day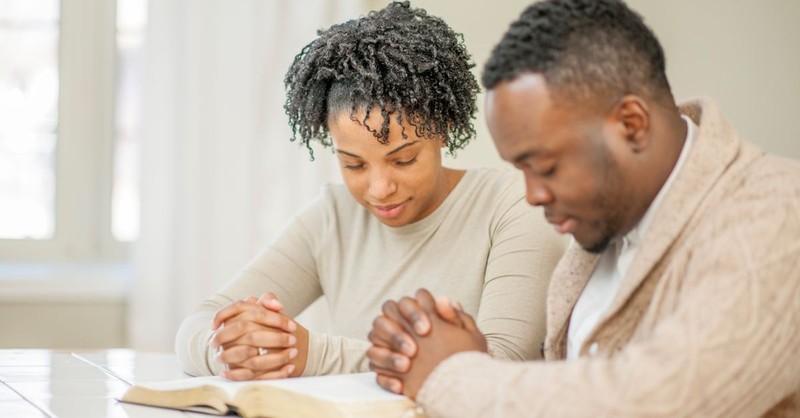 All my life I have lived in a culture of prayer. The first prayer I ever learned to pray was the Lord's Prayer, and that was only the beginning of a journey of many prayers to follow. So, as I began to grow and mature, there was a deep-rooted desire to know the Lord and to become more acquainted and more intimately involved with Him.
As I began to get past those awkward teenage years, I began to ask God for a husband—but it couldn't just be any run-of-the-mill husband. This guy had to be very special and chosen by God. Of course, I thought it would be the "tall, dark, and handsome" guy that I was looking for, but it seemed that, the older I got, the more I realized, "Lord you are the only one who knows just exactly what I need." I realized my prayers had been the prayers of a prideful image that had no basis in the Spirit, but rather had its basis in the world.
When I finally met my husband—Jamie Tuttle—at the age of 30, I realized that, when you find the person that God intended for you to have, joy will be the fulfillment of the seeker.
When Jamie and I began dating, my prayer life began to change. I want to share with you five of the main reasons I pray for my husband every day —and encourage you to pray for your husband the same way (even if you haven't actually met your husband yet).
1. I pray for my husband because the assault from the enemy never stops.
The Bible declares, "Be sober, be vigilant; because your adversary the devil walks about like a roaring lion, seeking whom he may devour." I often remind young married women in our church, "Remember, your husband is saved, but he is certainly not dead!" Temptation is always around every corner, lurking and seeking to arrest the gates of our lives. These include our eye gates, our mind gates, our ear gates, and our mouth gates.
We can't allow the enemy a foothold in any of these areas, so therefore we have to habitually make it a point to remind the enemy, "I am not ignorant concerning your schemes, and therefore I cover my husband by the blood of Jesus and you have no power and authority over him. He is an overcomer by the blood of the Lamb and the word of his testimony."
2. I pray for my husband because our family will be strong when he is strong.
There is nothing stronger than a strong, confident, bold, and authoritative man of God. As a matter of fact, I love the Scripture that says, "Wives, obey your husband in the Lord …" You know the number one reason I love this Scripture? Because it lifts the load off my shoulders to be in charge of making critical decisions.
You carry a great responsibility when you are in charge of something. Even Paul said, "Don't desire to be a leader because there is greater judgement on a leader." I know that, when it comes to strength, sure: we share in the load of responsibilities that have to be carried out week to week. But, at the end of the day, Jamie is my and our daughters' bedrock after Jesus … and I love it that way.
3. I pray that God would give him discernment and wisdom, just like God did for the men of Issachar in the Bible—men who knew the times and knew what to do.
I will gladly admit that there are times (and have been times in the past) where I have been at a loss to know exactly what to do. Yes, we both have family members that we can lean on and glean from; but we believe that there is a practical reason that the Bible specifically says,
"leave and cleave."
I love it that my husband has discernment toward our girls. I love that he is the one who makes decisions that are hard, but which have to be made. I love it that he will take the lead in our house spiritually, and that he always hears from God. He is constantly thinking of his family and others more than he thinks about himself, almost to his hurt; and he is always giving. He loves staying on the cutting edge of what God is doing. He is definitely a cloud-by-day chaser and a fire-by-night chaser.
4. I pray for my husband because I believe that he represents Jesus as a father, husband, and example to our church and community.
As I pray for Jamie, I always pray that God would give him the courage to take the lead and do it with courage. Jamie still believes that the Bible is THE Word of God. He respects his parents and how he was raised, and he instills those principles into our daughters and our marriage.
I pray that God would help my husband to be a pillar in the community because we need to see and hear more men of God standing up for truth without compromise. Jamie exhibits that as the Lead Pastor in our church, community, and in every place that God allows us to minster—whether it be locally or globally.
5. I pray for my husband because I want him to prosper in every area of his life.
Prospering has to do with so much more than finances. John said, "I wish above all things that you would prosper and be in health, even as your soul prospers." There are lots of ways that I pray that he would prosper. For example:
I pray that he would prosper in our relationship as a married couple, and that we would walk in love, harmony, and unity all the days of our lives.
My prayer is that he would prosper in his relationship with our daughters. I know how much the girls love their father—and how much they honor and respect him—and I would never want that to change.
I pray that he would prosper in his health; that he would live out all of his days in great health and strength, and that he would run this race. I pray also that, if Jesus tarries, my husband would finish strong.
Finally, I pray that he would prosper mentally, and that he would thrive as a communicator of the Gospel. I pray that there would not be any room for confusion, discouragement, or any other emotional distraction; but that he would be strong in his mind and thought processes all the days of his life.
Do you pray for your husband? Even if you aren't married yet, you can and should cover his life in prayer. If you haven't yet begun to pray, take these 5 prayer points I mentioned above and begin to lift your husband or future husband to the Lord. You will see answers, whether now or in the future, and your time spent in prayer will not be wasted.
Image Credit: ©GettyImages