A Prayer for a Spouse Who Won't Communicate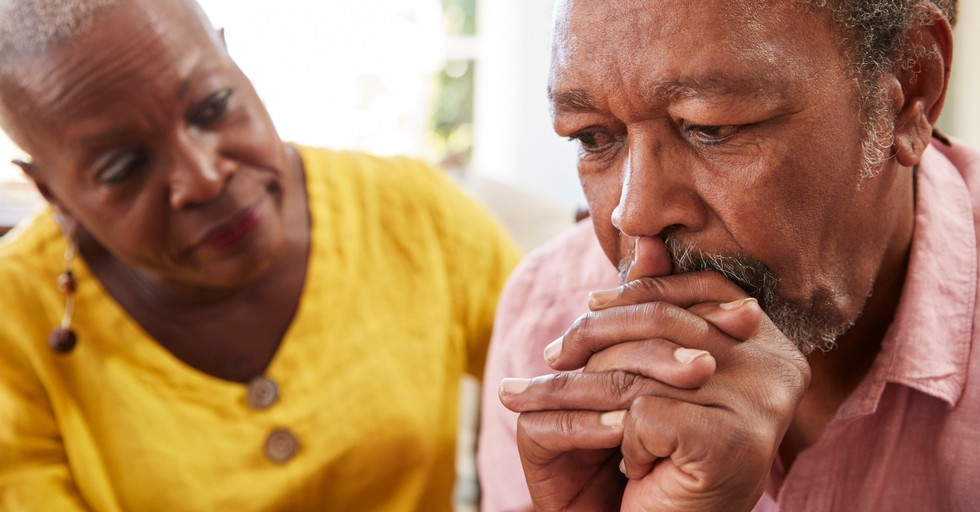 My husband and I were only 21 when we married. High school sweethearts, young and in love, we had a lot of growing up to do in life, especially in communicating with each other. Now we're almost fifteen years into marriage, and it still doesn't come easy. Sometimes I wonder how conversations in those early years seemed so simple. Maybe it was because, back then, communication looked like deciding how many episodes of Lost we wanted to binge watch that particular evening, or whether or not to do a midnight Taco Bell run for a cheesy gordita crunch.
Nowadays, communicating looks more like talking through circumstances, such as whether or not to make the career change, to homeschool or not, to move or not, to buy the truck or not. It looks like disagreeing with as much enthusiasm and stubbornness on big issues, such as how to parent a particular child, as the small issues, such as how you should pack to go camping. You would think after becoming parents and working through sleepless nights, and settling differences when hormones rage and tensions rise, that what followed after would be a piece of cake, but it's not. Communication is work–hard work.
Photo Credit: © Getty Images/monkeybusinessimages
The Struggles of Two Souls Meeting

Slide 1 of 3

Sometimes communication feels very one-sided. Sometimes one spouse hears from God, and the other one feels their spiritual relationship is dry, causing resentment or jealousy. Sometimes one spouse wants to go to counseling, and the other doesn't. Sometimes both spouses are willing to show up on that worn couch, but not spill the equally worn heart that has led them there.

Storms come, seasons of rain, where we've felt as if ourselves and our marriage was drowning. Those early memories of easy conversations drifting away. No longer do we share sentiments of the Christmas fabric that hung over our windows because we couldn't afford curtains, instead we share frustration and hurt. We've been desperate for the sun to come out and with it, bring joy. We keep praying for the continual merging of two souls, despite the mundane moments of life. In the middle of a storm it's hard to see that the rain washes away the brush that needs to go, the selfishness that hinders a healthy marriage. Making way for new growth.

Photo Credit: © Getty Images/Prostock-Studio

The Price You Pay for Deeper Connection

Slide 2 of 3

Marriage is full of ups and downs. Rain and droughts. It can be lonely in the kind of desert that marriage feels like at times. I've been there, God met me in that place. When things felt dry, he showed me ways I had put my husband on a pedestal where He should have been. He exposed areas in which I had solely relied on my spouse expecting my husband to fill voids I didn't know existed that only the giver of life himself could give life to. This perspective shift opened a door, allowing new ways for my marriage to thrive.

I once attended a marriage conference that said conflict is the price you pay for a deeper connection. Without these conflicts and moments with a non-communicative spouse it's hard to achieve a deeper connection, healthier marriage.

Scripture to Remember When Your Spouse Won't Communicate:

"Love is patient and kind; love does not envy or boast; it is not arrogant or rude. It does not insist on its own way; it is not irritable or resentful; it does not rejoice at wrongdoing, but rejoices with the truth. Love bears all things, believes all things, hopes all things, endures all things." (1 Corinthians 13:4-7)

"Love one another with brotherly affection. Outdo one another in showing honor." (Romans 12:10)

"Set me as a seal upon your heart, as a seal upon your arm, for love is strong as death, jealousy is fierce as the grave. Its flashes are flashes of fire, the very flame of the Lord. Many waters cannot quench love, neither can floods drown it. If a man offered for love all the wealth of his house, he would be utterly despised." (Song of Solomon 8:6-7)

"And above all these put on love, which binds everything together in perfect harmony. And let the peace of Christ rule in your hearts, to which indeed you were called in one body. And be thankful. Let the word of Christ dwell in you richly, teaching and admonishing one another in all wisdom, singing psalms and hymns and spiritual songs, with thankfulness in your hearts to God. And whatever you do, in word or deed, do everything in the name of the Lord Jesus, giving thanks to God the Father through him." (Colossians 3:14-17)

Photo Credit: © Getty Images/imtmphoto

A Prayer a Spouse Who Won't Communicate:

Slide 3 of 3

Dear Lord,

We feel defeated. Tired of striving for perfection, in ourselves and our marriages. Marriage is hard, help us remember the gift it can also be. The conflicts and communication problems are overwhelming. May they be an invitation into a deeper connection, a thriving marriage.

It is easy to put others on pedestals, especially our spouses. Turning to them to fill the voids we feel. Expecting more than they can offer at times. When they don't communicate, may we move into more conversation and prayer with you.

Help us to find refuge in you when the storms in marriage come. Wash away our selfish ambitions. Help us to be there for our spouse when they are weak, when their spiritual life seems dry, when we can't see where they are coming from, or when they simply don't care to try in return.

Help us to be patient with them while continuing to hope for a better marriage, better communication. Help us love them as our brother or sister in Christ. May you be at the center of our marriage, helping us withstand the rain and droughts of rough seasons. May our love be a fire, burning for you. Help us strive side by side for the gospel.

Lord you can redeem all things. I pray we can come together and communicate the way you would have us, God, so that our marriage would point others to you. That we would be an example to our kids, friends, family, and all, of what good communication and a healthy, thriving marriage looks like. We are thankful to be able to come to you even when we can't come to our spouse.

We love you Father,

Amen

---

This article is part of our Prayer resource meant to inspire and encourage your prayer life when you face uncertain times. Visit our most popular prayers if you are wondering how to pray or what to pray. Remember, the Holy Spirit intercedes for us and God knows your heart even if you can't find the words to pray.

Serenity Prayer
The Lord's Prayer
Irish Blessings & Prayers
Morning Prayers
Good Night Prayers

Prayer for Healing
Prayer for Protection
Prayer for God's Help
Prayer to the Holy Spirit
Prayer for Strength

Photo Credit: © Getty Images/Katarzyna Bialasiewicz