Are Interfaith Marriages "Okay?"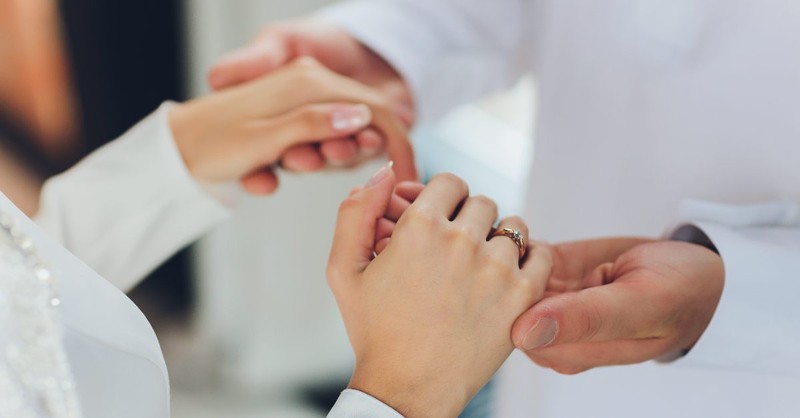 As a woman in ministry and a pastor's wife, I cannot count the number of times women have asked me whether or not interfaith marriage is okay. This is an interesting question to pose, one that comes complete with heartstrings attached, fear of judgment within the church, concern about parenting, and eternal ramifications. When considering whether or not interfaith marriage is "okay," I find it helpful to look at biblical precedent and for biblical advice. Additionally, looking at statistics can help us better look at the long-term effects of interfaith marriages within our culture today.
What Is Interfaith Marriage?
First, it is helpful to determine what exactly interfaith marriage is. Simply put, interfaith marriage is a union between two people of different faiths. Although this may seem pretty straightforward on paper, individuals may find themselves in interfaith marriage for many reasons. I have dear friends who came to their Christian faith after they met and wed their spouses; likewise, I know women who at the time of their wedding married a spouse of the same faith, only for that spouse to later walk away or denounce their faith.
Additionally, I know both men and women of strong Christian faith, whereas their spouse claim to hold a Christian belief but never really grows in that faith—while these marriages certainly are not considered "interfaith," they may experience several of the same frustrations and difficulties that an interfaith marriage may present. Finally, interfaith marriages are also made up of couples who knowingly married despite their differences of faith.
What Does God Say about Interfaith Marriage?
Throughout Scripture, we find several passages that caution and out-right advise against interfaith marriage. Under Levitical and Mosaic law, as found in passages from Genesis, Deuteronomy, and Joshua, Israelites were commanded not to intermarry with other tribes who had belief in pagan gods.
"That I may make you swear by the Lord, the God of heaven and God of the earth, that you will not take a wife for my son from the daughters of the Canaanites, among whom I dwell, but will go to my country and to my kindred, and take a wife for my son Isaac." Genesis 24:3-4
The prophet Malachi had a pretty stern warning for the tribe of Judah about interfaith marriage; "Judah has been faithless, and abomination has been committed in Israel and in Jerusalem. For Judah has profaned the sanctuary of the Lord, which he loves, and has married the daughter of a foreign god." Malachi 2:11
These cautions are repeated in the New Testament as well. The Apostle Paul warns the church in Corinth about interfaith marriage, writing, "Do not be unequally yoked with unbelievers. For what partnership has righteousness with lawlessness? Or what fellowship has light with darkness?" 2 Corinthians 6:14
Are Interfaith Marriages Wrong or Sinful?
When considering the question of interfaith marriage being "wrong" or "sinful," we have to dig a little bit deeper. If we are believers and have our faith in Christ, then we need to understand that we are not bound by Mosaic or Levitical law; however, we should still heed to the sage advice of Paul when considering stepping into an interfaith marriage, whereas if we are already married, and in an interfaith marriage we should hold tight to our faith, use that faith to influence our spouse and ultimately honor God. As a side note, an unbelieving spouse is not Biblical grounds for divorce.
Interfaith marriage is not necessarily "sinful," but we must ask ourselves if, as Christ-followers, we're really honoring God by doing something "not sinful" but also potentially damaging. It is not sinful to stare at our phones all day, but does it bring honor and glory to God? No. There are plenty of things that we can do in this life that aren't ultimately a sin but are difficult and damaging to our own lives and the lives of others.
While, yes, interfaith marriages can experience a robust and rich relationship that stands the test of time, there may also be numerous issues that arise in those relationships. Add children to the mix, and those issues can become relationship-ending-deal-breakers.
What Can Happen in an Interfaith Marriage?
Interesting statistics about interfaith marriage:
Roughly one-third of evangelical marriages end up in divorce. However, when an evangelical marries a non-evangelical, the divorce rate climbs to 50%.
Two-thirds of those between the ages of 36-45 were in an interfaith marriage, while about half of all marriages are interfaith no matter what the age happens to be.
80% of those in an interfaith marriage believe that having similar values is more important than having a similar faith.
Children of interfaith marriages are twice as likely to be brought up in the mother's faith than the father's.
When one spouse is more religiously active than the other, there is a higher level of marital dissatisfaction.
The risks of divorce increase for an interfaith marriage when a husband attends services more frequently or a wife has a more conservative religious outlook.
I find it fascinating that secular statistics around interfaith marriage often support biblical precedent. In today's culture where "love is love," it does cause me to stop and reflect on just how far the world's version of love will really get us. Our culture talks about the concept of love (or worldly love), and yet our societies are marred by trauma, broken marriages, violence and abuse within relationships, and so forth. Disturbingly enough, when researching for this article, I found grotesque and horrifying statistics around honor killings that take place across the globe as a result of interfaith marriage. Clearly, with all our good intent and idealism, humanity is still missing the boat pertaining to true love.
As Paul writes in 1 Corinthians 13:4-7, "Love is patient, love is kind. It does not envy, it does not boast, it is not proud. It does not dishonor others, it is not self-seeking, it is not easily angered, it keeps no record of wrongs. Love does not delight in evil but rejoices with the truth. It always protects, always trusts, always hopes, always perseveres." This Scripture is given to newlyweds and is used in wedding vows. It's a pretty lofty perspective on love. Some might even call it idealistic, but as we reflect on these words, I get stuck on this line in particular, "it does not dishonor others."
Questions to Ask Before Entering an Interfaith Relationship
As Christ-followers, if we're considering entering into an interfaith relationship, we might want to ask ourselves a few questions first:
Is this relationship ultimately honoring God?
Will this relationship strengthen my relationship with God?
Can I compartmentalize my faith and remove it from this relationship?
If we answer "no" to any of these questions, then perhaps we should consider whether we should pursue this relationship, whether it be interfaith or anything else. If we consider our lives and relationships in light of eternity, we will be compelled to weigh heavily how we behave in this life. If you are currently in an interfaith marriage, this applies to how you treat your spouse. Are you loving your spouse well despite your difference in faith, or are you condemning your spouse? As a single person considering an interfaith relationship, we must return to those introspective questions and really ponder, "Is Jesus first in my life, or am I putting my desire to be in a relationship before Him?" These are all hard questions to ask and sometimes even more challenging to walk out. But as we do, we are growing in our faith and becoming more and more like Jesus. Isn't that the whole point anyway?
Photo Credit: ©iStock/Getty Images Plus/Vershinin
Rachel Baker is the author of Deconstructed, a Bible study guide for anyone who feels overwhelmed or ill-equipped to study the word of God. She is a pastor's wife and director of women's ministries, who believes in leading through vulnerability and authenticity. She is a cheerleader, encourager, and sometimes drill-sergeant. She serves the local church alongside her husband, Kile, in Northern Nevada. They have two amazing kiddos and three dogs. Rachel is fueled by coffee, tacos, and copious amounts of cheese. For more on her and her resources to build your marriage, see her website: www.rachelcheriebaker.com or connect with her on Instagram at @hellorachelbaker.