Children Change Everything - Especially Your Marriage
Deborah Raney and Tobi Layton

Contributing Writers

2006

6 Jun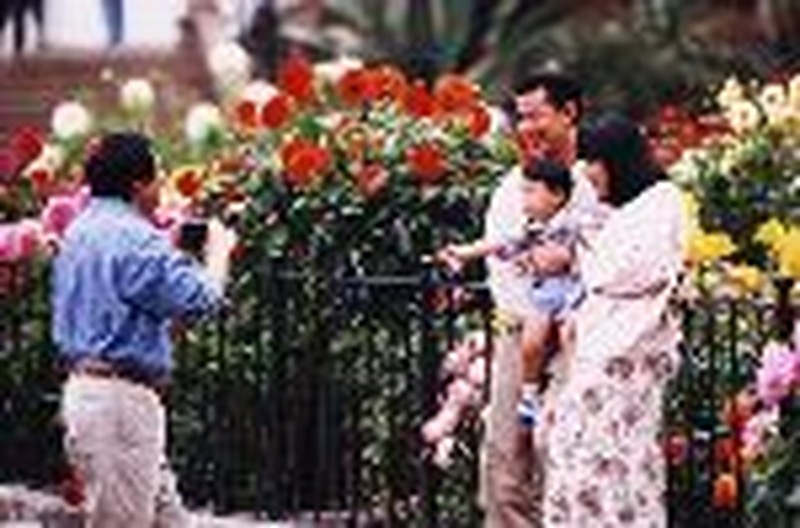 A fresh perspective…
Tobi Layton
Everyone warned us it would happen. We believed them, but never really understood the full effect until we experienced it for ourselves. Children change everything! Just a few short months ago, Reed entered our lives and, like everyone predicted, we will never be the same.
Virtually overnight, our lifestyle changed. Gone are the days of taking off on a whim. It's hard to be spontaneous when you have to pack three bags in order to leave the house for one hour. We spend a lot more time at home now, which, incidentally, has changed too. Decorating is a passion of mine, but I can see it will have to take a backseat for a few years. Reed isn't even crawling yet and already our house is strewn with toys, blankets and tiny clothing. I've tried to disguise the baby mess with well-placed containers. Martha Stewart and my mother taught me that you can hide almost any clutter in a basket. But it's not easy to hide a Diaper Genie. Believe me––I've tried.
Our free time has also taken a hit. Any scheduling must revolve around Reed's highly demanding eating and napping routine. Further, I can't make even simple plans without checking with Ryan first, and he has to do the same for me. We have to build in an additional hour to get ready to go anywhere, and that's not factoring in emergency time for a possible diaper blowout.
Finally, and probably most drastically, our relationship has been transformed by this little ball of joy and responsibility. We are often so busy trying to keep Reed's and our own basic needs met, that it's easy to neglect each other. I came to that realization recently after a rather substantial argument.
Even though we have both been spending more time at home together than before, I was feeling lonely. We were both present and very involved in Reed's care, but neither of us had really taken the time to care for the other. In short, we were putting so much time and energy into nurturing our little one that we had nothing left to nurture our marriage. What could be more important to our son's well-being than growing up in a healthy, intact family? We made a commitment right then to devote time to maintain our marriage. Then we scheduled a date night. After all, if it ain't broke, it still needs oiling and tuning up.
Everyone tells us it will get easier. Reed won't be nursing every two hours forever. In a few months, we'll be more comfortable leaving him with a babysitter occasionally so we can find time to do some of the things we used to enjoy together.
Eventually, potty training will make those pesky diaper changes a thing of the past. Of course, by then it'll be time to think about Baby Number Two.
A seasoned perspective…
Deborah Raney
Graduation is always a poignant time of year for me. Especially so, now that—after almost three decades of being hands-on parents—the empty nest is screaming down on my husband and me. Three short years from now our youngest will graduate from high school and we'll be facing the end—the very end—of our parenting years.
How is it possible that we're so quickly arriving at this time of our lives? Wasn't it only yesterday we were changing diapers and getting up groggy-eyed for those middle-of-the-night feedings? Or bemoaning the fact that we never had a moment to ourselves and that all our income was gobbled up by teenagers guzzling the gas in our vehicles, sporting adult-sized appetites and wearing adult-sized (and adult-priced) clothes?
As we watch our daughter and her husband care for their little boy—our adorable first grandchild—the memories come crashing back. They're mostly good ones—treasured scenes of precious little boys and girls who looked at us with the same adoring eyes Reed gazes at his mommy and daddy with. We watch him grow and it reminds us again of the funny stories of our family's life—stories we've told a hundred times, and that our children will tell their children and their grandchildren down through the generations. It seems impossible we could be nearing the end of that life we've grown so comfortable with.
Still, as much as we've loved parenting our four children, as often as we've declared we wouldn't trade any amount of freedom for time spent with our kids, I must admit I'm looking forward to the empty nest. And I think my husband is too. I feel a touch of guilt making that statement. After all, once a mother, always a mother. Right? Well, of course, we'll never stop being Mom and Dad to our kids, but if we do our job as parents well, the goal is to put ourselves out of a full-time job. It's the way God planned it, and we're discovering that God's plans are always, always good.
I'm excited about having a little more time to spend with the father of my children, the love of my life. I'm looking forward to exploring new horizons together, getting to know the people we've become over the years, falling in love all over again.
But I'm also delighted that part of God's plan for us is grandchildren. How sweet to discover that this stage of life brings another taste of all the things we loved about being parents—and two genuinely nice people to send the baby home with at the end of the day.
Discussion:
Read Psalm 127:3-5 and Psalm 103: 17, 18
• The Bible speaks of children as a blessing from the Lord. Has that been your experience? Why or why not?
• In what ways do your children enrich and bless your relationship? How do they challenge your marriage and your time and energy?
• What adjustments did you and your spouse have to make when you welcomed your first child into your home? If you have other children, was the adjustment more or less difficult with subsequent children?
• Brainstorm some creative ways you and your spouse might make extra time for each other, in spite of the pressures of parenting.
• Do you look forward to the empty nest or dread it? Have you and your spouse talked about your expectations for the years after your children are grown? Do you see eye to eye on the things you'd like to do and accomplish during this time of extra freedom?
• If you have grandchildren, how has that affected your relationship with your spouse? With your grown children?
Thank God for each season of your life and ask him to help you make the most of the time you have/had with your children, and the extra time you are given once your children are grown.
---
Deborah Raney is at work on her nineteenth novel. Her first novel, A Vow to Cherish, inspired the World Wide Pictures film of the same title. Her books have won the National Readers' Choice Award, Silver Angel for Excellence in Media, and have twice been Christy Award finalists. Her newest series, the Hanover Falls Novels, will release from Howard/Simon & Schuster. She and her husband, Ken Raney, have been married for 35 years. They have four children, two little grandsons, and enjoy small- town life in Kansas. Visit Deborah's website at http://www.deborahraney.com.
Tobi Layton is a fifth grade teacher and freelance writer in southeast Missouri. Tobi has been married for eight years to Ryan Layton, a high school biology teacher. Tobi and Ryan are involved with the high school and junior high youth groups at their church in Cape Girardeau, Missouri. The Laytons have two sons.
Tobi Layton is the daughter of Ken and Deborah Raney. The Raneys and the Laytons share an August 11 wedding anniversary.