Ride Down Memory Lane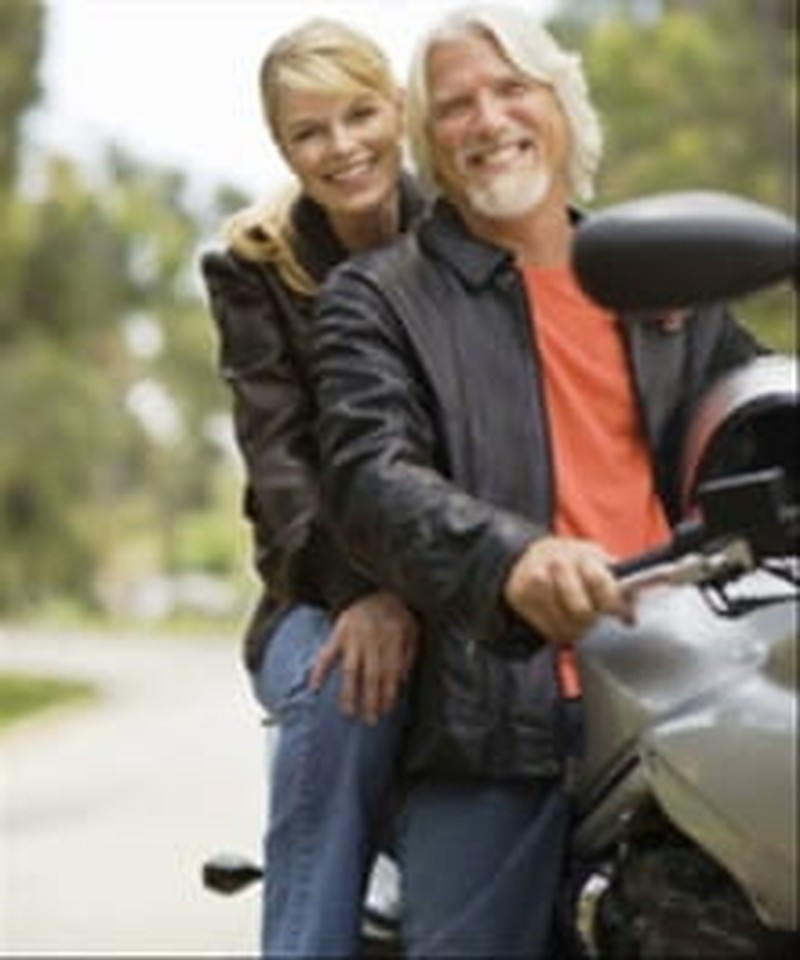 Julie and Mike had been married for twenty-four years when she sent me the email for my book, 52 Ways to Wow Your Husband: Put a Smile on His Face. She described her most creative wow date for her guy, a real ride down memory lane:
When I met my husband, he was a "wild at heart" twenty-four-year old whose primary source of transportation was a very fast motorcycle! Shortly after children arrived on the scene, we sold the bike and bought a used mini-truck, which was much more suited to carrying bicycles, golden retrievers, and other "kid stuff." It must have been hard for him, but he never complained. Our most creative date came just after we sent our youngest child off to kindergarten.
On the morning of our anniversary I gave him a card with money I had secretly saved up and directions to our first destination—a motorcycle shop where I had arranged to rent a Harley-Davidson for the weekend. It was such a thrill to see the smile on his face as we climbed onto that bike. It took us back to the time when we fell in love! Our final stop was a little romantic cabin in the mountains where we celebrated—kid, dog, and truck free! I was blessed to be able to remind him that I will never forget who he is or the many selfless sacrifices he makes for our family.
What does your man need to remember about himself? Take him back to:
The stadium
The ranch
The racetrack
The wilderness
The ocean or lake
Husbands can wow their wives this way too. What did your wife love when you first met her? I loved photography, but I gave up hopes for a nice camera when we married in exchange for more practical and immediate needs—helping Bill garner his seminary degree. So the camera he gave me for a mid-life Christmas has much more meaning than Kodak™ ever estimated!
Jesus used this "take them back" technique with Peter to prepare him for the future he had planned for him. It started with Jesus asking his followers, his disciples:  
"Who do people say the Son of Man is?" 
Simon Peter answered, "You are the Messiah, the Son of the living God."
Jesus replied, "Blessed are you, Simon son of Jonah, . . . I tell you that you are Peter, and on this rock I will build my church  . . ." (Matthew 16:13-18)
Peter's name means "rock." What does your spouse's name mean? What does your mate need to remember about him or herself? Make wow-date of this truth and ride down memory lane. Take him back to where he loved to be when you first met him and let him enjoy some of his first loves. Take her back to the places she enjoyed when you first started dating or that first year of marriage. Tell him/ her what you first saw attractive, what first caught your eye. You might also compliment him/her on becoming his/her namesake.
I first laid eyes on Bill at a leadership conference at Arrowhead Springs-- his name, William, means "guardian of the gospel." My name means "sweet, like honey" It was a sweet date to rewalk the grounds at Arrowhead, this time as a pastor and his "honey."  
Bill and Pam Farrel are international speakers, authors of over 35 relationship books including best selling Men Are Like Waffles, Women Are Like Spaghetti. They are also mid-life specialists, Bill is the facilitator of www.midlife.com, Pam is founder of www.seasonedsisters.com  and together they will host an upcoming PEAK Living conference for those in life's second half. Www.Love-wise.com
Publication Date: June 14, 2012