7 Signs You and Your Spouse Need Marriage Counseling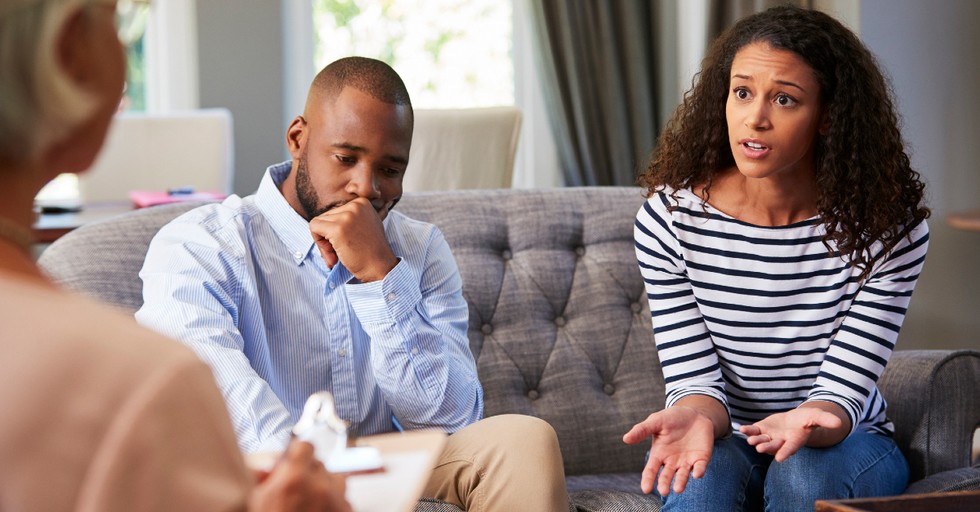 Some shout from the rooftops that they are in marriage counseling and, because of their good experience, encourage all married couples to follow suit. Others take a more private approach and prefer to keep their season of counseling to themselves. Wherever you fall on that spectrum, please be assured that seeking and receiving biblical marriage counseling is nothing to be ashamed of or embarrassed about.
In heaven, we will perfectly live out our role as the bride of Christ. But sadly, on earth, our marriages are tainted by sin and are undoubtedly imperfect. Seeking help to make your marriage as strong and God-honoring as possible is a sign of strength, not weakness.
No two marriages look the same, even within the church. Therefore, the signs pointing to a need for marriage counseling might look different for different couples. However, some basic signs apply to everyone. Let's look at some of these together.
Photo credit: ©GettyImages/monkeybusinessimages
1. You and your spouse are both indifferent.

Slide 1 of 3

We've all heard the phrase, "we're like ships passing in the night." If this describes you and your spouse, I suggest asking yourself one simple question. Do either of you care?

It's quite normal to have busy seasons where your physical and emotional closeness suffers. This is especially common if you have children, if you both work full time, or if you're both heavily involved in extracurriculars. Because these seasons are normal, they aren't an immediate sign that your marriage needs help. However, if you or your spouse can honestly say you don't mind passing like ships in the night, then it's definitely time to seek biblical counsel.

2. Most of your interactions are negative.

Because life is stressful, we get tired, and most of us are not experts in communication, negative interactions are bound to happen. The question is, are they a rare occurrence or a regular part of your marriage? This doesn't have to mean you're yelling at each other, slamming doors, or throwing things. This can look like intentional disrespect, giving the cold shoulder or the silent treatment. If your interactions are regularly strained in any way, seeking help to strengthen your communication skills is wise.

Perhaps you always feel misunderstood, or your intentions are constantly being questioned. Maybe your negative interactions keep you both from wanting to talk deeply with one another. If your marriage lacks healthy communication, talking with a biblical counselor can help emotionally reunite you.

Photo credit: ©Getty Images/Fizkes

3. Others express concern for your marriage.

Slide 2 of 3

If you've ever had a friend or family member approach you with concerns about your marriage, I would ask that you consider how you responded. Were you defensive? Were you surprised or humbled? Did you walk away in a huff, or did you hear them out? We often see ourselves differently than others do, so sometimes, we need someone outside to look in and give us their observations. Do they see closeness or distance? A connection or a disconnect? Warmth or coldness? Would they describe your marriage as being healthy or in need of care?

As humbling as it is, allowing others to assess your marriage can be incredibly eye-opening. If the assessment is healthy, then rejoice! If the assessment shows areas that need work, be open to getting help. Getting help to strengthen weak areas now can prevent those areas from breaking later down the road.

4. One of you has been unfaithful.

We can praise God that, through the work of the Holy Spirit, marriages do survive unfaithfulness. Even so, we can't ignore the fact that infidelity is a violation of trust that takes time to restore. There is so much destruction left in the wake of infidelity. It's easy to get stuck in a cycle of casting blame and perpetuating the hurt. It's easy to let insecurities creep in, take over, and cause even more damage.

Biblical marriage counseling can offer you both a safe place to process through the pain and move towards healing. You may even find that individual counseling is beneficial alongside your marriage counseling. Working through this pain won't be easy, quick, or comfortable, but Lord willing, your marriage will come out stronger and healthier than you ever imagined.

Photo credit: © Getty Images/Prostock-Studio

5. Your marriage lacks intimacy.

Slide 3 of 3

A lack of intimacy can be a sign of a bigger problem, but sometimes it's as simple as wrongly assuming your spouse feels intimate in the same way you do. Ask your spouse what activities make them feel intimate if you've never done so. You might be surprised by their answer.

You may find that for your spouse, intimacy equals sex. Or you may find that they have a long list of activities that don't include sex at all like, holding hands, snuggling, hiking together, or watching movies. Perhaps an uninterrupted conversation makes them feel more intimate than physical touch. Or maybe their list includes movie-watching and love-making!

If intimacy is lacking in your marriage - for any reason, biblical marriage counseling can help. Sometimes a third party is needed to ask good questions and help draw out the answers we're often too insecure to give. This will also help uncover any underlying problems that may be contributing to this problem.

6. You're struggling with infertility.

Infertility can leave couples feeling hopeless and helpless. The thought of having a baby can become all-consuming and fill them with anxiety and depression, as well as feelings of shame, guilt, and worthlessness. Infertility can cause division in marriage. As emotions run high, it's easy for couples to blame one another or lash out in anger. It's easy for sex to become a chore associated with disappointment. Prolonged sadness can lead to a lack of intimacy of every kind.

Infertility can also cause a crisis of faith. It's easy to question God's love for you, to wonder if he hears your prayers or if he's punishing you for something. Marriage counseling can help you process the pain, learn how to support one another, and look to the future with hope and expectation.

7. One or both of you has experienced past abuse or trauma.

We all bring baggage from our past into our marriage. The problem is, we don't always realize how that baggage affects our relationship with our spouse. As a biblical counselor, I have seen people who have suffered abuse/trauma, sought counseling, and considered themselves free from that past experience. Yet, to their surprise, the current problems in their marriage were directly linked to that experience.

If you or your spouse has suffered abuse or trauma of any kind, there's wisdom in talking through that experience with a counselor. Let them help you assess the health of your marriage and whether or not your past is affecting your present. Because there are endless counseling options available to us, it's easy to simply choose a counselor based on price or proximity. However, if you find that marriage counseling is something you need, I highly suggest seeking out a biblical counselor.

God's Word speaks to any and every problem you will ever encounter in your marriage. Why not invest in your marriage by seeking wisdom and guidance from your Heavenly Father. Consider allowing God to guide you, through the service of a biblical counselor, to a stronger, healthier marriage. His grace is enough, His Word is sufficient, and His love for you is everlasting.

Photo credit: ©GettyImages/Rawpixel