Successfully Answering God's Call to "Leave and Cleave"
Betsy St. Amant

Contributing Writer

2006

29 Mar

COMMENTS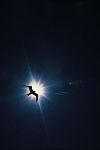 One of the most difficult things for a newly married couple to do is spread their wings and leave the comfy, familiar nest of Home. It can be scary, flying out into the world on unstable wings. At first it's fun, soaring in the wind and gazing at life happening all around you. Then you realize it's time to come down, and without the proper gear, you might be in for an emergency landing!

But it's not just newlyweds that struggle with leaving the nest. Some couples struggle for years – perhaps even the duration of their marriages – to cut the apron strings. As scary (and exhilarating) as leaving the nest can be, it's extremely important because it serves as the glue that bonds you and your spouse together. Until you successfully fly the nest, you and your spouse cannot experience the full plan God has for your family.
Defining Your New Family: The Struggle Is In the Details
At first, flying the nest sounds like a simple concept. Most couples do not live with their parents after they are married, so physically they appear to be out on their own. But we need to take into account the tougher elements of leaving and cleaving – the emotional, psychological, and spiritual realm. Let me share a few snags we ran into.
My husband and I came from very opposite backgrounds. He lived through the divorce and remarriage of both parents and because of this, he was used to a certain amount of independence. His idea of family life included an element of "figuring it out for himself." I, however, grew up in the stereotypical Christian home with an extremely close-knit family where Daddy took care of everything and everyone. I proudly played my role as the "baby."

Chances are your backgrounds are different too. If you're not careful, these fundamental differences will have you clashing over the ways you used to do things instead of forging a new life together.
And sometimes, we weren't careful.
As the "baby," when challenges arose in life, I found myself wanting to run to my father for help rather than trusting my husband to make the right decision for us. For almost a year I would logically argue, "Why guess and maybe get it wrong, when we can just ask dad and get it right?" I didn't realize how important it was to start applying the glue of "leaving and cleaving" to my marriage. I was accustomed to going to my dad because he had never let me down. Flat tire? No problem, Dad will be right there. Sewer lines backed up? He's on the way with the Rotor rooter! Engine light came on in the car? Dad will look at it tonight! I wasn't giving my husband the chance to "fix it" and build trust between us.
One evening, I had a breakthrough. Driving home from work, I noticed that the gauges on my car's dash looked funny. I was worried that maybe I shouldn't drive any further. I picked up my cell and was halfway through dialing my parent's home number when I stopped, hung up, and dialed my husband instead. I told him about the problem, and he promised to look at it that evening, assuring me that I was safe to come on home. We changed my oil, aired up my tires, and that was that. Such a simple thing, yet I could have ruined the evening by reverting to my single-girl habits rather than submitting to my newly acquired role as "wifey".
Decision-Making as One – Not Three or Four
There are a lot of decisions to make as a newlywed couple. Where will we live? How do we budget our money? How can we afford everything we need? When will we have children? How can we have children when we can't even afford to go see a movie?? At times it will seem easier to run back to mom and dad, but it's definitely more rewarding to persevere and work through your problems as a team. There's nothing wrong with accepting a little help now and then – our parents certainly have valuable wisdom to offer -- but making it a habit isn't healthy for your marriage. I've come to realize that the first few years of marriage are perhaps the most trying, but are also possibly the most rewarding as we struggle to live and bond together.
The Bible tells us in Genesis 2:24 "Therefore shall a man leave his father and his mother, and shall cleave unto his wife: and they shall be one flesh." Those good ol' "leave and cleave" instructions are not something to skim past! God gave us that guidance for a reason. If we are to have a loving, successful, God-centered marriage, we have to do everything we can to bind ourselves together.
But what about those times when it seems the sky is falling? You find yourself staring at your checkbook trying to decide if you'd rather buy groceries that week or get the car fixed, because both are out the question. Or you get excited about having a little extra spending money that month only to realize your doctor bill hasn't yet arrived. The sewer backs up (for us, usually anytime that the dishwasher and washing machine are running at the same time!). The dogs get out; the laundry softener stains your clothes blue; your dishwasher starts smoking uncontrollably; the closet door falls off its hinges, both your cars break down (at the same time!) and somehow, the Christmas decorations won't fit as neatly in the attic as they did the year before. These months will come along, but this is life. This is marriage. This is your choice – and it is also a gift.
Yes, marriage is sometimes hard work. It's also a lot of fun. But it is always a team effort. Joining together as husband and wife goes far beyond physical intimacy. It is a full connection of your hearts and minds. It is a bond that doesn't take away from your individuality, but rather celebrates your uniqueness as you both compliment each other as God intended. "What therefore God hath joined together let not man separate."
It's time to fly the nest together, to look out into the world with your spouse, to glide with the currents of independence and soar on the winds of love. Don't fear the lightning and the storms, but rather look forward to the sunny days and the blue skies.
1…2…3…Jump!


---
Betsy St. Amant resides in northern Louisiana with her husband, Brandon. They recently celebrated their one-year wedding anniversary. Betsy has an associate's degree in Christian Communications from Louisiana Baptist University and is actively pursuing a career in inspirational writing. You can contact her at
Betsystamant@yahoo.com
.