To the Wife Whose Husband Is Addicted to Pornography: There Is Hope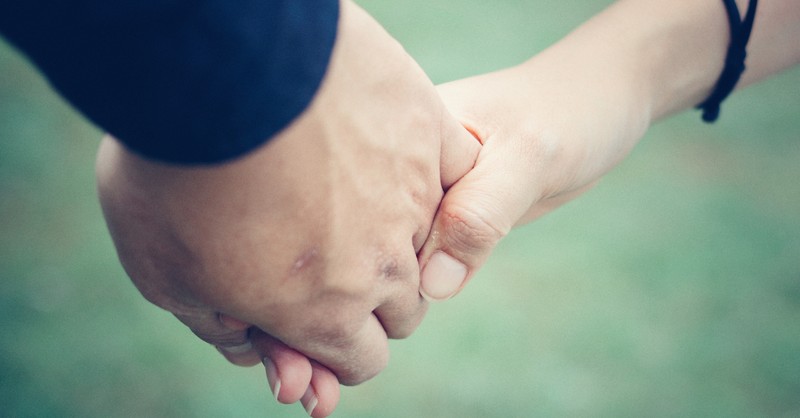 You're in the trenches of life obliterated by your husband's porn addiction. I know the feeling.
I know the pit in the bottom of your gut as you look at the 15 years of marriage. You gave him your heart, your soul, and your body. You promised to love him and respect him. You carried his three children and still grieve the stretch marks that map your belly. You chose to give up your career to be a stay-at-home mom so he could focus on his career. You laid down your life for him.
So then you question how it could've happened. You blame yourself. You still do in a lot of ways and you can't help it. Then once again, you feel angry, betrayed, and bitter as if you just discovered your husband's porn addiction all over again.
Believe me, I have been in your shoes. Any wife who is enduring the pain of a husband's porn addiction has experienced the most shattering kind of experience. The hot blade of pain is searing and comes in waves as you attempt to create a new normal: Life before and after porn.
Once that storm crashes in, it's hard to know which way is up because you're barely treading water. The trauma leaves you paralyzed. You debate on leaving your marriage. You reason that divorce is the best option because nothing will help you get out of the hell you're in.
Dear sweet sister, many of us have been there and we are rallying right behind you. We are willing to share our scars because we want you and your marriage to make it too. We don't want you and your marriage to be taken by the enemy in defeat. Yes, you have every right to feel what you feel but don't let those feelings tether you and tangle you to the chords of bitterness. Because it's the bitterness, not the porn that will suck the very marrow out of your life and destroy you from the inside out.
Understand That Pornographic Images Are Everywhere
We live in a culture where women are highly sexualized and objectified. Your husband more than likely was exposed to it as a child or teen. The average age of first exposure was 13.37 years of age with the youngest exposure as early as 5 and the latest older than 26.
More men indicated their first exposure was accidental (43.5 percent) than intentional (33.4 percent) or forced (17.2 percent). It's all around us and easily accessible. Look no further than the T.V. It's no wonder men struggle with shows like Game of Thrones as a prime example.
Watched by over 100 million viewers, the series was reviewed by Pluggedin.com which commented, "This series has always had its eyes firmly focused on the bestial in us, not the angelic. Politics are brutish. Men are savage. And women are, very often, treated as naked, sexually subservient chattel frankly...most hard-R movies don't get as close to flat-out pornography as this series does."
Shows like this are now mainstream and a household name and yet we wonder why pornography is on the rise or how it infiltrated our homes.
Porn has been normalized by our culture and those who think it's wrong are prude. Pornography has unfortunately been given a place in our world to expand and grow exponentially over time.
Thankfully, the church is beginning to hold men (and women) accountable for their actions on the subject. What used to only be discussed behind closed doors is now being preached from the pulpit. Porn is a problem and it will destroy lives. Porn is like any other addiction. But the harsh reality is this, it is hard for any man to come forward to get help. If restoration of your marriage is what you both want, please understand this: your husband is a human being. He is a broken man in need of a savior to make him whole. He has a past filled with shame, regret, and poor choices.
Your husband didn't wake up one morning and think, "Today, I'm going to ruin my relationship with my wife. I'm going to cut myself off emotionally, erode her trust, and leave her feeling confused, insecure, rejected, angry, and betrayed."
The choices he made reflect a broken past and a sinful heart—just like all of us.
Knowledge about His Addiction Is Power
You've probably heard knowledge is power and taking the time to learn your husband's story is a part of it. Taking time to learn and understand compulsive and addictive behavior can help you heal too.
Pornography addiction, like any other addiction, is a disease and is a method of self-medicating. Learning about your husband's past, his wounds, what addiction means will help you heal too.
It will open your eyes to the fact, it's not about your body, it's not about your beauty. It's about his brain.
As you learn more about the addiction and the impact on the brain, you will have a better understanding of how your husband's pornography addiction is not from a lack (those lies you tell yourself like, your not sexy enough, not smart enough, and so forth) on your part. It was never, ever about you. It was about his pain and yes this is not an excuse. According to Covenant Eyes, their research says it affects the brain in five ways:
Watching porn decreases sexual satisfaction.
It disconnects us from relationships.
It lowers your view of women.
It desensitizes us to cruelty.
It makes us want to watch more porn.
I included these facts to help you understand the effects of porn. Much like becoming addicted to crack or cocaine, porn has some of the same effects on the brain.
Men are wired differently. God created them as visual creatures. Men's arousal patterns have repeatedly emphasized their sensitivity to visual cues. As soon as the lust-inspiring image registers in their brain, they become turned-on—not only physically but psychologically, too. Exposure to erotic stimuli immediately activates the parts of their brain related to getting an erection. This is the basic science of a man's brain. This isn't an excuse but an understanding behind the question we ask: Why?
Shaunti and Craig offer us some insights in an interview with My Faith Radio. "A man's brain is structured entirely different from a woman's. When he sees a woman dressed a certain way, the back center of his brain lights up and he has a gut-level desire to consume that image.
By contrast, a woman who sees an attractive man uses the rational, thinking section of her brain, and that typically does not elicit a physical, sexual response."
Recognize this: there is a path to healing. Recognize you can trust God even when you can't trust your husband.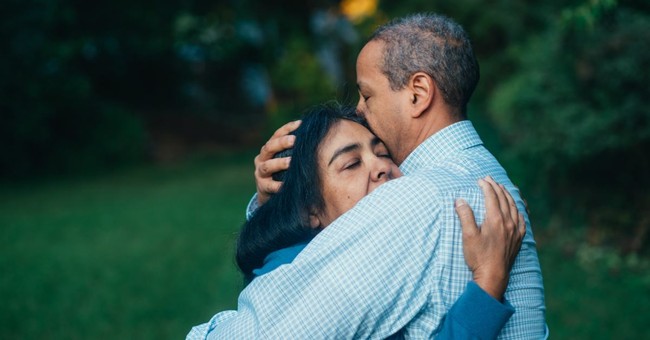 Photo Credit: ©Unsplash/Gus Moretta
Remind Yourself It's Not about You
Let me be very clear. You did nothing wrong.
The weight of this sin is fully on his shoulders and there is no excuse. None.
There is however understanding. When a friend's marriage was obliterated by pornography, her husband immediately went into recovery. As I walked with her through recovery, she learned many of those who have a porn addiction are the walking wounded.
For example, her husband was abandoned by his father at age of five. He and his brothers were raised by a single mother who worked two jobs and was never home. They discovered pornography at a young age and it somehow filled the gap both parents left.
Can you understand this pain? Is there something you've done in your past that you aren't proud of? As hard as it is to understand, your husband needs your unconditional love and compassion.
Just as Jesus forgave you of your sins, your mistakes, and your past; your husband needs you to be the hands and feet of Jesus now more than ever. He needs to know there is grace, respect, mercy, and love within the boundaries of making the choice to get free from porn.
When we choose to love, we can encourage them to heal their pain, develop support, and discover empathy. Our ability to love our husbands reveals an inspiring love of Christ in us.
Forgiveness Is Possible
All bitterness starts out as hurt and the pain inflicted feels like it had malicious intent.
Left to fester, that righteous anger eventually becomes the corrosive ulcer that is bitterness. It's time for some bloodletting.
Thousands of years ago, bloodletting was a procedure by a doctor or by leeches to cure an illness or disease raging in the body. Bloodletting is exactly what forgiveness is and it's the first step to recovery. It's the anchor to hope and it will be the single hardest heart change you will ever make.
Without forgiveness, we would be doing ourselves even more harm because the dangerous roots of bitterness run so deep.
Biblical forgiveness means you release your spouse from the debt owed to you. It is not contingent on how you feel about your spouse. It is not contingent on how much pain you're in. It is a choice to no longer blame your spouse for the offense.
It doesn't justify the offense, it doesn't ignore it, nor does it give your partner permission to do it again. Rather, it addresses the wrong and then forgiveness releases it to God.
First Corinthians 13:5 reminds us Biblical love "keeps no record of wrongs." If your spouse is willing, ask to help him find an accountability partner or small group for sexual purity. Groups based off the book Every Man's Battle by Stephen Arterburn and Fred Stoker is a great way to strengthen your husband.
The first step to recovery is finding a good Biblical counselor. The kind of counselor who understands forgiveness is nonnegotiable. There are many counselors as well as believers out there who think forgiveness is not a necessary part of recovering and healing. But this belief runs counter to what God says.
Renowned forgiveness researcher and expert Dr. Frederic Luskin, Ph.D. says "Forgiveness fully acknowledges the wrongness of the action, fully acknowledges the harmful consequences of the behavior and fully allows us to grieve the loss or pain while forswearing revenge or unkindness in return. Forgiveness is a strong and courageous response to life's suffering caused by self or others or blamed on God or nature. It usually emerges after some internal struggle and sifting through the advice given by others."
God Can Transform His Heart
There is hope for you because your husband is willing to do whatever it takes to recover. He is willing to do whatever it takes to show you he loves you more.
He is willing to do the necessary work of regaining your trust and rebuilding his character with you. He knows it's about getting to the root of the problem and he is motivated to change his behavior, his heart and mind at all costs.
The journey to recovery and beyond isn't an easy one. It will often feel like taking one step forward and two steps back.
Recovering from porn addiction is a process and it's a process you can't control. Only God and your husband can which means there will be setbacks, do-overs, and trying again. There will be days when it feels like you're back at the beginning. And there will be days when it doesn't even cross your mind.
I promise you this, you will get to the other side when you and your husband can look back and talk openly. I promise there is hope on the other side of discovery.
If your husband hasn't shown remorse and doesn't want to stop, there still is hope and forgiveness is still a must. Without forgiveness, we would be doing ourselves even more harm because the dangerous roots of bitterness run so deep.
Remember Biblical forgiveness means you release your spouse from the debt owed to you just as Jesus forgave you. It's not easy but it is a choice. If your husband is willing, help him find an accountability group or have him meet with his pastor.
Related Resource: Listen to our new, FREE podcast on marriage: Team Us. The best marriages have a teamwork mentality. Find practical, realistic ideas for strengthening your marriage. Listen to an episode here, and then head over to LifeAudio.com to check out all of our episodes:
Photo Credit: ©Unsplash/Giang Vu
---

Heather Riggleman is a believer, wife, mom, author, social media consultant, and full-time writer. She lives in Minden, Nebraska with her kids, high school sweetheart, and three cats who are her entourage around the homestead. She is a former award-winning journalist with over 2,000 articles published. She is full of grace and grit, raw honesty, and truly believes tacos can solve just about any situation. You can find her on GodUpdates, iBelieve, Crosswalk, Hello Darling, Focus On The Family, and in Brio Magazine. Connect with her at www.HeatherRiggleman.com or on Facebook.