What Is the Origin of Traditional Marriage Vows?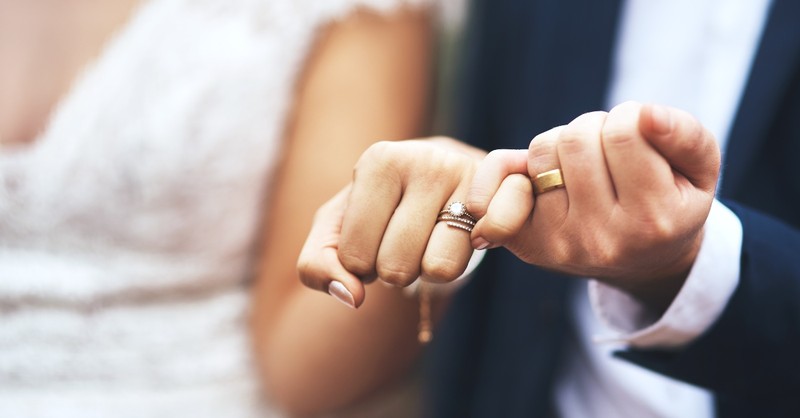 Brought to you by
Therefore a man shall leave his father and his mother and hold fast to his wife, and they shall become one flesh (Genesis 2:24).
If you're thinking of "tying the knot," then one of the things you are likely already thinking about is your wedding vows. Wedding ceremonies — not to mention wedding vows — vary wildly from culture to culture, even from country to country, and religion to religion.
Of course, most people could recite the vows we have all heard — at weddings and even weddings in movies or television shows.
"I (name) take you (name) to be my lawfully wedded husband/wife, to have and to hold from this day forward, for better or for worse, for richer or for poorer, in sickness and in health, to love and to cherish, till death do us part."
These are words that quite likely, your parents or maybe even grandparents used when they wed. Such vows — or something quite similar — have been used for hundreds of years and represent a tradition.
Today, of course, many couples choose to write their own vows — rendering them truly unique, with promises that are meaningful to them.
Whether couples choose to follow tradition, or decide to write their own vows, or combine the two in some way, shape, or form — the moment they speak these vows is generally one they will always remember. Or will they? Will these words of commitment be remembered? Or…only the party that follows the ceremony?
Wedding vows these days seem to fall short of what we consider a solemn promise. Did you know that, although the divorce rate has remained relatively stable over recent years — and declined somewhat in the long-term — the average length of a marriage in the U.S. is 8.2 years. And somewhere between 40% and 50% of marriages end in divorce.
Sadly, according to a 2014 study by Baylor University, the divorce rate of those who call themselves Christian is actually higher than for non-Christians. True or not — it certainly seems true, doesn't it?
One would think that when we do say those vows, we ought to know what we are getting ourselves into. We ought to understand what we are taking a solemn oath to do. Shouldn't we?
The History of Wedding Vows
The wedding vows as we know them originated in what is known as the Book of Common Prayer (BCP,) a liturgical book used by the churches of the Anglican Communion.
Originally published in 1549 under what then was the Church of England, during the reign of Edward VI, the BCP was written by Thomas Cranmer, Archbishop of Canterbury — although it was followed soon thereafter by edited versions just a few years later.
The BCP has served and still serves, as the source of the proper "procedures" and prayers to be followed for not only marriage, but also for baptism, confirmations, funerals, communion, morning and evening prayers, prayers for the sick, and more — along with the weekly service epistle and gospel readings. It pretty much runs the gamut of the dos and don'ts of worship and prayer.
While the Book of Common Prayer dates to the 16th century, it is not the first place such vows can be found. In fact, they date back to the Sarum, as far back as the 11th century.
The Sarum was the Latin liturgical form used in the English Church for centuries before the BCP. Even the expression "tying the knot," while its actual history is uncertain, goes back to early-century traditions.
If you are old enough, you might remember the original version of the vows actually required the bride — and only the bride — to vow to obey her husband.
It is not surprising that most modern wording no longer includes that quite one-sided commitment. But other very important — and often overlooked — words of the original wedding vows have also been removed. And we seldom hear them today.
"…to have and to hold from this day forward, for better or for worse, for richer or for poorer, in sickness and in health, to love and to cherish, till death do us part, according to God's holy law, and this is my solemn vow" (Emphasis added). According to God's holy law. And this is my solemn vow."
And therein lies the crux of what it means to utter the wedding vows. What it means to be married, "Therefore what God has joined together, let no one separate" (Mark 10:9).
The Biblical Definition of Marriage
God's Word has much to say about marriage — a man and a woman who are joined together.
In Ephesians 5, Paul reserves an entire section to Christian households and how a husband and wife ought to treat one another and be committed to one another.
Submit to one another out of reverence for Christ (v. 5).
Wives, submit yourselves to your husbands as you do to the Lord (v. 22).
Husbands, love your wives, just as Christ loved the church and gave himself up for her… (v. 25).
And then Paul repeats Genesis 2:24.
"For this reason, a man will leave his father and mother and be united to his wife, and the two will become one flesh" (v. 31).
It would certainly seem that Paul believes this to be critical. So critical, in fact, that he continues,
This is a profound mystery — but I am talking about Christ and the church. However, each one of you also must love his wife as he loves himself, and the wife must respect her husband (v. 32-33).
And there is the significance. The crux of what marriage ought to mean to us. The hinge on which the entire door of marriage swings.
Isaiah put it a bit differently, but with the same message:
For your Maker is your husband, the LORD of hosts is his name; and the Holy One of Israel is your Redeemer, the God of the whole earth he is called (Isaiah 54:5).
Marriage is sacred. It represents how the Lord views his relationship to us. A mystery, yes, yet still a solemn commitment sworn on an oath.
An oath God swore to each of us to reconcile us to himself. To commit himself to us, his bride. We too are to treat our spouses as he has committed to us.
Is There a Biblical Definition of a Wedding?
What we don't find in the Bible, though, is any clear definition of a wedding — or wedding vows. Were Adam and Eve married? I dare say yes, but there was never a "wedding" mentioned. That did nothing, though, to lessen their commitment under God to each other.
Wedding vows — whether from the Book of Common Prayer from almost five centuries ago, or those we write ourselves — do not appear in the Bible. We find no formal words of the sort.
What we are taught are the words of Jesus, "But at the beginning of creation God 'made them male and female. For this reason, a man will leave his father and mother and be united to his wife, and the two will become one flesh'" (Mark 10:9). Jesus too chose to go back to the words of Genesis 2:24.
It is appropriate, I think, that these words were spoken by Jesus as part of his answer to a question from some Pharisees about divorce.
So, what is important about the vows we speak at our wedding if they don't appear in Scripture? Well, we must mean them. Whatever words any of us has chosen to speak, we must understand what we are committing to.
We must know. The words — the vows themselves — may be written by man, but the commitment is clearly written by God.
"To have and to hold from this day forward." We are making the promise that as of today, we are a team who face the world together. "For better for worse, for richer, for poorer, in sickness and in health."
Here the bride and groom are pledging the depth of their love to one another; making the promise that even if things don't go as planned or desired, regardless of what happens — and there will be struggles, and trials, and misfortune; or what bad habits we do not yet know about, even if the marriage isn't as easy as we think it will be…we will be dedicated to one another now and forever. Just as the Lord is to us.
For further reading:
What Is God's Created Design for Marriage?
What Is the Biblical Definition of Marriage?
What Is the Biblical View of Submission?
Is it True 'What God Has Joined Let No One Separate'?
Photo Credit: ©iStock/Getty Images Plus/PeopleImages
---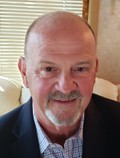 Greg Grandchamp is the author of "In Pursuit of Truth, A Journey Begins" — an easy-to-read search that answers to most common questions about Jesus Christ. Was he real? Who did he claim to be? What did he teach? Greg is an everyday guy on the same journey as everyone else — in pursuit of truth. You can reach Greg by email greg.grandchamp@gmail.com and on Facebook.
LISTEN: Being Complete in Jesus (Understanding Matthew 5:21-48)
Hearing Jesus is a devotional journey through the gospels, where we explore the teachings of Jesus chapter by chapter. If you're seeking to live a life that reflects God's, this podcast is for you.
The views and opinions expressed in this podcast are those of the speakers and do not necessarily reflect the views or positions of Salem Web Network and Salem Media Group.
WATCH: 10 Sins Christians Downplay (and Why They're So Destructive)
Stock Footage & Music Courtesy of Soundstripe.com Thumbnail by Getty Images

This article originally appeared on Christianity.com. For more faith-building resources, visit
Christianity.com.