5 Ways to Incorporate Faith Into Your Family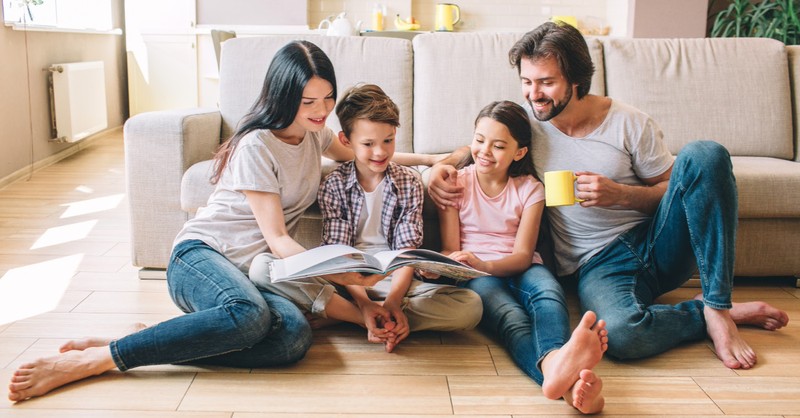 When it comes to incorporating faith into our family, we are instantly met with the typical list of what to do: read Scripture together, pray, attend church, etc. These are important—no—critical elements to incorporating faith into your family. But are there other ways too?
Here are some other practical areas to consider including faith in your family's lives:
1. Read Together
This is not an uncommon practice for many households, and reading is often encouraged if not required as a pastime for both entertainment and educational purposes. Did you know there are a plethora of suitable, biblically-based reading materials available for all ages? From basic books aimed toward toddlers and young children to chapter books for middle grades to full-on epics for young adults, reading a Christian-based story is a fabulous way to make faith an instinctually normal part of life.
There are excellent biographies of missionaries and heroes of the faith if your family prefers real-to-life books in the form of a memoir. There are classics like The Chronicles of Narnia that have allegorical elements woven throughout that you, as a parent, can help your children pick out and apply. Do your kids prefer graphic novels? There are Christian-based graphic novels available now too. With Christian publishers taking note of the younger generations, there is no shortage of good fiction and non-fiction supplies to help incorporate faith into your family's bookish experiences.
2. Music Choices
Sure, my kids know the classic hits of the 80s and '90s. They are familiar with some of country's popular top 10, and if you drop a few celebrity names like Justin Bieber, Ariana Grande, or even Maroon 5, they can probably drop a tune for you. But have you taken your kids on a tour of the Christian music available to them in all genres?
Incorporating God-honoring music into your family is no longer tolerating the old Hymns (although some of us still love them, just for the record). With a list of artists to fit just about every listening style, you can insert faith into daily life just by switching up your playlist. Instead of broken relationships, sexually motivated lyrics, or vain self-love in many of today's songs, try instead songs that deal with the soul of life. You can't go wrong with groups like For King and Country, We Are Messengers, Rend Collective, or even hit up some Chris Tomlin as he performs duos with some of country music's most popular artists today like Thomas Rhett and Lady A.
No longer can anyone claim that Christian music is "boring." Try it. You'll find your house infused with worship in a whole new way.
3. Faith-Based Entertainment
Did you know there are streaming services available now that offer clean and faith-based television? There are also resources such as Rightnowmedia.org that offer an entire library of kid's shows, both cartoon and episodic, that engage kids in learning faith. PureFlix is a popular streaming service that offers clean, if not faith-based entertainment, and isn't it great to have a place to go where you don't have to pre-screen or filter before your children watch?
Sure, there may not be anything wrong with the typical streaming services but take a while to research other entertainment options that may bring more wholesome viewing into your home while also incorporating faith into the simple everyday lives of your family by what you watch.
Also, consider using resources such as PluggedIn.com to identify movies and shows that are worthwhile to watch, versus watching them with your family and subjecting them to concepts and scenes that may not be appropriate, but it's too late to turn back now. Being proactive in using these types of online sources can save you a whole lot of explaining, heartache, and allowing the world to sneak its way into your homes.
4. Christian Radio
Who said radio was outdated? Sure, a lot of it is streaming radio services now, but the old-fashioned AM/FM still exists. With that comes a made-for-you playlist of today's popular hits and podcast-style shows that infuse your house with quality content.
And let's not underestimate radio. Because a lot of radio stations are more locally based, you will also have the opportunity to hear of Christian events taking place in your area. This leads us to our next point.
5. Local Christian Activities
Some communities still have Christian music roller-skate nights, and Christian radio stations are the first to promote them. Also, be on the lookout for other church/community opportunities that provide wholesome activities for your family and include the element of faith.
Perhaps it's a Harvest Dinner at a local church, a Wednesday night Bible program for kids, a missionary expo highlighting missions worldwide, a marriage conference, a concert, local ministries giving summer family events, etc. These types of events allow you to be active with your children and expose them to various churches and church families, as well as Godly environments that can instill in them the fabulousness of Godly fellowship.
There are so many ways to incorporate faith into your family besides just the usual list of normalcies. That's not to say you shouldn't keep that list front and center.
Spending time with nightly family devotions is a huge way to infuse your home with the Word of God and teach your children the importance of coming before the Lord. Prayer is a necessity. Always pray with your kids. Bedtime, before meals, over decisions that need to be made, and more. This will include Christ in the facets of their personal relationship with Him, and while He is God, He is also approachable. Attending worship service regularly teaches your children consistency in their dedication to refocus each week on the Lord, to put Him first, and to give Him honor and glory.
And as simple as it sounds, displaying evidence of your faith around your home is also a subtle but impactful way to bring faith into your home. Do you have Scripture on display? A cross? Symbolism has its place in our faith, and so often, we will find ourselves reading the cute and crafty sign that hangs below a family picture with a verse stenciled on it. Or seeing an open and well-used Bible on the coffee table can also be a subtle way of showing your family that your faith is open and active even if they're not always a part of it. Wear t-shirts with verses on them, use a coffee mug that inspires you with Scripture, write a verse on a sticky note, stick it to the mirror in the bathroom, etc.
Incorporating faith into your family can be a special thing. Ask your family how they want to include faith in your daily lives. They'll have ideas too. As you seek to include your faith, you will also see yourself and your family blessed as your relationship with God becomes more integral.
Related:
8 Family-Friendly Alternatives to Disney Plus
15 Classic Christian Fantasy Books for Kids and Adults
15 Great Christian Sci-Fi Books for Kids and Adults
Photo credit: ©Getty Images/Estradaanton
Jaime Jo Wright is the winner of the Carol, Daphne du Maurier, and INSPY Awards. She's also the Publishers Weekly and ECPA bestselling author of three novellas. The Christy Award-Winning author of "The House on Foster Hill", Jaime Jo Wright resides in the hills of Wisconsin writing suspenseful mysteries stained with history's secrets. Jaime lives in dreamland, exists in reality, and invites you to join her adventures at jaimewrightbooks.com!