Build Your Home on Holy Ground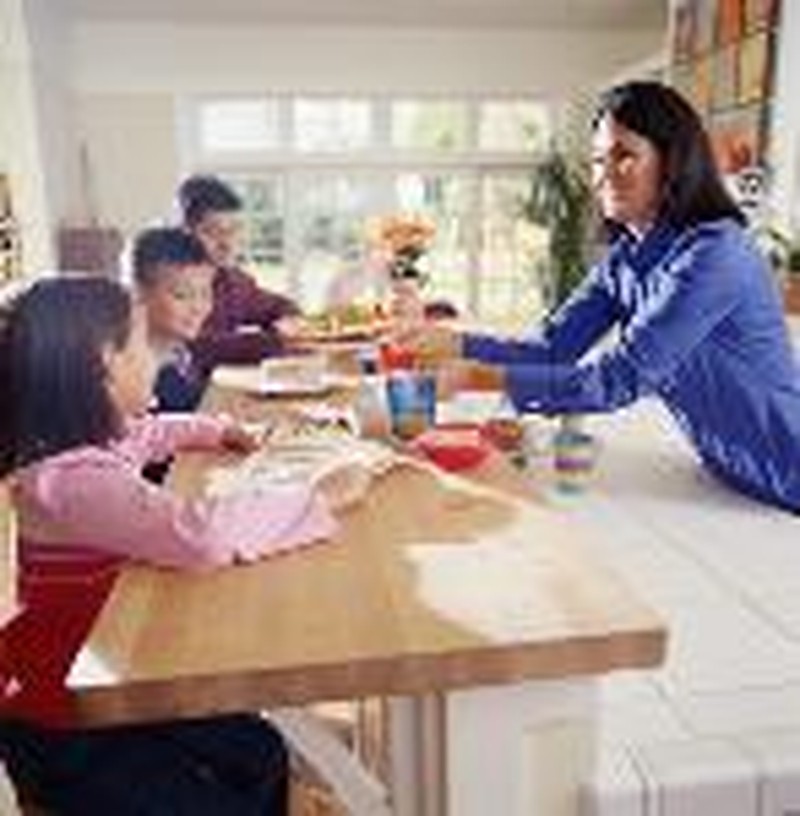 Our society too often discounts the importance of managing a household and raising children. But the hard work of cooking, cleaning, and caring for little ones is much more than just a set of necessary chores. It's a holy trust and a way to help change the world for the better.
That's because God's work in human lives begins at home, and the quality of a home significantly shapes the kind of people who emerge from it. If you're a mom, God has a great purpose for your work and longs to help you fulfill your sacred calling. He wants you to recognize that your home is holy ground where you can build something important with His help.
Here's how you can build the kind of home God wants you to have:
• Be intentional about your work. Know that you are called to create and maintain a home environment that reflects God's love, hope, righteousness, mercy, and peace. Be willing to spend the time and energy necessary to plan and do your work at home well. Realize that it's an important ministry. Strive to bless all who live in your home and all who visit your home by creating a warm and welcoming place. Think of your home as an incarnation center where God's attributes can be seen in our material world.
• Open your home and heart to God. Let God know that you want to use your home to serve and glorify Him. Say "yes" to God no matter what He asks you to do - in all aspects of your life. Ask the Holy Spirit to help you trust in God's wisdom. Be willing to sacrifice your time, plans, and even your dreams if they conflict with His will for you. Know that, if He sees you're open to His work in your life, He will use you powerfully. Don't worry about your own limitations; rely on His power instead.
• Catch a vision. Ask God to give you a clear picture of what holy, God-centered home looks like. Visualize what kind of home life you would like to have. Consider such topics as devotion to Christ, marriage, children, friends, pets, your schedule, hospitality, prayer, peace, shared meals, stimulating conversation, learning together, financial security, celebrations, professional achievements, laughter, comfort, and décor. Then reflect on what your current home situation is like, and write down a description of it. Don't get discouraged if there's a big difference between your vision and your current reality! Instead, think and pray about practical steps you could take to make improvements.
• Remember your ultimate home. Understand that earth is just your temporary home; your permanent dwelling place will be heaven. Model your own home after what you know of heaven.

Make it a place of beauty that delights the senses through visually appealing colors and arrangements, pleasing scents, etc. Make it a comforting place where there are no safety hazards, the temperature is appropriate, and each person's dignity and feelings are protected. Make it a gathering place where people can enjoy being together and communing with God. Make it an orderly place where clutter and emergencies don't detract from what is truly important. Make it a place of truth where people can honestly seek God, learn, and discuss issues. Make it a hospitable place where guests are always welcome. Make it a place where God is present and rules.

Consider placing a visual symbol like a plaque with a Bible verse or a cross in your home to remind you of your household's commitment to follow God.
• Let others help you. Use the many resources God offers you for help in building your home: guidance from the Bible and the Holy Spirit; support from your church; mentorship from an older woman; a sisterly friendship with a peer; advice from a pastor or counselor; help from a maid or babysitter, and inspiration from seminars, books, magazines, radio, television, or videos.
• Don't define yourself by just your role. Understand that you are not just a wife, mother, homemaker, breadwinner, or hostess, as important as those roles are. Know that when God looks at you, He sees you as His child and loves you because of who you are rather than what you do. Know also that God looks ahead to see the person who you are becoming. Strive to be faithful and content with your life as it is now, but always be looking ahead to the future. Write down your dreams and goals. Pray about them. Think about what practical steps you can take to learn more and pursue the dreams and goals you have.
• Create a peaceful home. Set out to make your home a haven from a stressful, chaotic world. Figure out what's currently disrupting the peace in your home and plan how you can change that. Perhaps bad attitudes like complaining, nagging, bickering, or rebellion need to go. Perhaps there's too much noise in your house, or too much conflict.

Ask God to develop a quiet heart and gentle spirit within you. Learn how to speak softly, kindly and respectfully to those who share your home. Cultivate peaceful relationships with them. Be sensitive to their needs. Genuinely listen to them. Be willing to forgive.

Replace a frantic pace with an unhurried one so you can relax. Clean your house of clutter and dirt that causes you stress. Create soothing pockets of silence and extra space in your home. Spend time with Jesus, the Prince of Peace, regularly in prayer and by reading the Bible.
• Use your time wisely. Ask God to help you clarify what your priorities should be. Then build your schedule around those priorities. Pursue only those activities that are truly important to you and drop the rest.

Clear out items from your home that you don't truly need or want so you won't waste time maintaining them. For example, consider whether or not you really have time to use all the electronic gadgets you have. Filter out spam on your computer and toss out junk mail without reading it. Expect interruptions and plan to work around them. Build rest into your schedule, including observing a weekly Sabbath day.
• Create an orderly home. Identify your organizational problems. Prepare to tackle them by planning a strategy (big projects should be broken down into small, scheduled chunks) and buying materials like storage bins and filing cabinets. Delegate tasks to others in your household who are willing to help. Designate every item to be put away properly, given away, or thrown away. Once your house is organized, develop a routine to maintain order.
• Create a loving home. Affirm, encourage, and support the people who share your home. Express your love to them in ways that make them feel valued. Observe traditions together and strive to create special memories.
• Make your home a place of growth. Give the people who live in your home an atmosphere where they can grow into the mature, loving, godly people God wants them to be. Give them the freedom to try new things, the grace they need to learn from mistakes, the space to be creative, the discipline to order their lives, and the courage to reach out to others. Think and pray about what kind of people you'd like your home to produce, then keep that vision in mind. Consider areas of spiritual, mental, emotional, and physical health for everyone in your household, including yourself.
• Cultivate your influence on your children. Model healthy attitudes and good character for your children at home. Let them see you being truthful, faithful, and grateful. When you need help, show them how you turn to Jesus for forgiveness, guidance, and grace. Teach and train your children according to biblical principles, and be patient with them as they learn. Make your children a high priority in your life. Commit to being physically, mentally, and emotionally present and engaged with them as often as you possibly can. Respect and celebrate each child's uniqueness. Give them the tools and opportunities they need to develop their talents. Protect and discipline them. Enlist help from friends, family members, teachers, coaches, and others as you raise your children. Have fun with your kids and enjoy them.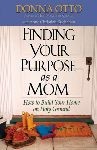 Adapted from Finding Your Purpose as a Mom: How to Build Your Home on Holy Ground, copyright 2004 by Donna Otto with Anne Christian Buchanan. Published by Harvest House Publishers, Eugene, Or., www.harvesthousepublishers.com.
Donna Otto founded and heads a ministry to stay-at-home mothers called Homemakers by Choice that ministers weekly to hundreds of mothers with young children. She has written seven books, and has spoken to thousands of women over the years, primarily on organizational and mentoring subjects. Donna, who lives in Arizona with her husband David, serves on the board of Phoenix Seminary. They have one grown daughter, Anissa.