Children's Ministry Brings Jesus Into Public Schools
Elissa K. Harvill

Alumni News, ORU

2005

11 May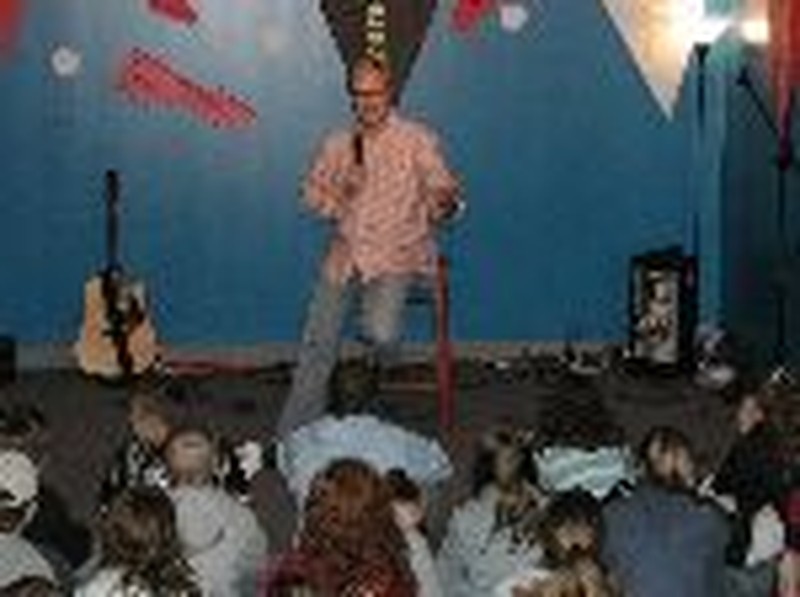 Bob Heath is working hard to get a thriving Bible club in each of the 56,000-plus public schools in the nation. That's all. No small plans here, thank you, Oral Roberts. To make this happen, Heath is going to the churches, he's speaking to parents, and since January of 2001, the word has been spreading about his Kids for Christ USA.
KFCUSA has nothing to do with Kentucky Fried Chicken; however, it does involve food. "[Tulsa pastor] Willie George draws kids with snacks and prizes, I use games," Heath confided. But his trademark is really "food games." Think Nickelodeon.
Heath, a former "churchy children's pastor," has become an expert on how to keep a kid's attention -- how to capture it and how to sustain it. And after much research, his conclusive formula turns out to be simple, yet profoundly effective (if only a bit grotesque). "I can't slime kids, so I come up with bizarre games: have them eating cheese balls with their toes, writing their names with Hershey's syrup using their noses...I literally make these things up when I'm going through Wal-Mart...the only thing I can't seem to make a game with is clam juice--now, olive juice popsicles? I couldn't quite believe it myself, but they ate them. We've done all kinds of crazy stuff--sucked the juice from a lemon, cored a pickle and stuffed it with whipped cream.... We don't have anyone eating bugs yet (just kidding). These kids just do crazy, bizarre stuff, and we fill the room because their friends will come to watch everybody do these games."
So you might be thinking: I really wouldn't want my kids to be doing this sort of stuff -- but don't worry. This alternative method of "doing church" is not designed for the already "churched" kid, but for the unchurched. The public schools are full of them. Heath reports that, depending on the school where his team is ministering, about sixty percent of the kids say KFCUSA is their only church.
Now, the crazy games are only a tool to break the ice and get new kids to come and watch. After the game, there's a fun worship song, and then Heath or a team member will lead them into "the deep end of the pool" -- a profound worship time where the kids can get closer to Jesus. There's a short but power-packed message with an altar call and an opportunity for prayer. Every month there's a guest speaker. All of this happens within thirty minutes before or after school. But the most exciting thing is that it's happening every week in public schools.
"There is nothing like seeing sixty, seventy, one hundred kids of all denominations, in a public school, raising their hands and worshipping God without being prompted, saying, 'Here I am to worship'...it's awesome. I want them to know I'm not there to be a talking head. I'm there to help them connect to God and make sure that there's prayer for them," Heath said.
Since 2001, KFCUSA has grown from ministering at one school to a ministry network of twenty-two Tulsa public schools. During the current school year, Heath and his team are ministering to roughly 1,000 children every week, seeing an average of four kids making decisions to serve Jesus for every thirty minutes of ministry. Altogether, KFCUSA has seen almost 7,000 kids make decisions to serve the Lord. And, beyond what Heath or the adult sponsor can do in thirty minutes, the kids who attend the clubs have led more than 1,000 other kids and adults to Jesus with the "ticket to heaven" prayer:
I thank you, Jesus. You died for me. You rose again for me. Forgive all my sins. Come into my heart. Make me the champion you want me to be. In Jesus' name, Amen.
"The kids are taught to pray this on eight fingers, starting with the thumb on the right hand," Heath said. "They'll go to the playground and ask their friends if they have a ticket to heaven, and if they don't, they'll ask if they want one. One says it, the other follows -- the kids are looking straight at each other. The one asks if they mean it, and if the friend says 'Yes,' they've just gotten a ticket to heaven." The kids then come to the Bible club and learn about what they've got in Jesus and how to study His Word and stick with it.

Heath has received several testimonies from kids who have learned to use God's power in daily life, including testimonies of how KFCUSA has helped to mend their broken families. "One boy had been praying for his family for three days and on the third day, he had stayed up all night praying. His parents were divorcing, but they came to his room and told him they were remarrying. Another girl said her dad did 'bad things' when he drank. One day she turned to her dad and repeated what she had learned in Bible club: 'In Jesus' name, stop that!' Her dad put his beer down and went to work."
In his experience over the past four years, Heath has come to realize that there is a huge need for chaplaincy in schools, because a school counselor can only go so far when there is a child or family in need of serious help. Currently, Heath and his team of twelve are getting CISM (Critical Incident Stress Management)-certified so schools can identify KFCUSA as an authorized contact in the event of a student or family crisis. "I've learned that we would be better received by schools if we were seen more as an asset and not a liability," Heath said.
Beyond Tulsa, Heath has been traveling throughout the United States, speaking to churches and recruiting parent sponsors for new KFCUSA clubs. Heath shared, "The last two times I presented [to churches], I saw an average of four new parent sponsors from each congregation." Heath then goes back to these churches to train the members and help them kick off their new program. (Really, it's a lot like the way the apostle Paul operated.) He stays in touch with these "plants" and they remain accountable through the common curriculum and vision of the program. Heath believes that the church members and parents who commit to working with him are a result of much prayer, and of God personally speaking to them.
If you'd like to get involved with KFCUSA, contact Bob at 918/902-2442 or at  bobheath@kidsforchristusa.com. He travels a lot, so be persistent.