6 Classic Novels to Read With Your Kids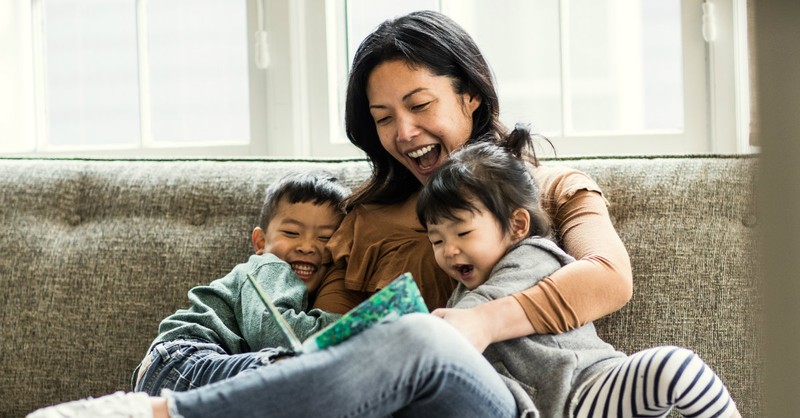 When I was a kid starting in elementary school, I remember reading through classic novels with my mom and mainly with my dad. We tackled age-appropriate stories that enlivened my imagination and replaced TV. Granted, it was also exercising my mind, but I didn't know that. All I knew was that stories came alive in my mind, all while I snuggled up next to my parent and listened to their voice.
You don't need to be a voice actor to engage your child in reading; my dad and I found ourselves switching on and off. He would read, then I would read, and back and forth it would go. It was fun to learn how to include emotion and inflection into reading aloud. But above all of that? It was the stories. Of course, you know your child the best! Some kids will gravitate toward animal-based stories, others toward mysteries, and others toward historicals, and so on. But don't let a child's reluctance frighten you, either. Sometimes it takes a few chapters for the book they whined about being boring to become their favorite classic of all time.
So which ones are good ones to start with your child? Here is a list that I would recommend for kids starting at the third/fourth-grade level and on up.
1. Old Yeller, by Fred Gipson ca. 1956
This was one of the first novels we read together, and within a few paragraphs, I was hooked on the story of a boy and his mongrel dog and life on the land. Gipson was phenomenal in building the story world around the relationship between humans and animals and how pivotal this relationship can be in giving the human spirit a boost. A teenage boy, his brother, and his mother fight to survive while their father is away on a cattle drive. Life on the land isn't easy; the adventures and trials they traverse together will whisk your heart away and settle it firmly into loyalty for Old Yeller, the stray yellow dog. You will need some tissues for this story, as it will tug every heartstring of adult and child alike. It's a classic that everyone should experience. You'll never look at the family dog the same again!
2. Heidi, by Johanna Spyri ca. 1881
Heidi is the story of the Swiss Alps, a cranky hermit grandfather and an orphaned girl. Dropped at her grandfather's reclusive home in the mountains, Heidi is not a welcome addition until her spirited, loveable, and infectious ways create an undefinable bond between her and her grandfather. However, an inevitable separation evolves, and Heidi and Grandfather must learn to manage life without the other or find a way to reunite.
Here's a critical detail you will not want to miss. Find the earliest copyrighted copy you can find! The original version is rich with Christian values and outright discussion of the Lord and God. As the story of Heidi was reproduced, many of those elements were edited out. My dad has an old copy from the turn of the century, and that is a cherished one for this very reason!
3. Treasure Island, by Robert Louis Stevenson ca. 1881-82
A swashbuckling adventure awaits with this vintage tale of pirates, buried gold, curses, and parrots. If your kids love the Pirates of the Caribbean movies, they will adore Treasure Island. Jim Hawkins will become your child's hero instantaneously as he sets out on a quest for treasure, accompanying the roguish, one-legged Long John Silver and other equally as colorful and suspicious characters. It is a classic tale of pirates during the days of Black Beard, Captain Sam Bellamy, and the pirate dynasty that sailed the oceans. And don't forget, there's gold—or rumors of—around every wave and crest. Danger lurks behind the sword, and the Black Spot begins it all.
4. The Black Stallion, by Walter Farley ca. 1941
The story of shipwrecked Alec Ramsey is a shared adventure between him and the other lone survivor of the ship that left him in solace on the deserted island. The black stallion is wild, unapproachable, and vicious. But with time on his hands, sand beneath his feet, and weeks to befriend, Alec and the Black become inseparable.
When rescue finally comes, a new set of challenges enter as Alec and the Black fight to remain together, ride like the wind, and recapture the essence of man and beast. For families and kids who love horses, this read is a must! For kids who aren't all that interested in animal stories, they will still find the Black intriguing and Alec's journey from island to racetrack inspiring, harrowing, and ultimately conquering.
5. The Call of the Wild, by Jack London ca. 1903
Every child should experience the Yukon wild during the Klondike Gold Rush through the eyes of Buck. Starting his life as a family pet, Buck is stolen and trained in the popular sport of dogfighting that took place in the late 1800s. Eventually, and through the stories and trials of various owners, Buck winds up as a sled dog in the Yukon. The story of Buck brings adventure and loyalty into a new light, as well as the stressors of cultural warfare and the dog and the wolf.
This novel will give you a lot to talk about with your child. Current affairs compared to London's perception of the times when he wrote the book may stand in stark contrast at times and be enlightening to the fact that, in the deepest part of man and beast, there is a wild in us that can never be tamed.
6. Anne of Green Gables, by Lucy Maud Montgomery ca. 1908
Can childhood ever be complete without being introduced to red-haired, imaginative, spunky Anne with an E? Take your children to Prince Edward Island in this classic orphan story as Anne comes to live with a middle-aged brother and sister, Matthew and Marilla Cuthbert. The kids will laugh as Anne goes head to slate with Gilbert Blythe, travels on many imaginative journeys with her bosom friend, Diana, and finds out that sometimes your worst enemies become your biggest champions.
A coming of age story, it is a heartwarming tale that both girls and boys alike will enjoy—it touches on the value of family, friendship, and faith in love.
No matter what classic novel you choose to read with your child, a whole world will open for them. And the benefit of the classics is the voices of the past coming alive to tell stories from their times, their cultures, and their point of view. You can never go wrong with a good story that is tried and true and still in print after decades. These are the words that have been cherished from generation to generation. Reading them with your child will continue to keep them special for another generation to come.
So, snuggle up in a blanket, cups of hot cocoa, put on your imagination caps, and read. Read until the characters become so real you can never forget them as they weave their way into your literary hearts forever.
Related: Listen to Our FREE New Parenting Podcast! Christian Parent/Crazy World with Catherine Segars is now available on LifeAudio.com. You can listen to the first episode by clicking the play button below:
Photo credit: ©Getty/MoMo-Productions
Jaime Jo Wright is the winner of the Carol, Daphne du Maurier, and INSPY Awards. She's also the Publishers Weekly and ECPA bestselling author of three novellas. The Christy Award-Winning author of "The House on Foster Hill", Jaime Jo Wright resides in the hills of Wisconsin writing suspenseful mysteries stained with history's secrets. Jaime lives in dreamland, exists in reality, and invites you to join her adventures at jaimewrightbooks.com!